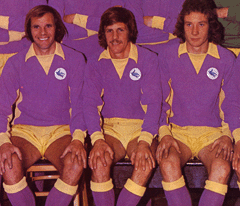 With no midweek games this week, I thought now might be a good time to judge how are rivals in the Championship are doing so far this season and use that to try and predict what the next seven months or so will hold for them. I have judged whether each team are doing better or worse than pre season expectations in the media and amongst fans or whether they are doing much as expected and, as I spend more than enough time talking about them on here, I have decided to exclude City from this piece completely. So, in alphabetical order, how are the other twenty three teams doing and where are they likely to finish up?
Barnsley – much as expected
No surprise to see Simon Davey sacked and they got the usual bounce in results from the appointment of a new manager when they recorded a very good win over West Brom amongst other victories. However, their home defeat to Bristol City on Saturday is a worrying result for them and, given that they have struggled every season since coming up three years ago, I wouldn't be surprised to see them in the bottom three come May.
Blackpool – biggest over achievers in the division
I had them down as a relegation tip before a ball was kicked and looked upon our draw there as a poor result at the time. However, we are now one of only two sides to have left Bloomfield Road without being defeated and if they can maintain that home form then a top six finish is on for them, but, much like us in previous years, I don't see that their squad is big enough to maintain the results they are getting now, so I would say a finish around tenth position is more likely.
Bristol City – slight over achievers
I reckon there might be a tendency among City fans to underestimate the wurzels because of the way we took them apart in August, but, they are another side with a formidable home record and, having broken their away duck on Saturday, I think they will be genuine top six challengers. Bristol City have a good manager, have a striker in Nicky Maynard who is now showing why Gary Johnson was tempted to pay all of that money for him and I think they made a shrewd signing in Evander Sno – saying all of that though, I think a top eight rather than top six finish is on the cards.
Coventry City – much as expected
Coventry have good quality up front, but lost, arguably, their two best defenders (Dann and Fox) in the summer and currently have long term injuries to a couple of important midfield players (money also seems to be pretty tight at the Ricoh Arena at the moment). Last season they showed they were capable of upsetting the big teams before tailing off badly at the end of the campaign – I would have thought that once they get those injured players back, they should be able to sustain their form better and so they could improve slightly on last years finishing position of seventeenth.
Crystal Palace – over achieving
I can't stand their manager and hate the way they play, but Palace aren't doing badly at all when you consider that they are currently under their second transfer embargo of the season. May be forced to sell some of their bright young things come January, but as Warnock seems loathe to play them that much, it shouldn't really hurt them too much. If Freddie Sears can make an impact and Darren Ambrose (who could be one of the bargains of the season) plays to his potential, then Palce could challenge for a top six place, but I think a finish halfway up the league is more likely.
Derby – under achieving
It has to be admitted though that Derby have a dreadfully long injury list and they should improve as players come back. However, their defence has shown a tendency to collapse at times this season and players like Rob Hulse need to contribute much more than they are currently – I think another finish around last season's eighteenth is on the cards and that is not good enough for a club the size of Derby.
Doncaster – as expected
Still playing good quality football and they showed Newcastle on Saturday that you under estimate them at your peril. However, they lost some big players in the summer and are without the influential Brian Stock for some time yet. They are not scoring enough at present and I can't see them repeating last season's comfortable end to the campaign – I hope and thnk they will survive but it will be close.
Ipswich Town – biggest under achievers in the division
Roy Keane has made big changes and has been given a lot of money to spend by Championship standards and still his side prop up the division waiting for their first win. I think Ipswich are too good to go down but there have been plenty of teams that I have thought that about previously who had to get used to visiting places like Gillingham, Yeovil and Stockport. They are probably in a season long relegation scrap now, but I reckon they'll clamber clear – whether they finish the campaign with Keane still in charge though is another matter.
Leicester City – over achievers
Usually there is one promoted team who emerge as genuine top six candidates and I think it will be Leicester this time. There is a winning mentality at the club and I think they have a promising young manager. Wayne Brown has been a good quality Championship centre back for some time now, I've always rated Matt Oakley, Richie Wellens is a good signing and Andy King is an impressive youngster – with Fyatt and Gallagher up front, I can see them just making it into the top six.
Middlesbrough – as expected
So much depends on the impact Gordon Strachan has and whether they can keep hold of the likes of Wheater and Johnson come January. For me Middlesbrough have too many players who could find the Championship a culture shock – their recent problems at home appear to indicate that anyway. They have developed an unfortunate habit of conceding late equalisers or winners recently and I get this feeling that a top two finish might be beyond them but they should make it into the Play Offs.
Newcastle United – slight over achievers
At the start of the season I though a mid table finish was on the cards, but their first few games were so impressive that I had changed my mind so much that I thought I had watched the eventual winners of our league beating us on 13 September. Recent results have seen me changing my mind again though – the thing is that you can never discount the shambles off the field at this club influencing what happens on it and, as I also believe that the Newcastle players are under more pressure than any of the other promotion chasing sides, I see them more as a Play Off side than one going up automatically.
Nottingham Forest – as expected
Although the media down here would have you believe that we were the biggest spenders this summer, I reckon Forest are the ones who really spent the most in this league. They have a manager who knows all about this division and how to secure a top six finish and, after a slow start as all the newcomers bedded in, their recent impressive win over Newcastle saw them playing in the Billy Davies way. However, although their goals against record is good currently, I think weaknesses at the back may see finish outside the top six.
Peterborough United – under achieving
It  already looks as if it is a question of whether their front three can score the goals to keep Peterborough up. I must admit that I saw a season of mid table safety ahead for them and draws at places like QPR and Bristol City suggest that this is still a possibility, but they are not winning enough at the moment. Although City now seem to have sufficient cover on the wings, I would like to see us look at someone like George Boyd. Unfortunately for Peterborough, I think that bigger fish than us may be in for Boyd in January and they may struggle to keep him – for me Peterborough need strengthening even with the likes of Boyd in there so I think they could be heading straight back down.
Plymouth Argyle – under achieving
New foreign investment had people thinking that Plymouth could improve significantly on last season's twenty first place finish, but there is no sign of that happening so far. To be honest, I am surprised that Paul Sturrock is still in charge there, but it would appear that he has little or no money to spend and the signs are that Championship sides do not find the trip to Devon anywhere near as daunting as they once did – the manager may well change soon, but I still see them finishing in the bottom three.
Preston North End – over achieving
As we found out to our cost, Preston are a team with spirit and ability and their start has been an impressive one. I also like their manager Alan Irvine, but recently there have been a few signs that Preston might not be the force that they were last season. When you consider that they have lost two very important players in St Ledger and McKenna and that gates are down as the board make noises about a lack of money at Deepdale, I don't see them making it into the top six this time – top ten perhaps, but I'm not even sure about that.
Queens Park Rangers – over achievers

With their financial resources, pre season expectations for QPR really should have been much higher than they were and it is only because they made such a mess of last season that nobody really expected that much from them this time around. However, while we were all slagging off City for their awful display against them last month, not many were prepared to concede that QPR actually looked a decent outfit. I was very impressed with them at Derby on the weekend and their midfield looks as good as anything in this league. QPR have always been solid at the back and would almost certainly be prepared to spend big in January if promotion was a real prospect – genuine top two candidates for me.
Reading – under achievers
Have had to sell virtually all of their best stars, but, even so, should they really be struggling as much as they are? I thought they were pretty impressive against Leicester last night, but that home record of theirs is a real millstone around the neck and they have now started shipping goals away from home. Sometimes sides get into a downward spiral and, no matter how hard they try, they cannot get out of it – on balance, I think Reading are good enough to stay up, but I might well be wrong!
Scunthorpe United – over achievers
After we stuffed them on the opening day of the season I think most City fans had Scunny down as relegation certs, but a win over Derby the following week offered proof that they may not be pushovers after all. Since then wins over Palace, Sheffield United and Newcastle suggest that they will hold on to their Championship status and that has to be deemed a success for any club of their size – a tendency for heavy defeats away from home is a source for worry, but I reckon Scunthorpe will stay up.
Sheffield United – big under achievers
Kevin Blackwell can bleat on about injuries as much as he likes, but Sheffield United are just not performing as they should this season. While there is a talk of them being short of money after losing their parachute payments, the sort of money spent on the misfiring Ched Evans suggests otherwise while the compensation they are getting from West Ham gets conveniently forgotten. Even when they do get their injured players back, they still have goalkeeping issues to solve and their first choice centrebacks have been available while conceding ten times in their last three matches – I think Blades fans are going to have to wait at least another season for the return of the Premiership football they believe they were robbed of last time around.
Sheffield Wednesday – much as expected
Looked impressive while losing the Sheffield derby and they saw us off fairly easily last month, but their defending was awful against Watford on Friday when they looked like a relegation side. Despite the talk of an increased transfer budget for Brian Laws, they went down the City route of a couple of seasons ago of signing highly paid free transfers and Bosmans – so far there is little evidence to suggest they will improve on last seasons twelfth place, in fact I can see them finishing a little lower than that.
Swansea City – slight over achievers
When you consider the goals they have lost after the departure of Scotland and Gomez and the further injury to Bodde, the jacks aren't doing bad at all, but they are in a situation currently where they aren't going to win if they concede a goal and this has to put any defence under too much pressure eventually. I honestly don't know what the next few months will hold for the jacks – if they can start scoring regularly, then I reckon another top six challenge is on, but, at their current scoring rate they are going to finish nearer the bottom than the top – I'll take the cowards way out and say they will finish twelfth!
Watford – big over achievers
When you look at the players they sold and the lack of money made available to their manager, Watford had the look of relegation candidates to me, but I remember that they looked a tidy young side at Ninian Park last season and Malky Mackay has made excellent use of the loan system with Lansbury and Cleverly looking inspired captures on the basis of Friday's win over Sheffield Wednesday. I don't see Watford maintaining their current position, but even the lower mid table finish I expect would be some achievement given the off field situation at the club.
West Bromwich Albion – as expected
I'd be a little concerned at the moment if I was a baggies fan. After a great start they peaked with a brilliant 5-0 win at Middlesbrough, but since then life hasn't been easy at all for them and  there are signs that they aren't going to find goalscoring as easy as previous Albion teams have done in this division. At the moment it is hard to see a twenty goal a season man on the staff at the Hawthorns, but, more, than any other side in the division, they know exactly what it takes to get out of the Championship – because of this they were my pre season choice to win the league this year and, although I am not as confident in that as I was, I'll stick with them as Champions for now.