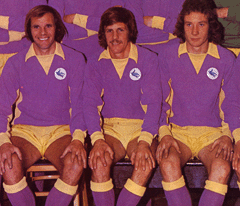 Despite the title I gave this piece. there was much to admire in Cardiff City's play in the 1-1 draw with visitors Sheffield United last night. In the first thirty minutes in particular the team gave a lie to a couple of theories – the first, which I had subscribed to, being that the bare and bobbly Cardiff City Stadium pitch made it virtually impossible to play good quality passing football and the second, which I have never subscribed to, being that we always lose the midfield battle when the opposition plays  five against our four. City had the edge throughout in the middle of the park with McPhail and Rae pulling the strings for long periods as we attacked with what at times was a front four. We played some exhilarating football and yet I left the game feeling frustrated and annoyed because, in typical Cardiff City fashion, a great opportunity had been lost.
The frustration came first from the knowledge that we had let a rival who, unlike us, knows exactly what is required to make it into the Play Offs escape with a point which keeps their hopes of overtaking us alive. Worse than that though, we had also lost the chance to put real daylight between us and the chasing pack – we could and should be seven points clear of the team in seventh place this morning and I can't help thinking that so many of our rivals for a top six spot would have ended up with the three points last night.
No doubt their extensive injury list isn't helpng them, but, Sheffield United were one of the poorest visiting sides I have seen this season and were there for the taking. At times they were hanging on desperately, but, despite Kevin Blackwell's protestations about his situation at the moment, they were able to rely on the experience and quality of Steve Simonsen and Nyron Nosworthy two players with extensive Premiership experience who the Blades were able to borrow when the need took them – Boardroom incompetence has denied us the opprotunity to do that. Simonsen and Nosworthy should have ended on a losing team last night though and the fact that they didn't was, to a degree, down to a home side which, having defended so well for three quarters of the match, then gave away an absolutely shocking equaliser.
The problems began with a poorly executed throw in on our right when we were under no real pressure, but, because we didn't get the basics right, the ball was never properly under control until we put it into touch on the other side of the park. That should have been an end to the matter, but we then compounded things by leaving Sheffield with two on one thirty five yards out as they took the throw in and substitute Yeates was given time and space to knock in the sort of cross you would expect from a winger at this level to where Quinn had been been allowed to steal a yard by his City namesake. Despite a great effort by David Marshall to keep out his first effort, Quinn had enough time to finally put away what had been a simple chance. Although City had chances to win it after that, they never recovered their fluency of the first thirty minutes and so a mediocre team went back north with a point because of our enduring habit of shooting ourselves in the foot.
So much for the reasons for my frustration, but, awful equaliser or not, we would have, surely, ended up with the points if it wasn't for the antics of a referee who simply wasn't up to officiating in a match of such importance – this is where my annoyance came from. Over the years you get to recognise most of the referees we get for our matches – even if they are not Premiership officials "slumming it", you know of, for example, Messrs Crossley, Hall, Woolmer, Deadman and Stroud who have all been in charge of one of our recent matches. Okay, at times we have had reason to curse all of those I have named, but, generally they have a level of competence which sees them referee at Championship level regularly.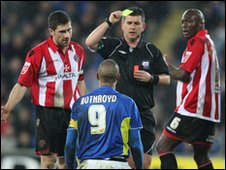 I had never heard of Danny McDermid before last night and a look at his record on Soccerbase explains why – last night was just the ninth game he has refereed at Championship level in a relatively short career which, apparently, saw him taking a break last season. It's hard to know where to start with Mr McDermid's "performance" last night but his booking of two visiting players in the first ten minutes suggested that he was not going to stand any rough stuff from a team well known for their physical style. However, after that he let the visitors get away with virtually anything – I had believed that having already booked him, Mr McDermid bottled it by not giving Kyle Bartley a second yellow for his shocking tackle on Peter Whittingham in the first half, but I was wrong, Bartley didn't receive one yellow card in the game and, with the tackle from behind now outlawed, there has to be an argument for saying that he deserved a straight red.
The decision to book Darcy Blake was, frankly, pathetic. As mentioned earlier, Steve Simonsen is a good keeper who has been playing the game in the top two divisions for more than a decade and he made the decision that the ball played in by Steve McPhail had to be punched not caught, in doing that he must have figured that it was a ball that attacking players were likely to be challenging for and so his best option was to get it out of the danger area rather than risk dropping an attempted catch because of the contact that would inevitably come – all Blake did was challenge for the ball like any attacking player would be expected to by their manager. By the time Mr McDermid decided to punish substitute Lee Williamson's ugly two footed lunge in stoppage time on Peter Whittingham with a yellow rather than red card, the dye was cast – this was an official out of his depth.
However, Mr McDermid's most costly blunder may well have come when he made his decision to give Jay Bothroyd a tenth booking of the season for diving. I like to think I am fairly impartial about these things and there have been plenty of times when, with City fans baying for a referee's blood, I have said "I think he got it right actually", but I had a really good view of last night's incident and when I saw the ref blow his whistle I didn't think for one moment that it was for a dive – it was a clear penalty as  far as I was concerned.
The Championship Play Off Final is described as the richest club game in football when you factor in all of the Premiership prize money at stake and to win that match would cure our financial woes in one fell swoop. Even if we didn't make it to Wembley though, the revenue from a losing Semi Final appearance in the Play Offs would be of great help to us in our current situation – the stakes we are playing for over the next few weeks are very high and last night's, very important, game should have had someone more competent in charge than Mr McDermid – his decision means that we are without our most important player for two matches at a time when we can least afford to miss him.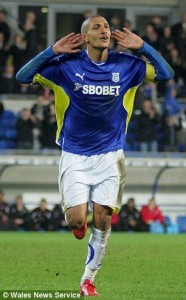 From the moment he ran at the defence before fizzing that shot just wide, Jay Bothroyd looked like a Premiership player last night – his goal was superbly taken and, although there are times when you wish he wasn't such a drama queen, he oozed quality when he had the ball. We are really going to miss Jay over the next two games, it wouldn't surprise me if Dave Jones again showed his reluctance to go for a McCormack/Chopra partnership by relying on the fit again Kelvin Etuhu, but he shouldn't have to – Bothroyd should be playing.
One last thing, despite all of the above whingeing, I knew we weren't going to win last night. Although most supporters are now aware of how poor we are when we concede first under Dave Jones, it is less well known just how bad our record is when we have two succesive home league games in a week (i.e. weekend game/midweek game or vice versa). It's happened eighteen times under Dave Jones and we have only won both matches twice (against Leicester and Palace in 2005 and Barnsley and Doncaster in 2009) – I can't come up with one remotely credible explanation as to why this should be, but, although victories over Leicester and the jacks would be fantastic next week, history says we won't do it.