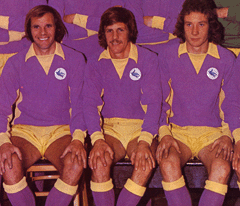 I'm pretty sure that the large majority of people who get to read this piece will be united by the fact that they are Cardiff City fans, but ask them what they want from their team and I reckon you'll get some widely differing answers.
For example, this time last year I was genuinely baffled by messageboard moans about City not being entertaining enough. I just couldn't get my head around why, in a season that was always going to be a struggle, people would except a team that had got promoted playing effective, but pragmatic football to suddenly transform themselves into great entertainers.
Perhaps my unsympathetic feelings towards those craving Premier League wins and entertainment owed a lot to the sort of supporter I am. I make no apologies for being a Cardiff City fan first and foremost – to me this means that, while I like being entertained while watching us win, it is the win that definitely matters most to me. There are plenty of other games on the television nowadays I can look at if I want to be entertained by a football match, but, when my team is playing, getting the three points take priority.
I guess this means my attitude is more akin to the one you'll find among those paid by the club when compared to many others in our fanbase in that I'd often look to defend the team against charges of not being entertaining enough. However, even I'll admit after last night's mind numbing 2-1 win over Reading at Cardiff City Stadium that anyone complaining about a lack of thrills and spills has a point!
So, in this case, I find myself at odds with the professionals. Now, generally I believe that the opinions of people whose livelihood depends on the results their team get tend to be more realistic and sensible than the punter (many of whom are in a slightly inebriated state when watching a game!) who can, understandably, be guilty of seeing everything in purely black and white terms, but I do wonder if last night it was the pros who were misjudging things and it was the watching public who did a better job of judging what was happening during the half time interval last night.
As Russell Slade gave his half time team talk he did so knowing his team had a 2-0 lead against opponents whose recent away record of only one draw in their last six matches in all competitions is even worse than ours. Not only that, Reading were going to have to play the second half with only ten men after the red card shown to the unfortunate Alex Pearce who had made a realistic claim to being City's man of the match by contributing an own goal, conceding  the penalty from which Peter Whittingham made it 2-0 and   then being red carded!
With City being the epitome of mid table mediocrity going into the game (six wins, six defeats and a goal difference of 0), it just seemed to me that a Reading team that were probably fearing a thrashing as they had their half time oranges represented an ideal opportunity to boost that goal difference to the sort of levels that might work to City's advantage in a tight finish to the season. Yes, City would need to be vigilant at the back still, but if they showed belief, decisiveness, a degree of patience and teamwork, then the win would take care of itself and there should have been more goals along the way.
However, it was very interesting to hear our manager use the term "solid, professional performance" twice in the first minute of the post match interview which is on the club's official site. The "job done" quote that quickly followed only added to my feeling that it was the goal conceded late on, rather than the failure to take the opportunity to really put an opponent to the sword that had been presented to his team, which most bothered him – if the match had finished 2-0, he would have been satisfied.
Now, to be fair to Slade, I can't say for sure that his instructions for the second half didn't include something about there being the chance for a really big win for his side if they went about things the proper way. After all, it seems to me that the best way to capitalise on a man advantage you may have over your opponents is to tire them out by switching the ball from one side of the pitch to the other and, generally, move them around – I'd say this is something that we, mostly, tried to do after the break.
Maybe this is showing my different thinking to other fans again, but I have no problem with the moving them around bit if it includes making the other side push men forward by playing the ball backwards. Therefore, I was not one of those who were getting wound up by us not knocking the ball forward at the first opportunity – if the ball had to go backwards or sideways, so be it.
However, among many things that frustrated me last night was that, as we often do, we appeared to run out of patience after a fairly short bout of possession football and then resorted to a "fighting ball" forward – if the plan is to play a certain way, then why don't City stick to it? Whether it be a long ball game or a more possession based one is not the main issue here in my book, it's the way we seem to switch from one to the other so randomly – I accept that a team that "mixes things up" can be a successful one, but it always appears so haphazard with us and it seems to me what was needed last night especially was for us to choose the option which best suited the situation and stick to it.
I should emphasise that, despite the poor performance by City, they did have their chances in the second half, but the way they often reacted when they came along only tended to add to the impression that this group of players are not going to be realistic challengers for a top six finish this season. I say that because, whenever a promising situation would develop, the attitude seemed to be "every man for himself" (this was equally true in the first half). All of our front four of LeFondre, Macheda, Noone and Pilkington were guilty of ignoring better placed colleagues and taking pot shots at goal that never looked like going in on at least one occasion – maybe I'm misreadings things here, but that hardly suggests that all is well on the team spirit front at Cardiff currently.
However, given what we are seeing from our two strikers lately, maybe it's understandable that our wingers are taking things on themselves. Adam LeFondre was given the sponsor's Man of the Match award and, fair play to him, he did win the penalty as well as make a lot of unselfish runs. This compared favourably with his striking colleague, who I'm afraid contributes very little if he is not scoring. The smaller LeFondre is marginally the more effective of the two in trying to make something of those fighting balls I mentioned earlier, but the LeFondre/Macheda partnership has had seven games together now and I still don't see any evidence of them developing anything to remotely resemble the Clark/Toshack. Alston/Evans, Gilligan/Bartlett and Bothroyd/Chopra or McCormack type combinations we've seen down the years at the club.
There will be those who read this and think I'm being overly negative, but I believe I'm being realistic. The pro's will talk about taking three more points and moving on from here, but last night was so much harder than you would expect it to by for a side that earns so much more than many other recent outfits that would have have comfortably cruised to something like a 3-0 win if they had found themselves in the sort of half time situation we saw last night. The 12/13 side mastered the art of winning when not playing well and we saw the current side do that last night, but, for me, any resemblance between the two ends there – the Championship winning side did not need victories scraped by an own goal and a penalty against ten men to win while playing poorly, they had a steel and spirit which puts this lot to shame.
If our manager and players really do think it was a case of "job done" last night, then I believe they are deluding themselves – supporters of a team might think and react differently to the same situation, but their instincts are generally reliable and I'm struggling to remember a time when the atmosphere felt so flat when leaving the ground after a win. I still think there are off field matters which are a big contributory factor towards the downbeat mood at the ground these days, but a chance to restore some much needed feelgood factor to supporters of Cardiff City was missed last night through what seems to me to be a combination of a lack of belief and ability.
* pictures courtesy of https://www.flickr.com/photos/joncandy/with/15845235021/