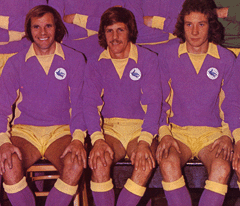 I'd already decided I wanted a Cardiff City free Saturday afternoon before Vincent Tan's resign or be sacked ultimatum to Malky Mackay became public knowledge, so I got myself a ticket for today's game between Newport County v Wimbledon and, while City are playing at Liverpool this lunchtime, I'll be making my way to Rodney Parade to take in an occasion which will embody what watching football should be all about.
This match appealed to me because it will be between two clubs who sank a long way under different circumstances, but with the common bond that they had owners/investors who appeared to love seeing their name up in lights as they failed to deliver on their big promises. Both clubs are back now though and, certainly in County's case, they currently look healthier than they were for much of their previous Football League existence.
Newport and Wimbledon epitomise how clubs can overcome what appear to be insurmountable odds and return to something like their former glories with dignity, honour and pride very much intact and perhaps their example has played a part in my arriving at the decision that I now want to see Vincent Tan leave Cardiff City, even if it might have pretty dire consequences for the club in the short to medium term.
This represents the end of a personal journey which has taken just over a year and a half. I was at those two infamous meetings at Cardiff City Stadium in May 2012 where the assembled few selected supporters representatives and their guests were informed of the "re-branding" of the club and told those present that I wasn't bothered about the change of kit colour because it wasn't something that I thought was high up on my list of reasons why I supported Cardiff City. Gradually through the course of last season I came to realise that I had been wrong – blue meant more to me than I thought (why would "Scarfgate" back in February have annoyed me so much if it didn't?).
Therefore, I became far more anti red (and, by implication, more anti Tan) than I had been, but I still drew the line at wanting our largest investor out of the club like some were demanding. It's taken the sacking of Iain Moody, that ridiculous appointment as his replacement and the revelations as to the extent of Tan's meddling in the football side of things to get me into the Tan out camp, but, unless the guy undergoes a complete personality change, I'm pretty sure now I'm going to be in it for the duration.
Unlike some others, who I'm beginning to respect more by the day, simply walking away from Cardiff City is not an option for me – actually, on second thoughts, if that nice Mr Tan comes up with some other whimsical re-branding ideas  maybe it is. However, although my Cardiff City free afternoon today suggests I've had enough of the club, I'll still be recording the match to watch when I get home and I'll be there in my normal seat at Cardiff City Stadium on Boxing Day.
Given what I've said so far, the fact that I'm not going to spend the rest of this piece slagging Vincent Tan off will probably come as a surprise – in fact, I'm going to point out that the man is only here at Cardiff as a result of a period of around a decade where the quality of football and progress on the field seemed to grow in inverse proportion to the amount of financial incompetence and mismanagement shown off it.
When you think about it, there was always a good chance we'd end up with someone like Vincent Tan. The mess made of running the club by those who were here before him meant that they had to go cap in hand in an increasingly desperate search for the sort of big investment which had become vital after HMRC started taking more than a passing interest in us. My earlier mention of Wimbledon is a reminder that we had the man who many of their fans think was instrumental into turning their club into a basket case here at Cardiff for the first half of the noughties and, it's so typically Cardiff City that he is now back at the club as it's Life President!
Now, I don't believe that Sam Hammam has had a direct part to play in the shambles of the last three months or so, but there are those who think he has and I'll freely admit that I've been wrong before in my opinions when it comes to City and no doubt will be again in the future. Whatever the truth though, the presence of the likes of Hammam at a club where the owner is being vilified and ridiculed on a worldwide scale just seems so apt – Tan, Lim, Hammam and the rest deserve each other because of what they have done and are doing to our club, but the awful thing is that thousands, if not millions, for whom Cardiff City means an awful lot are having to share in the sick joke as well.
Yesterday epitomised what Cardiff City has been like off the field for far too long. To be fair to those involved, the legal requirement for Premier League clubs to hold press conferences in the build up to every match they play meant that the one held at the Vale training facility yesterday was always going to be an awkward occasion – I don't have an easy answer as to how the media men at the club should have handled it, but then I'm not paid to deal with such situations. What is clear though is that what they came up with only served to fuel the prevalent feeling in the national media that the club is a complete joke away from the playing side.
Imposing a blackout on television, radio and social media coverage and plonking Assistant Manager David Kerslake in front of everybody with instructions to keep stating that he would only answer questions on the game at Liverpool smacked of policy made up on the hoof – especially when Kerslake stated more than once that he had only been asked to attend the press conference just after arriving at the training ground shortly beforehand (was it any wonder that the poor bloke had something of a "caught in the headlights" look to him during what must have been something of an ordeal).
A few hours later, Sky Sports News reported that a Director of the club had made a two fingered gesture towards media men/women (it wasn't a victory salute apparently!) as the squad arrived for the flight to Liverpool from Rhoose airport. Now, you try to be sympathetic and imagine what it must be like to be caught up in the eye of a media storm, but we aren't twenty second in League Two any more – we are competing in what we are repeatedly told is the best league in the world. Maybe it is common place for Board members at other Premier League clubs to behave in this manner when in the media glare, but, if it is, I've not heard about it – other clubs manage to look quite classy and efficient when caught in a similar position to the one City faced yesterday, we just looked tacky and ham fisted.
Vincent Tan was thousands of miles away when the events I mentioned which reflected poorly on the club were being played out. This was a reminder that, even if the man causing so much angst amongst supporters at the moment was to leave, there is still much behind the scenes that needs addressing. Professional footballers playing in the Premier League tend to be given a pretty poor press and today, with their club in disarray off the pitch, our team face opponents who were frighteningly good in demolishing Spurs last week – they will, almost certainly, lose and, possibly, very heavily. However, apart from one or maybe two cases, I don't think anybody could complain about the honesty, attitude and commitment they've shown so far this season towards the club that pays their wages – I don't expect anything different today, if only a few others at the club had the same mind set.
* picture courtesy of http://www.walesonline.co.uk/