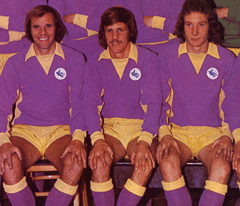 There were a few similarities between the two teams Russell Slade has come up against in his two games in charge so far. Forest and Ipswich both came to Cardiff City Stadium on long unbeaten runs, they were both in the top six of the table and they both came here to try and win the match rather than to stifle us.
However, there were significant differences between them as well. The attacking intention was similar, but there were contrasting approaches as to how they went about trying to get those three points. Forest set up in exactly the same way as us and we were fortunate to score when they were probably edging the game – once in the lead though, it was all pretty comfortable until that late Michail Antonio inspired rally gave us an anxious four or five minutes before victory was confirmed.
On the other hand, Ipswich, to their credit, played with an authentic 4-3-3 formation which contained three genuine strikers in Murphy, Sammon and McGoldrick and, with their midfield three not playing with much width, we had the first occasion under our new manager where the central midfield two in his 4-4-2 were faced with an extra player up against them in the areas they tended to do most of their work. However, there was another reason why I believe that the test offered by Ipswich, which City passed with flying colours with their 3-1 win, was a more difficult one than that provided by Forest because this time our opponents scored first.
Our manager from a decade ago, Lennie Lawrence, was always banging on about the importance of scoring the first goal and I daresay this had something to do with why the figures tended to back him up when it came to his time in charge. Lennie Lawrence's Cardiff City sides barely lost when they went 1-0 up (it didn't happen once in our 02/03 promotion season), so all of that stuff about the first goal being vital had a positive impact because the figures suggest the players believed it – the obvious downside of that though is what happens when the other lot score first and, although I can remember a couple of matches against Coventry that we won after going 1-0 down, you tended to think "well we're not winning this one" if a Lennie team let the first goal in.
Much the same applied with Dave Jones. Anyone who was there to see Jason Koumas turn the game on it's head when he transformed a 1-0 deficit into a 2-1 win over Leeds in his first home game in charge will remember it for the rest of their lives, but they won't be able to recall too many other occasions where we won after conceding first under the surly scouser – the fact that we were very tough to beat after scoring first under Jones suggested that, although he didn't go public as much as his predecessor about the importance of the first goal, the players probably heard quite a lot along those lines from him.
It was slightly different under our previous two managers. Malky Mackay's record was surprisingly poor for someone who we are told was so defensive in his approach – winning seven  times after conceding first in his two and a half season in charge is pretty good, but losing ten times after scoring first is very un Lawrence and Jones like. Ole actually managed to win two games after conceding first during his first month or so in charge, but never did it again, while we were beaten three times after going 1-0 up in his short time in charge.
What all of this shows is that Lennie Lawrence was, essentially, right -sides may manage to scrape a point after going 1-0 down, but they don't tend to win and I must admit I was struggling to see how we were going to get one point, let alone three, out of last night's game in the ten minutes after Ipswich scored.
After about half an hour of doing okay (but no more than that), City had a dodgy spell where Federico Macheda and Fabio turned over possession within seconds of each other and they were punished in spectacular style by the in form Daryl Murphy who beat David Marshall all ends up from twenty five yards to ensure that our dreadful record when it comes to keeping clean sheets goes on – it's now just the one in our last twenty games.
With Johnny Williams' ability to dribble past opponents at will and to spot  a pass making him the most influential player on the pitch, Ipswich looked well on course to extend their unbeaten run to nine games as City struggled to come to terms with the visitor's extra man in central midfield. Apart from a Pilkington effort that Ipswich keeper Gerken turned over the bar without too many alarms and a scramble following a corner where the ball bounced around in front of the visitor's goal without a Cardiff player getting a touch there was nothing to suggest City had a first half goal in them, but then a moment of individual brilliance on thirty nine minutes from a player who has provided so many of them down the years changed things in an instant.
So often in recent years when City have been struggling, they have fallen back onto Peter Whittingham's ability from corners to get them back into a match and that's precisely what happened last night. However, this time it wasn't Whitts who was drilling the ball in for a giant defender to head home – Anthony Pilkington took the corner this time and, at first, it looked like the visitors had dealt with it, but when the ball dropped to Whittingham about thirty yards out, he stepped away from Willliams' challenge and hammered a brilliant shot high into the net to level things up.
If Murphy's goal had been superb, then this one was amazing and rendered the article I wrote for the Echo yesterday on Whitts out of date before it had even been published! This was a goal worthy of a place in any list of the ten best goals Peter Whittingham has scored for the club. When you combine the sort of shooting we've seen in the last two games with the revitalised performances that have gone with them, then critics like myself who had been advocating that Whititngham be left out of the team have had their words firmly shoved down their throats since Saturday – when he performs as he has done in our last two games, there's no way Whitts can be dropped from the team.
Although 1-1 was probably a fair scoreline, I thought Ipswich had just shaded the first half, but, unlike so often this season when City have played their better football in the first forty five minutes and faded after the break as they tired, they got stronger this time and took decisive control of proceedings during the third quarter of the game.
I have a lot of time for Ipswich manager Mick McCarthy (who has spent virtually nothing in transfer fees in turning the tractor boys into a genuine promotion contenders) and he was typically honest when he said that his side's defending for the two goals they conceded during City's dominant spell should have been accompanied by appropriate music . To his credit though, McCarthy acknowledged that City had to be applauded for taking the chances that came their way and I would guess Russell Slade enjoyed the persistence which prevented the visitors from clearing the ball effectively for the second goal and the wing play from Craig Noone which led to the chance for the third one.
As for the scorers of these goals, I'm being super critical here when I say that I see little evidence  of a partnership developing between Macheda and LeFondre, but I suppose they need more than two games for that to happen and, in the mean time, three goals from those two matches since they started playing together is more than enough compensation for them not always being on the same wavelenegth. As for their individual performances, I'm still not fully convinced by Macheda, but he looked a bit fitter last night and contributed more when we didn't have the ball – I've only seen his goal once since last night and can't work out whether the ball hit him or not (I reckon Pilkington was looking to shoot rather than cross the ball), but, whichever it was, he was in the right position to finish things off.
Something similar could be said about LeFondre. As on Saturday, he worked very hard and he does seem to give our midfield players passing options they didn't have before, but his finishing (the strongest part of his game I thought when we signed him) has been disappointing. At Blackpool and in the first half last night, he showed a good instinct for finding space, but, on both occasions, the end product lacked the quality I would have expected from someone with his goalscoring record. Much the same sort of thing happened after sixty nine minutes when he found space to receive Sean Morrison's header (unlike many central defenders he seems to have a good instinct for knowing what's happening around him when he's attacking), only him to scuff his shot which would not have gone in without the deflection off Christoph Berra I think it was. Still, LeFondre has the confidence of a goal behind him now and, hopefully, this can help him score at the rate that was expected of him – on the evidence of the last two games there's little wrong with his all round play at the moment.
Whittinghams' goal helped make him a realistic man of the match candidate on a night when there were a few with claims, but I'll mention two contenders. Ipswich had the current Championship player of the month at left back in Tyrone Mings and I doubt it if he's had a tougher ninety minutes this season than the one Craig Noone gave him – this was Noone's best performance since coming back from injury by some way with his crosses leading to our second half goals. Maybe it was frustration that turned MIngs into a serial fouler on the night, but how he stayed on the pitch was  a mystery to me – weak referee David Coote (I remember him looking out of his depth at the home game with Peterbororough two seasons ago) eventually booked him  in the second half after his fourth or fifth foul, but he kept on clogging after that and it seems weird to me that Macheda can get booked for getting in Gerken's way when he was trying to clear the ball and yet Mings didn't see a second yellow card for his persistent fouling.
Mind you, if Mings could have been sent off, then I'm pretty sure Fabio would have got a straight red if he had connected with the Ipswich player he launched into a tackle at from about five yards range. The Brazilian could easily have been sent off at Blackpool as well and it seemed to me that last night his idiotic attempted challenge came as a result of his name being chanted by City fans. However, although the chant may have had serious consequences, it has to be said that the left back deserved the applause of home supporters for another action packed display which made him my City man of the match – he never gives his opponent a moments peace and more often than not wins the ball with well timed, legitimate challenges, besides some more self discipline, the only thing lacking from his game at the moment is a goal and I don't think that will be too long in coming.
Finally, a word about the manager. Whatever Russell Slade said at half time had the desired effect and there is no doubt we are looking more organised, cohesive and committed than we were before he was appointed. Last night his side managed to win quite comfortably in the end despite conceding first and the only slight uncertainty I'd have with him at moment is that so far he's faced two sides which have come here to try and win the game, will our new manager be able to cope as well when our opponents park the bus? Until that happens though, Rusell Slade is certainly ticking all the right boxes – he's honest and assured in his dealings with the media and his obvious enthusiasm is rubbing off on players and supporters alike.
* pictures courtesy of   http://www.walesonline.co.uk/