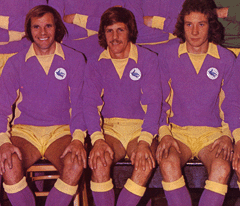 I'm not sure how this section will work out this season seeing as we will be playing some sides that we have barely met in those six decades, but, here's a nice gentle introduction to the new campaign with a quiz about that fascinating subject – pre-season friendlies! The answers will be posted on here tomorrow.
60's. Which City player got sent off for scrapping with a member of West Germany's 1966 World Cup Final side in a game against Werder Bremen in 1969 – a bonus point of no use whatsoever to the person who can name the opposing player who also received his marching orders in the incident.
70's.Name the side, who are competing in this season's Champions League, that were beaten 5-3 at Ninian Park in 1971.
80's. City only played one home pre-season friendly against non British opposition during this decade – they were beaten 3-0 by who in 1989?
90's. Not quite foreign opposition, but which pre season friendly played in 1993 outside Great Britain revived memories of a more important match between the two sides involved five years earlier?
00's. City's friendly with Santander in 2004 is probably best remembered for a scrap involving about twenty players, but can you name the world superstar from another sport and the Spanish international nicknamed "Little Buddha" who were both born in Santander?
10's. Can you name the Scandinavian defender, capped forty nine times for his country, and the former Liverpool left back who both played as trialists for us in the game against Deportivo La Coruna in 2010?
Answers.
60's. Ronnie Bird – the Germany international was Horst Hottges who played right back for his country in the 66 World Cup Final.
70's. Schalke 04.
80's. Botafogo.
90's. Derry City.
00's. Severiano Ballesteros and Ivan de la Pena.
10's. Toni Kallio and Gregory Vignal.