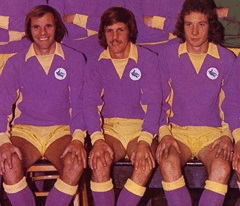 After facing the one side in the Championship that I can't cobble together a six decades quiz for in our first game of the season, we now get drawn against them in the League Cup in our sixth! So, once again, a different type of quiz today – I'm going to offer some clues as to the identity of a City player from every decade since the sixties and there's an additional question of what do the six players have in common.
Answers to appear on here tomorrow.
60s. Not just a question this one, but also an appeal for help. This player was a winger who only played one game for us and is so obscure that he doesn't even appear in some of the, usually very reliable, City reference sources I use. In fact, he only appears in one of them and, even then, they can only give the initial of his first name (it's an A). Anyway, the player shares his surname with someone we signed in the following decade for what was  very big sum by our standards at that time – he was thought of as a very important addition to the squad, but, as it turned out, he was sold within a couple of months of his arrival at Ninian Park.
If you do know the name of the player, any additional information on him would be much appreciated.
70s. This player was given the ironic nickname "Lucky" at the south coast club he played for before us because he missed so many matches with illness and/or injury. It was much the same for him when he came to Cardiff, which partly explains why he found it almost impossible to dislodge either member of a very well established partnership in his position.
He began his working life as an apprentice electrician at a colliery near Barnsley, before starting his time in football at a club managed by the man who later signed him for City – he left us having played just ten games and went into non league football,  before returning to his Hampshire roots where he was to win local level trophies for his snooker as five of the youngsters he coached in that game went on to represent England.
80s. Although it might not sound like it, this Yorkshireman was much more at home in  opposition penalty areas than he was in a scullery. He may not have been as prolific at Cardiff as he was when he was playing for the town that hosts one of flat racing's summer classics or when he was playing for a club on an Australian road, but he did pretty well in the goalscoring department for us when you consider the sides he had to play in – after retiring from the professional game, he scored for 280 goals for Corinthian Casuals Veterans!
90s. This, now largely forgotten, striker's City career comprised of two moments five days apart that suggested he could have made a far better living for himself in the game than he did and virtually nothing else. Holder of an unwanted record that he can never lose now, this Liverpudlian's first attempt to make it as a professional ended with his release by a club from the city of his birth without him playing a first team game. Things went slightly better for him at Cardiff when they signed him three years later, but, he was barely seen after those two early highlights and left the club at the end of his one year contract.
00s. One of very few in his position who has been sent off while playing for the club, one of this international's offspring played for City last weekend.
10s. Given a trial by City after impressing while playing for Welling United, this London born full back's former clubs include one whose ground is named after the man thought by many (including myself) to the best player they've ever seen – not sure Peter Shilton, Terry Fenwick, Peter Reid, Terry Butcher and Steve Hodge would agree with that though!
This question is the reason why I had to put the word "mostly" in the title above.
Answers.
60s. A Burns' only appearance for City was a 3-0 League Cup defeat by Wrexham at the Racecourse in 1963 – Mickey Burns was the player with the same surname from the seventies.
There was a bit of additional information about Mr Burns provided by someone who answered this question when I posted it on a City messageboard – the player concerned was an Albert Burns, who went on to play for Barry Town it seems.
70s. Ken Jones.
80s. Peter Kitchen.
90s. Jamie Hughes who scored spectacular goals for us against QPR and Scunthorpe and was  the first British footballer to fail a test for a performance-enhancing drug. While a YTS player with Division One Tranmere Rovers in May 1995, he failed a drugs test and was discovered to have taken amphetamines. His punishment for the offence was a six-month ban from football (suspended for two years).
00s. Martyn Margetson, whose son Ben played for our Under 18s on Saturday.
10s. Martin John's only City appearance came against Burton in 2011 – he once played for Argentinos Juniors whose home stadium is the Estadio Diego Armando Maradona .
The link between all of the players is that they made their debuts for us in League Cup games.