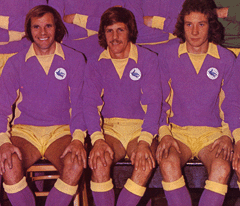 Six Sunderland questions, answers tomorrow.
60's. Name this famous Sunderland player from this decade.
70's. This Scottish international defender was probably not best pleased when Sunderland won the FA Cup in 1973, but within eighteen months he was playing for them at Ninian Park – who am I describing?
80's. As far as I can remember, two things happened for the first time in a league game I'd been at Ninian Park to watch (i.e. since 1963) when City entertained Sunderland on 3 May 1980, any idea what I mean?
90's. Why was Rush disappointed when Liverpool beat Sunderland 2-0 in the 1992 FA Cup Final?
00's. The Sunderland squad for their 4-0 defeat at Ninian Park in 2004 contained a current City player, two players who would sign for us in the future and a current Wrexham player, can you name them all?
10's. Name the Spanish international, whose former clubs include Osasuna and Marseille, who scored for Sunderland last season.
Answers.
60's. Jim Baxter.
70's Bobby Moncur who was Newcastle captain when Sunderland beat Leeds 1-0 in the FA Cup final in 1973.
80's. The kick off was delayed because of crowd congestion and there were three sections of the ground allocated to away fans (Grange End, Canton Stand and Enclosure).
90's. Ian Rush scored one of Liverpool's goals that day, but David Rush was in the Sunderland side.
00's. Tommy Smith, Darren Williams, Jeff Whitley and the current Wrexham player is Steven Wright.
10's. César Azpilicueta scored an own goal in Sunderland's 2-1 defeat at Stamford Bridge in April.