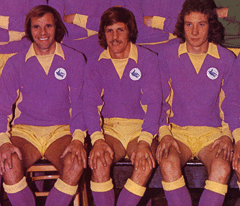 Rotherham are one of the tougher of the opponents we have when it comes to setting this quiz, so, apologies in advance if the questions are a bit below standard or even have been asked before! Anyway, I've come up with six and will put the answers on here tomorrow.
60s. Can you recognise this full back, who was a member of a City squad beaten at Millmoor during this decade, by this list of clubs he was employed by – Leeds, Cardiff, Rochdale and Southport?
70s. This player started off at Rotherham in the mid seventies and went on to play two hundred and eighty five times for them, before moving on to a club from his birthplace for whom he played seven games fewer and there were also five more appearances for the Millers during a loan spell some fifteen years after he first turned out for them. He then moved outside of Yorkshire for the only time in his career as he played less than twenty times for some Midlands nomads, before returning "home" to see out his career with a club in real danger of a relegation this season to the lowest level they will have played at since turning professional – he captained this club to a Wembley triumph before a retirement in 1994, having clocked up just under seven hundred appearances, but can you name him?
80s. An obscure footballer, who doesn't even have a Wikipedia entry, to recognise here. He only started one game for us and it came in a losing cause at Rotherham during this decade. City were one of four clubs this striker was on the books of,  but he only ever scored league goals for one of them – a team of blues from up north. He did manage a goal during his time at a northern seaside resort in a Cup tie which almost, but not quite, secured a giant killing win over a team of light blues.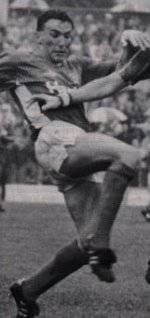 90s. Which member of our current squad shares a name with a member of the City team in the "Peter Zois match" against Rotherham in 1998?
00s. Another player to identify from these clues. In 2016, he was playing for his sixteenth club and, having come through four heart operations, he became the oldest ever player to score a goal in a Wembley Final at the age of forty five. He did have a spell with some clever Scotsmen, but all of his other football has been played at various levels of the English Pyramid system, including the Premier League where he had the dubious distinction of scoring the only goal of the game into his own net in injury time on his first appearance at that level. In the late nineties he signed for a current League One team for a fee which still stands as their club record and he managed an impressive, for someone playing in his position, ratio of a goal every ten matches while playing nearly one hundred and fifty times for them. It was Rotherham who he played most games for though, as he teamed up with former City man Ronnie Moore during the early part of the noughties.
10s. Curently playing for a team from the Balearics that are managed by a Euro 96 winner, who was the Argentinian who faced us while playing for Rotherham last season?
Answers.
60s. Derek Ryder.
70s. Former Rotherham, Sheffield United, Wolves and York centreback Paul Stancliffe.
80s. Richard Sendall, who was with Watford, City, Carlisle and Blackpool for whom he scored the goal which nearly beat Man City in 1988.
90s. Mark Harris.
00s. Chris Swailes scored the goal which decided a game between Ipswich and Villa when he put through his own net on his Premier League debut. He signed for Bury in 1997 for a fee of £200,000 and then moved on to Rotherham in 2001 – last May he was one of the scorers for Morpeth Town when they beat Hereford FC 4-1 in the FA Vase Final.
10s. Luciano Becchio is currently playing for CD Atlético Baleares, who are managed by Christian Ziege.