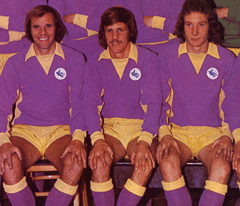 Six Middlesbrough related questions, answers on here tomorrow.
60's. Name this Boro player from the early 60's who has even signed the photo to help you out – another clue, he played for his country.
70's. Apparently this Middlesbrough srtiker from the 70's favourite record at the time was "Saline" by Rod Stewart, can you name him?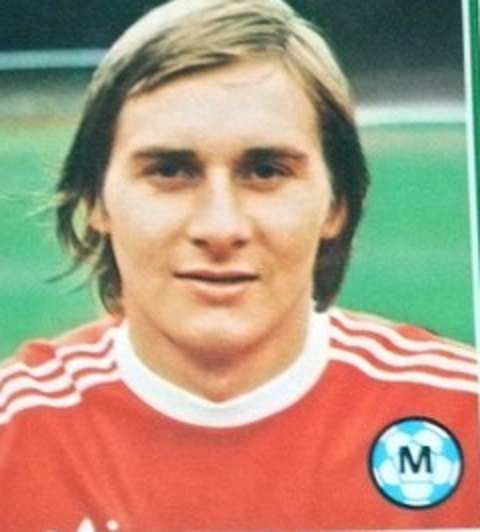 80's. Alan Durban's first game in charge as City manager was a 3-2 defeat at Middlesbrough on 29 September 1984. Which member of our starting line up that day, who went on to play for his country, was described as looking scared stiff by the new boss, who soon dropped him from the team, before releasing the player at the end of the season?
90's. Two parts to this question, first, who is the Boro striker from the 90's in the centre of the picture and who was the strike partner of his that he was, allegedly, so unimpressed with that he strode into the club office one day and offered to buy up his contract to get him off the club's books?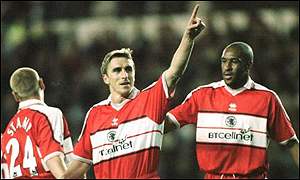 00's. Who was the unused sub for City in their 1-0 win at the Riverside Stadium in December 2009 whose former clubs include Fort Wayne Fever. Windsor and Eton and Tooting and Mitcham United?
10's. Name the member of the Middlesbrough side that won 3-0 here at the end of the 10/11 season who had his contract cancelled by mutual consent nearly two years later and eventually signed for one of his former teams in a deal which saw him forego any wages to help out the cash strapped club.
Answers.
60's. Mel Nurse.
70's. Peter Brine.
80's. Paul Bodin.
90's. Alen Boksic offered to buy up Noel Whelan's contract.
00's. Soloman Taiwo.
10's. Alan Thomson.