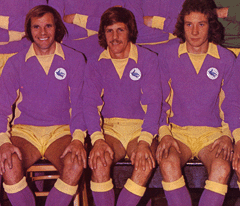 Six Man City related questions, answers tomorrow;-
60's. Name the City player, later transferred to a First Division club, who scored four times in matches against Man City during this decade.
70's. A player signed from Man City made his debut for us in March 1974, can you name him and also the full back who also made his first appearance in the same game?
80's. Two parts to this question. Firstly, name the three players we signed from Man City during season 81/82 and, secondly, who was the ex England player who turned out for us in a game against Sunday's opponents during this decade?
90's. A full Welsh international played for Man City in their 1-0 FA Cup defeat here in 1994 and one of his colleagues also played for the same country at Under 21 level, can you name both players?
00's. Three first team regulars in the Man City team relegated from the Premier League in 2000/01 later played for Cardiff City, can you name them?
10's. Name the member of Man City's title winning 2011/12 squad who had been playing for Cardiff City three years earlier.
Answers
60's George Johnston.
70's. Ron Healey and Clive Charles – it was a 2-2 draw at West Brom.
80's. First part, Dave and Gary Bennett and Paul Sugrue, second part, Gerry Francis.
90's. Andy Dibble and Carl Griffiths.
00's. Spencer Prior, Jeff Whitley and Mark Kennedy.
10's. Stuart Taylor.