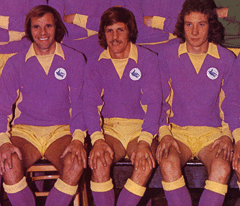 Six questions with a Cardiff City/Leeds United connection with the answers to be posted on here tomorrow.
60s. Can you identify this member of a City team which kept a clean sheet against Leeds during this decade?Signed from a team that would be winning the European Cup in the not too distant future, the less than ten matches this full back played for City turned out to be the only ones he ever played in professional first team football, he remained resident in Cardiff after his release by the club.
70s. Name two players who appeared for us against Leeds during this decade who scored hat tricks in the old First Division.
80s. Llanrumney, Grangetown …………what comes next in this Leeds United related sequence from this decade?
90s. Another player, this time from Leeds, to identify from some clues – signed from a Clydeside club that features Stanley Matthews and Tommy Lawton among it's former players, the only goal this winger with a surname that sounds like a flower scored for Leeds was the winner in a Premier League Yorkshire derby. He joined Oxford after leaving Elland Road, but the biggest moment of his career probably came during the noughties when his last minute goal saved some tangerines from relegation from the Premier League.
00s. Name the three Leeds players to score against us in this decade.
10s. On opposite sides in a Cardiff v Leeds match last season, these two players turned out for another Championship side which plays in blue late last month, can you name them?
Answers.
60s. Jim Upton.
70s. Jack Whitham, Bobby Woodruff  and Alan Foggon are all reported to have scored First Division hat tricks, but it may well be that Foggon's  only exists in Tommy Docherty's head as he is the only one who seems to think it happened!
80s.Bristol – Paul Bodin from Llanrumney, Phil Dwyer from Grangetown and Graham Withey from Bristol were the only players to score for City against Leeds during the 80s.
90s. Derek Lilley, who was signed from Morton and scored his only goal for Leeds in a 3-2 win at Barnsley – in 2000 his last minute goal at St. Johnstone saved Dundee United from relegation.
00s. Mark Viduka, Robbie Blake and Simon Walton.
10s. Tom Lawrence was in the City team which started the 2-0 defeat by Leeds in March last year, while Toumani Diagouraga came on as a sub for the visitors – both played for Ipswich in the recent 1-1 draw at Preston with Lawrence getting their goal.