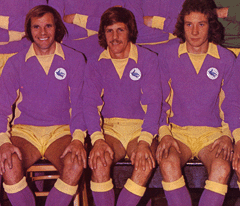 Time constraints mean that I've not been able to give this as much attention as usual and so there is different format to this week's quiz. This time, I'll just ask one question which has six answers:
Name six different Welsh Internationals who have played for Hull City in one of the decades covered by my blog – that is a Hull City Welsh international who played for them in the 60's, another one from the 70's etc. etc.
Some of the decades have seen more than one Welsh international turn out for them, but the answers I'll put on here tomorrow will be the names of the six players I thought of first of all when setting the question – I'll be back asking questions in the normal format ahead of next week's match with Spurs.
Answers – as I mentioned above, I'm sure there are other names that come to mind (e.g. Nick Deacy), but here are the names I thought of when setting the question;-
60's. Alan Jarvis.
70's. Dave Roberts.
80's. Tony Norman.
90's. Jason Perry.
00's. Sam Ricketts.
10's. Boaz Myhill.