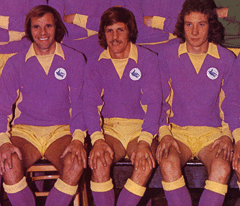 Six questions about Saturday's opponents – answers to be posted on here a few hours before the game.
60s. Fulham was the second club for this striker and he finished his playing days thirteen years later turning out for a team in Queensland in the early eighties. He averaged better than a goal every other game in International football and enjoyed some success in management as he led two different clubs to promotion, resigning on the same day as his Chairman at the second of them – who am I describing?
70s. One of this midfielder's seven league starts for City came at Craven Cottage during this decade. He never scored for us, but did represent the club in two Cup Finals, who is he?
80s. Can you identify this player from these clues? This centreback didn't sign for his first Football League club until he was twenty five, when he was recommended to some seasiders by someone who he had played alongside in America. The man who was responsible for his introduction to the professional game would later sign him for the same club and he would captain them to a proper FA Cup giant killing in 1983. This was shortly after he ended a three year stint at Fulham, where, again as captain, he scored the goal which secured them a promotion. His brief sortie into management did not go well as he was sacked straight after he led some Essex men to their record defeat and he passed away at the age of fifty eight in 2011.
90s. Do you recognise this member of a City squad which conceded eight goals in a season to Fulham during this decade from this list of some of his former clubs – Oxford United, Weston Super Mare, Haverfordwest County, Aberaman Athletic and Barry Town United?
00s. This midfielder now commentates on the Premier League in his native country a decade after he quit the game at the age of just thirty, having played in it for much of the previous ten years. At that time, he had just been released by Fulham after an injury plagued spell with them, having earlier played in the moneybags league for another team which play in white and black and a side from south of the river – who is he?
10s. Four of the members of the Fulham squad for last August's game with City are now playing for teams in varying degrees of danger of relegation from the Championship this season, can you name them?
Answers.
60s. Allan Clarke, who played his last game while turning out for Australian team Townsville Kern United – he scored ten times in nineteen matches for England and took Barnsley and Scunthorpe to promotion as a manager.
70s. Alan Couch was in the City team which drew 1-1 at Fulham in March 1973 and he was in the team beaten by Arsenal in the 1971 FA Youth Cup Final and the team which lost 1-0 at Bangor in the First Leg of the 73 Welsh Cup Final – he wasn't selected for the 5-0 win in the Second Leg.
80s. Roger Brown who signed for Bournemouth on the recommendation of Harry Redknapp – Brown was in Redknapp's Bournemouth team which beat Manchester United in the FA Cup in 1983 and managed Colchester until he was dismissed after an 8-0 loss at Leyton Orient in 1988.
90s. Lee Jarman.
00s. Claus Jensen.
10s. Lasse Vigen Christensen and Cauley Woodrow are on loan at Burton, Ryan Tunnicliffe has been loaned to Wigan and Matt Smith signed for QPR on transfer deadline day.