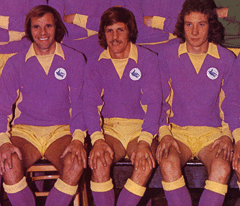 A half a dozen questions about our next opponents, answers to follow tomorrow.
60s. Can you identify the member of a City team that played Derby during this decade from this description?
"A forward who was a prolific scorer at reserve team level but failed to make a mark with the senior side. After moving to Millwall having played just four times for City, he fared pretty well the same, only making 5 League appearances, and returned to South Wales to play for Barry Town before getting another chance in the Football League with Newport County, where he played 13 League matches scoring two goals during 1966. He then left full time football for the second and last time."
70s. Who is the one time Derby player and the future City man in this picture from 1978 – for extra points which will win you absolutely nothing, can you name the team? Also, off the top of my head, there are eleven in the photo who played league football – again, there are completely meaningless bonus points at stake here if you can identify any of them!

80s. Who is this member of a City team that played Derby during this decade?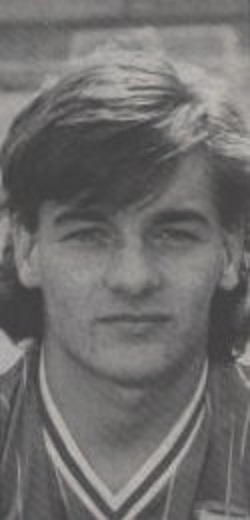 90s. Can you name this player?
"Started at Derby in the mid 90s and was loaned to a club in Iceland as a youngster. Left the Rams in 1996 after playing just the one match for them to join the first of two sides with amber in their kit that he played more than two hundred times for. It was while at the second of these teams that he was diagnosed with a degenerative bone condition in his leg – he was told that this condition not only threatened his football career, but also his ability to walk. Nevertheless, he returned to play for another decade despite suffering a cruciate knee ligament injury which sidelined him for a whole season. He eventually went on to captain the club in the Premier League before moving to a team of Lancashire whites and retiring at the age of thirty six – he now manages a non league team in the city where he enjoyed the greatest triumphs of his career."
00s. Name the five members of Derby's "worst ever Premier League team" squad, which won just the one game in 2007/08, who have represented Cardiff City.
10s. Which member of the last Derby squad to play Cardiff made his first ever appearance in the Premier League over the weekend just over fourteen years after his debut in senior football?
Answers.
60s. Gordon Fraser.
70s. The former Derby player is Gerry Daly, who is sat second from left in the front row and outside him is Roger Gibbins.
The team is the New England Tea Men and, besides the two named already, I reckon the hollowing played in the Football League;-
Peter Simpson (ex Arsenal) back row left, Chris Turner (Peterborough?) third from left back row, Kevin Keelan, fifth from right in the back row, next to him is Larry May (Leicester and Barnsley), then Mike Flanagan and Colin Powell of Charlton, while Laurie Abrahams, on the right of the back row, also played a few games for Charlton.
In the front row, there's Brian Alderson (Coventry) fourth from the left and the late Keith Weller is next to him.
80s. John Carver.
90s. Ian Ashbee, who joined Cambridge United and then went on to Hull who he, uniquely, captained in all four divisions of the domestic club game.
00s. Robert Earnshaw and Kenny Miller were regular members of the team during that season, while Steven Bywater, who has had two spells on loan at City, was also at Derby during that season, as was Craig Fagan, who had a trial with City in 2011. Finally, current City Development team coach Michael Johnson was a very occasional member of that Derby team.
10s. Lee Grant, who is currently on loan from Derby to Stoke, played for them in their 1-1 draw with West Brom on Saturday.