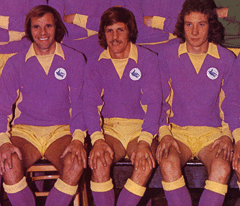 Another six questions on upcoming opponents, with the answers to be posted on here tomorrow morning,
60s. He managed Blackburn, York and two teams who played against each other on Saturday and scored for City against Derby during this decade – can you name who I'm describing?
70s. A couple of parts to this question, which current Premier League giants suffered their heaviest ever league defeat at the Baseball Ground during this decade and which future City player scored one of the game's ten goals?
80s. He played twice for City against Derby during this decade and we didn't concede a goal in either match – this was during one of two spells he had with us at either end of the decade and in between, he completed two more spells (he'd had an earlier loan stint with them) with a team we faced in many a derby during the years when we were in the lower divisions at the end of the twentieth century. He also turned out for some Maltese Spartans and won a couple of Wales Under 23 caps, but can you name him?
90s. With a surname which some would call aromatic, this full back was signed by Derby from his hometown club as he made the transition from blue into white. His first season at Derby was a success as they won promotion to the old First Division and he scored for them in the top flight, but injury forced him into retirement at the age of twenty eight, who is this player?
00s. This Derby scorer against us during this decade won caps for a team that has beaten Bolivia 6-1, Peru 6-0 and Tunisia 3-1 in the last five years, can you name the player and the Country he played for?
10a. A holder of a Premier League Winner's medal, this player was a member of a losing Derby squad here during this decade. Currently playing in his homeland after a career in which he has turned out for clubs in England, Scotland (his one game in this country was against East Fife), Denmark and Greece (where he played Champions League football for the first time in seven years), he has played forty four times for his country and was caretaker manager of residents of the Hive where he won a trophy in his only game in charge – who is he?
Answers.
60s. Derby's Bobby Saxton, former manager of Plymouth and Exeter, scored an own goal in the 1-1 draw with City in October 1966.
70s. Rod Thomas scored for Derby in their 8-2 win over Spurs in October 1976.
80s. Paul Maddy.
90s. Mel Sage.
00s. Inigo Idiakez of the Basque Country.
10s. Roy Carroll, whose Barnet team beat Stevenage in the 2011 Herts Senior Cup Final before he left the club having never played for them.