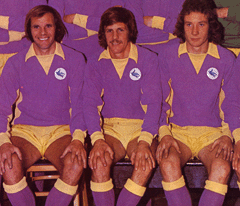 Although it was great fun while it lasted, there was something freakish about our thirty one year unbeaten run (there weren't many draws in there either) against Leeds, but it had to end sometime and, in their heart of hearts, I doubt it if there were too many City fans who were genuinely shocked that it happened last night.
Truth be told, I couldn't get too worked up about the fact that it was Leeds United, with their laughably poor record against us, who beat us (losing that record means little to me), but I did get annoyed that a club without a home win in eight months were able to end that sequence relatively comfortably.
On Thursday, the Sky cameras were at Elland Road to watch a Blackburn side with just five goals to show from their six away games up to then score twice in the opening six minutes as they eased to one of the most comfortable wins I've seen in the Championship in recent years.
That loss was Leeds' fourth in consecutive matches on their own ground. Surely, even though you would expect a reaction after what was, to be frank, an abysmal showing by the Yorkshire team against Blackburn, if ever there was a side crying out to be attacked on their own pitch it was them?
So, what did we get from City in the opening forty five minutes? One measly goal attempt as the side that has forgotten what it's like to score carried their shot shy October form into November.
Now, of course, it was hardly as if City were going to blitz Leeds with three goals in the first twenty minutes when it was 445 minutes (now 535 minutes!) since one of our players had scored, but, even so, this was a match between a team without a win in eight matches and one who hadn't lost in six – by nearly any criteria you wanted to apply, you would have thought there would have been one side going into last night's match fearing the worst and another one confident of the win.
Was this really the case though? My feeling is that one of the reasons why Russell Slade is coming under increasing fan pressure (I'll be surprised if there's much Boardroom pressure mind) in the time since the Bristol City game is that there are many others besides me who suspect that, if there was a team who would have settled for a draw before a ball was kicked last night, it wasn't the one that hadn't picked up three points since September 19!
The evidence, as I see it, of almost thirteen months of watching Russell Slade teams play, at home as well as away, is that caution is the watchword of pre match rallying calls given by our manager. As I said on here last week, whether this is a genuine reflection of his feelings or not, the way Russell Slade's teams play is suggestive of someone who has been given a chance that he didn't believe he was going to get and is going to keep risk taking down to a minimum in an attempt to keep hold of what for him must be a dream job.
Now, anyone calling for our manager to be sacked at the moment has to acknowledge a few things;-
The unbeaten six match run I mentioned earlier gives the clue that Slade's results since he took over would not usually be considered to be bad enough to get a manager the chop - he's won more matches than he's lost as Cardiff boss. Dave Jones' dismissal at the end of a season in which we had reached the Play Offs is proof that this doesn't always apply and there are always those big fish in any pool who view anything less than winning a trophy as failure, but, generally, a manager with a won, drawn, lost record like Russell Slade's at Cardiff would have grounds to feel hard done by if they were dismissed.
While there are those who say Slade should be bringing in players on loan to address what have now become glaring deficiencies within his squad, my strong feeling is that this avenue isn't open to him at the moment. When our manager was first hired, there was much talk about him being someone who was used to working with a small playing budget and what has happened on that front during the summer transfer window, and since then in terms of the loan market, suggests that any spending power he has is very limited.
Last night was another game in which the players appear to have given their all. There were times when it looked like this wasn't the case last season, but things began to improve on that front in the closing weeks of 14/15 and I think it's fair to say most would agree that this has continued into the new campaign.
  We are not having much luck on the injury front. Besides long term casualties Ben Turner and Federico Macheda, we have been without Bruno Manga for weeks, Fabio faces a month or more out with the injury he picked up at Ipswich, Idriss Saadi has not been in contention for a first team squad place yet, Kagisho Dikgacoi has been missing for the last two matches and Kenwyne Jones only returned for a thirty minute substitute appearance last night after missing the last three matches with injury – it's especially galling that Manga and Jones have been missing games because of injuries picked up while away on international duty.
Nevertheless, this is a squad which the powers that be at the club already believe is good enough to make a big impact in this season's Championship and our manager has always said that a top six finish is the target this season – my feeling has always been that we are a few (maybe as low as one or two) short of having the depth to maintain a challenge for the whole season, but, in his public pronouncements at least, our manager believes otherwise.
So, with the gap now up to eight points from the top five, there is going to come a point (some may think that it's arrived already) where we are chasing just the one Play Off place – again though, the instinct would normally be to give the manager more time at this time of the season before replacing him.
However, you only have to look on social and print media this morning to see that there aren't too many willing to defend our manager at this time – Russell Slade has never been a popular Cardiff manager, but he would have hoped he was over the worst as far as supporter criticism goes, now though I suspect the Bristol City match in particular has played a big part in that popularity rating crashing down to December/January/February levels again.
An interesting question occurs to me – would feelings towards our manager be the same if all of our recent drawn matches had finished 2-2 and the Middlebrough and Leeds games had ended 3-2 either way? My feeling is that Slade would not be getting the same level of criticism – our recent lack of goals has much to do with the dip in our manager's fortunes.
That said, the analogy of matches finishing 2-2 or 3-2 I mentioned is an unrealistic one because, despite us drawing seventeen league matches in the year and a bit Russell Slade has been in charge, only one of them (at QPR) has finished at 2-2, while we've managed only one 3-2 victory and have only been beaten 3-2 on a couple of occasions.
No, it's almost always anything between none and three goals a game under Russell Slade at Cardiff – maybe the figures do lie under some managers and a goals per game rate like that doesn't have to mean turgid and careful football, but there, surely, cannot be too many City fans left out there who believe that Russell Slade is one of those managers?
Sam Allardyce is a much more high profile manager than Russell Slade will ever be who, it can now be seen, worked wonders in his time at Bolton, but his career since leaving that club has been chequered to say the least – despite the fact that he has managed four more Premier League clubs and, up to now, has never been relegated.
However, Allardyce has always had something of a footballing image problem in that, rightly or wrongly, he is perceived as an advocate of a long ball game that has some supporters at any club he may join against him from day one. This feeling that Allardyce teams are dull to watch was, almost certainly, a consideration in the decisions by Newcastle, Blackburn and West Ham to relieve him of his duties.
Now, a personal view is that I've, at times, seen Allardyce sides play much more attack minded and attractive football than I've ever seen from Russell Slade's Cardiff. Sorry to trot this line out again, but a year and more into his time here and I'm still waiting to see a genuinely memorable game in the flesh under this manager.
So, is that reason enough to advocate sacking our manager now? My general footballing outlook says that it shouldn't be really, but I say that with decreasing confidence as boring game follows boring game follows boring game under Russell Slade.
Furthermore, let's not forget that the word when Malky Mackay was sacked was that the decision makers at the club wanted to bring in someone who would play a more entertaining brand of football. Therefore, although not the whole reason for the decision to get rid of Mackay, essentially the same set of people who have charge of the club these days made a choice to sack the manager two years ago when the style of football on offer was a consideration.
Now, there are those who will maintain that we were very boring under Malky Mackay, but I honestly don't remember feeling as miserable then as I do now about the type of football we play.
If the top people at the club genuinely were concerned about the type of football being provided by the team at a time when we were in the top flight and playing to virtual full houses every home game, then how can they not be when we are slipping towards mid table mediocrity at a lower level (again!) and crowds are the lowest they've been for nearly ten years (especially as the biggest single factor in that drop in attendances is the lack of entertainment in matches if a poll for Wales Online is to be believed)?
I've mentioned already that I doubt whether Russell Slade is under too much pressure as far as his job goes. After all, he is Vincent Tan's personal choice and our owner must, understandably from his perspective, not want to make a decision which would only damage his already battered reputation among the City faithful even further, but, I say that on the basis that I believe his other footballing interests mean that the club does not mean as much to him as it once did – if I'm wrong in that regard though, then Slade could well have grounds to feel his job is under serious threat.