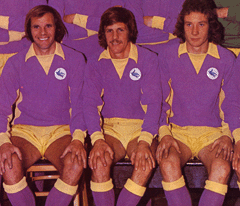 John Marenghi has supported Cardiff City for more than forty five years and he has kindly given me permission to reproduce a letter he sent to the club about five weeks ago on here – he has not even had an acknowledgement from them yet.
First though, I'd like to make a few brief comments on what you are about to read. What struck me when I read the letter was the impressive dignity John shows, particularly when you consider what he is going through – the rebrand is a very emotive subject, but he remains calm and courteous throughout. On the other hand, dignity is a quality that has been in short supply at Cardiff City down the years, but since May 2012 it's virtually disappeared.
On the latest episode of the In the City video magazine on the club's website, there is a mention of another award City have won for the way away fans are looked after when they come to Cardiff. City have got plenty of well deserved praise for the welcome they give visiting supporters, so it's ironic and concerning that they so often treat their own fans with total contempt.
I'm going to include John's preamble to his letter because he, tellingly, contrasts the response he got on the only other occasion he wrote to the club with what has happened this time.
One last thing, I'd be surprised if Vincent Tan is aware of this letter, let alone read it, but he casts a long shadow at the club and, from my limited experience, it seems the staff tend to be very cautious about making decisions of their own for fear of upsetting him – this may partially explain the lack of a response, but, nevertheless, if anyone at the club has read John's letter and decided not to act on it, they should be ashamed of themselves.
Good luck with your health John, I hope you eventually get the reply you deserve from the club and that you and your sons will again be watching us play in blue in the future.
"In over 45 years of supporting Cardiff City FC I've not been one to attend Player of the Year functions and have never met a player or a manager but it has always been my club and I've been a season ticket holder for many of those years travelling all over the country to watch my team.
In that time I have only felt compelled to write to my football club twice, both on emotional issues, and I wanted to highlight the difference in the response to both letters.
The first time was in 1988 when my brother was badly beaten up on the way back to his car after an away Welsh cup tie in Kidderminster. I wrote to the club telling them what happened and asked if they could send him something to cheer him up in hosptial and give them the ward address. The then manager Frankie Burrows visited my brother and gave him a signed team photo, which was a fantastic gesture.
Onto 2014 and I felt compelled to write to the club again, this time on a more personal issue to me as I now have a serious illness. I sent the letter on October 30th. Though I suspected as much I received no response or even an ackowledgement. It didn't surprise me but still saddens me. The letter would have remained private but as it was probably binned by the club I've published what I wrote below
The club obviously cares a lot less for its supporters in 2014 than it did in the lower league days of 1988…..
Tan Dato' Seri Vincent Tan Chee Yioun
Owner
Cardiff City Football Club
Cardiff City Stadium
Leckworth Road
Cardiff CF11 8AZ
Date: 30th October 2014
Dear Mr Tan,
I've never written a letter like this before, perhaps its my serious illness affecting my emotions but I am writing to you as one father to another to please review and reverse your decision to re-brand Cardiff City and to return the club to its blue kit and bluebird badge.
Let me explain, I have been a Cardiff City supporter for well over 40 years and have held a couple of season tickets for many years now, despite the fact it is a 350 mile round journey for me from my home to attend home games.
My 3 sons were all born in England but brought up to be Cardiff City supporters. They were very proud to follow their father's club, attending games with me all over the country whilst the team struggled in the lower leagues. They would boast to their school friends how they had been to see Cardiff play at, for example Barnet or Oxford, when most of their friends said they supported Liverpool or Manchester United but had never seen them play live. Of course they have since seen Cardiff win a play-off final at the Millennium Stadium and been to Wembley on 4 occasions, something they could only dreamed of when supporting them in the lower leagues.
However since the re-brand my sons say they cannot bear to watch Cardiff City in an all red strip and will not attend any more games while we play in red with a dragon badge. I did continue to attend, more out of habit and to see my brother and some friends (originally we bought around 34 season tickets together when we moved to the new stadium, now there are only about 10 of us left) – the enjoyment has gone and now I found myself not really caring whether we win or lose when it used to matter so much to me.
Football has been a big part of my life, whether playing in my younger days and watching Cardiff City, coaching youth teams, then latterly watching my boys play. Of course there are more important things in life and 2 months ago I was diagnosed with bowel cancer. I had surgery 4 weeks ago and commence chemotherapy next week.
What really brought it home to me was while I was recovering from surgery at home last week Cardiff were live on Sky TV against Millwall and my boys weren't even really interested in the score, let alone watching the game with me. I now worry that if I don't recover from the cancer and with your renewed determination to persevere with the red kit I will never be able to share the wonderful experience of watching my beloved Cardiff city with my sons again.
I see your latest comments say that the Cardiff city fans have done their worst to you but we welcomed you with open arms when you arrived and were delighted that you took an interest in our club, it is only the re-brand that has soured that relationship and it can be easily reversed. You continuously praise FK Sarajevo fans in the press but you didn't change their kit colour and badge so they have been able to retain their identity. You would have received the same level of support (and probably a huge amount more) from the fans of Cardiff city FC and the wider South Wales public if you hadn't changed our blue kit and marginalized the bluebird, you would certainly have received a much more significant amount of praise from the fans after promotion if it had been done wearing blue. It can be easily reversed and people would respect you for that, it would re-unite the fan base and then we could all pull together and get behind Russell Slade and the team in our attempt to get back to the Premier League.
I like to use an analogy to compare – you have been very successful with the Macdonalds franchise but that wouldn't have worked so well if you personally decided you didn't like Big Macs so refused to sell them in any of the stores. I know you wouldn't never have done such a thing and it's the same with Cardiff City FC, we are blue club with a bluebird badge, that's who we are what we the fan base / customer base recognize and associate with. It's not too late, you can still make us a very successful club in the Premier League in our true colours and badge with the support of our full fan base and general South Wales public.
I'm not naïve, I've worked in business for over 25 years and know that your staff will open and read this letter and it is unlikely to end up in front of you and that I won't even have a courtesy of reply but if by some small chance this letter does end up in front of you then I again very respectfully ask you, as one father to another, that if I survive my illness, please allow me to watch my football team again with my sons, brother and friends in a full and passionate stadium by reverting us to our traditional blue kit and bluebird badge
Thank you for your time in reading this letter and my impassioned appeal and hopefully I may just hear positively back from you.".