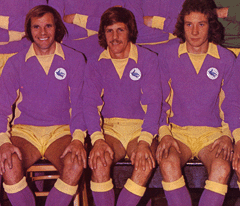 Games like Sunday's fantastic win over Manchester City explain why I'm still a football nut half a century after the game took a hold of me for the first time. Not all sports I liked at one time keep my interest now as much as they once did – both codes of rugby, tennis and golf are amongst the sports I've seen in the flesh, but I doubt it if I'll ever watch live again in my life and I'm just as likely to turn them off now as watch them when they are on the telly. Test cricket is another matter – I'm still a confirmed fan, but, even with that, the generally poor standard of play and England's oh so boring approach had me deciding not to bother with great chunks of this summer's Ashes battle – I sound like an old fogey here, but the cricket on offer did not hold a candle to previous great series like 1981, 2005 or even 2009.
The proliferation of live televised football means that I'd be lying if I said every match shown keeps my attention for the whole ninety minutes, but, generally speaking, it takes me much longer to press the change channel button than it does with other sports. Of course, actually being there to witness Sunday's epic helps enormously, but, such was the drama, tension and sense of theatre involved, I would have been glued to the telly watching if I had not been a fan of either side.
I've spent the whole of my life determined not to become the type of  "it were better in my day" caricature that used to annoy me so much thirty or forty years ago. However, now I'm at the same age as those people who I had little respect for as a kid, I can see exactly how easy it is to fall into the trap of rambling on about "when I was a lad". It's quite simple really, the older you are, the greater the file store you have of fantastic memories of incidents and games that seem as fresh now as when you first saw them. So. I'm merely stating what I believe to be fact when, for example, a teenager might say to you "that goal by Mark Hudson against Derby from seventy yards has to be the best goal City have ever scored" and I reply "no, Peter King's goal against Middlesbrough in 1970 was better" – no doubt someone twenty years older than me would be able to put me right on that as well!
Therefore, it follows that something on the sporting field needs to be pretty special to captivate me these days. Sunday's game was such an occasion, because, even with the huge database of sporting sights, sounds and emotions I have stored between my ears through all those decades, I had not seen it's like before. Football, for me is the sport most likely to get the seen it all "veteran" up out of their seat shouting "did you see that, did you see that?" and while it can still do that, it'll keep on getting my vote.
Anyway, what is all of this doing in a reaction piece about a Second Round League Cup tie between the Football League's bottom team and Cardiff City's second string in front of a crowd of just over 1,600 I hear you ask? Well, if I'm being really honest it's helping to pad out this article to the sort of length I normally do for City games, but I'm also trying to make a serious point here in that for all of those great things I have stored away in my sporting memories, there is also an awful lot of the banal and mundane.
That is why the hard work City made of seeing off Accrington Stanley at the Crown Ground last night did not surprise me in the slightest – I'd guess I've got about fifty similar type games in my memory banks and the great majority of them ended in the same manner as last night's did. "The Cup is a great leveller" is a cliche, but, like so many others, its' got a degree of truth to it- whether City were the "giant" from two divisions higher or the plucky "minnow" from the lower leagues, the sort of matches I'm talking about tend to see the so called better team being dragged down to the level of the smaller one.
This is especially true when the "bigger" team is full of players who believe they shouldn't be involved because they are good enough to be starting every week in the first choice side (I'm sure there were more than a few who felt like that last night), but, even when a first choice side is fielded, it must be hard for those involved to get fully motivated when they probably would much rather be somewhere else! Add in the fact that, especially following what happened on Sunday, even a brilliant performance by one of the team would be unlikely to be enough to get them into the starting eleven against Everton  and I think it becomes pretty clear that last night's encounter was never going to be one that would become something of an exhibition match which saw City winning by a huge score.
I'm sure Andreas Cornelius wished he had been somewhere else when the young Danish striker was being stretchered off after lasting less than a half of his first competitive start for Cardiff after another ankle injury to add to the one which disrupted his build up to the season. Like the rest of the Cardiff side last night, Cornelius has very little competitive football behind him this season and yet media pundits who have played international football like Kevin Ratcliffe and, so I'm told, Iain Dowie were writing him off already – you expect that from some supporters, but these people are being paid so we can benefit from their "expertise"!
That said, City did certainly improve in the second half when Rudy Gestede replaced Cornelius, but I suspect that was more down to what was said in the dressing room during the interval than anything else. After only really threatening before half time when Mark Hudson had a header cleared off the line, City had gone close through Nicky Maynard and Tommy Smith before settling the tie by scoring twice in ninety seconds around the hour mark. The first of these goals was probably the most compelling evidence of the gap in class between the two teams seen all night as Maynard, who had been pretty quiet up until then, flicked the ball over a defender, then burst past him to fire in from about fifteen yards out. Gestede soon provided a neat finish for the second as he benefited from Jordon Mutch's strong run and cross and so City had done enough to ensure that there was no repeat of the Northampton experience of  last season when a much younger and weaker side than this one was beaten 2-1.
The draw for the Third Round of the competition took place straight after the game and for the fifth consecutive time, City have been drawn away in a cup competition. This time they face a fourth trip to Upton Park in just over two years (despite the teams having been in different divisions for one of them), but with both sides playing Premier League matches three of four days either side of the tie, the likelihood is that those present will be watching West Ham Reserves v Cardiff City Reserves.