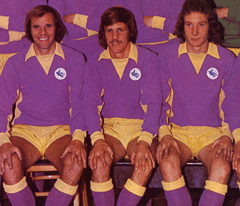 Recent Cardiff v Leeds results make for pretty amazing reading, particularly if, like me, you belong to the generation which grew up at the time when Don Revie's team may have been, arguably, the most unpopular side in the game, yet, even detractors like me had to concede that, year in, year out, they were also the best side in the country. Leeds fans of that vintage must wonder how it is that some poxy side from south Wales who they only ever used to play, and beat, in cup competitions in their glory days have become such a bogey side to them since that goal by Scott Young nearly thirteen years ago which was one of the first signals of their team's decline from Champions League Semi Finalists to Championship also rans.
I was at Ninian Park in February 1984 to see George McCluskey's late effort win what would have been a nondescript affair if it had not been for the fact that I spent most of the match wondering how my team, who had turned surviving relegation struggles to avoid dropping into the third tier into something of an art form over a ten year period, were actually playing "mighty Leeds" in a league game. It will be  thirty one years since that match by the time the sides meet again and so Leeds' wait for that elusive win over us drags on for another year – we are unbeaten now in the sixteen Cardiff v Leeds matches since 1984, having won eleven of them.
I've watched about three quarters of those games and can honestly say that they have all followed a pretty similar pattern – they have all been pretty tight affairs that Leeds have probably felt they could win at times, but, invariably, City have found something to enable them to edge home. The three stand out games for me have been the FA Cup win in 2002 (obviously), the Jason Koumas debut game in 2005 and the 4-0 win at Elland Road in 2010, but even in that last match, Leeds had their chances early on which should have seen them ahead before we got into our stride.
Generally, our wins against Leeds have been ground out affairs that do not live long in the memory for the quality of football on show and yesterday's 3-1 victory fell into that category in many ways, although I would say it was one of the more comfortable victories we've had during our period of domination.
Leeds would have gone into the half time break thinking this could be the day when they ended the Cardiff hoodoo after a poor first forty five minutes that barely threatened to produce a goal at either end. For City, there was an early Whittingham free kick which produced a sharp save from Marco Silvestri in the visitors goal and Anthony Pilkington (withdrawn at half time for Joe Ralls because he was feeling under the weather) could have done better with a far post header from a Craig Noone cross, with much the same applying to Adam LeFondre when he got his head to Whittingham's free kick, while a Steve Morrison's header which flew not too far over and a Souleymane Doukara shot that barely troubled David Marshall represented Leeds' best attacking moments.
Given the way I used to feel about Leeds, and still do to some extent, it sticks in my craw to say that I admired some of the football they played in the first half and went on to play after the break. Often, they were able to patiently work their way forward from dangerous looking situations near their goal into central areas where there were potentially good counter attacking opportunities for them as City pushed forward to try and close them down, but not enough came of this good passing because it was all done pretty slowly.
Once again, the BBC's figures show City losing out in the battle for possession, this time by 53% to 47%, but, speaking as someone who always wants his team to have at least 50 per cent of the ball and is a strong believer in the idea that the opposition can't score while you are in possession, I admit that yesterday was one of those games which proves that football is not just a battle for possession – it's what you do with that possession that really effects games.
Under Ole, the way City laboriously passed the ball to no great purpose before lumping it towards the poor sap playing up front for us offered the worst of all worlds because, despite seemingly wanting as much possession as possible, we were nearly always having quite a bit less than 50% of the ball and we were doing nothing with the ball we did have. Under Russell Slade's more simple approach, we seem more inclined to gamble on losing possession if it means we are putting the ball into areas of danger for the opposition.
This was the impression I got from his post match interviews where he talked about getting the ball in the Leeds box more often and how we played in front of Leeds a lot in the first half. I think that second bit gets to the heart of what was different between our first and second half performances. There was more intensity to our game after the break as we got at the Leeds defenders more and our strikers pressed our opponents more than they had been doing. As I mentioned before, Leeds were sometimes able to work their way out of awkward positions very neatly, but much of the stuff I read about them before the game identified their defending as their weak spot and the cracks began to appear as City upped the pressure after the break.
With Whittingham volleying just over and LeFondre wasting another headed opportunity from a Noone cross, City were enjoying their best spell of the game. Crowds often instinctively know when a goal is coming and that feeling was definitely around as Whittingham took a corner that Leeds were able to deal with, but Noone immediately knocked in another ball which could have presented possession back to our opponents, but also served to keep them under pressure and when Sean Morrison climbed high to nod the ball down it was the unmarked Bruno Manga (my City man of the match) who steered his header home from ten yards out.
Besides scoring once, Morrison now has two assists in his short Cardiff career and I have to say that the way our two centrebacks linked up for the goal was as good as anything our attacking partnership have come up with in their four matches together under our new manager. In saying that, I thought both LeFondre and Federico Macheda had decent games yesterday. LeFondre continues to miss chances, but he links things up quite nicely and I like the way he often manages to find himself space pretty close to goal in crowded penalty areas  - they aren't going in for him at the moment, but you can see why his career goalscoring record is so good. As for Macheda, there were more examples of his undoubted technical ability in the second half, his work rate is showing signs of improving and, best of all, he is scoring goals.
Macheda's goal yesterday came from a still too rare example of him combining with LeFondre when he moved on to his strike partners flicked header and took advantage of a retreating Leeds defence to score, via a fairly hefty deflection off Jason Pearce, from twenty five yards. The deflection left Silvestri with no chance, but his fellow countryman's shot was well struck and looked to be on target as well – it was definitely Macheda's goal.
So, 2-0 up going into the last quarter, the match appeared to be won and now there was the opportunity for an all too rare City clean sheet. Given Leeds had shown very little that suggested they had a goal in them on the day up until then, this represented a great chance for City's defence to get that elusive shut out, but, with thirteen minutes left, the impressive Alex Mowatt injected the sort of pace that had been missing from much of the visitors' attacking play by bursting past Aron Gunnarsson and Whittingham to work a one two with Doukara before shooting high into Marshall's net for the best goal of the match.
Although the game finished with City showing that they are as good as most sides in this division at keeping the ball against dispirited opponents, for five minutes or so after Leeds' goal, they were right back in the game. It was all getting a bit nervy when the visitors provided a helping hand in us restoring out two goal advantage when, under pressure from sub Kenwyne Jones, centreback Giuseppe Bellusci and Silvestri made a right pig's ear of a routine lump forward from Gunnarsson (another strong City performer on the day, along with John Brayfoed, Fabio and Ralls) and the striker was suddenly presented with an empty net looming in front of him as he, duly, took advantage of the gift he had been given.
Embarrassingly for me, I'd only just been saying how impressed I'd been by Silvestri's work with the ball at his feet! He had earlier calmly backhealed the ball away from Macheda as the striker sensed he could score as he closed down on an underhit back pass – it was a piece of skill that an outfield player would have been proud of and, for some time after that he was decisive and confident when he had to use his feet – at least, he was until our final goal, my excuse is he was over confident after his superb footwork earlier on!
All that was left was for Jones to put a header wide from a great cross by Whittingham that he should have scored from and Russell Slade was able to enthusiastically  celebrate a win with the crowd which I believe he laid the foundations for in the dressing room at half time  - if he can add good away results, and performances, to his 100% home record after the visits to two of the current bottom three in the next week, then City will go into the next international break in far better health than they did the last one.
+ photo courtesy of https://www.flickr.com/people/joncandy/
* photo courtesy of http://www.walesonline.co.uk/