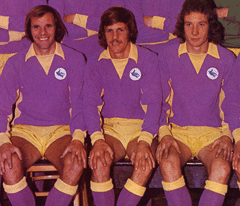 In a post match interview former City player Ian Walsh said that he received a text message about twenty minutes into yesterday's game from a Cardiff supporting friend of his which said "No Bothroyd, no Premiership". That text messager was spot on as far as I am concerned – we lost "the richest game in football" for a variety of reasons in my view, but the biggest single one of those was that our most influential and important player was only on the pitch for fifteen minutes and for ten of those he was a passenger. There had been messageboard rumours in the days leading up to the game that Jay Bothroyd was struggling to be fit for the Final and it now seems obvious that City gambled on him being able to make it through one last match knowing that it would be months before he would be needed again (always assuming he is still a Cardiff player come next season of course).
In rugby, you sometimes hear it said that teams save their more expansive stuff for when they get close to the opposition's goal line – they rely on a more basic and pragmatic approach to gain them the desired field position. In many ways, this season's City side played like that as they relied on a long ball approach from deep positions and then, having got into an advanced position, on a passing game between a set of attacking players who were better than most at this level. Jay Bothroyd was the glue that held those differing approaches together because he had the strength, technique and aerial ability to deal with the long ball stuff by either holding on to the ball long enough to allow others to move forward to join up with him or by drawing fouls from opponents which enabled us to get further up the pitch to play the more creative stuff in which he would play a full part.
Back in August, we went to Doncaster and lost Bothroyd through injury nine minutes into the game. We got beat 2-0 that day and barely created a chance after Bothroyd's departure as some of those who were there reported that, having watched Kelvin Etuhu's display as his replacement, our on loan Man City man would never make a target man in a million years and nothing Etuhu has done in that position since then has offered evidence that those supporters had got it wrong. Ironically, the only time it looked as if we could have another target man on our books who might be able to give us some of the options we lacked when Bothroyd was missing was in the home game with Blackpool when the raw Josh Magennis' less refined approach caused their centrebacks plenty of problems before he sustained the broken leg which kept him out for most of the remainder of the season.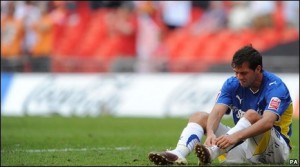 What Bothroyd was able to do was make something from what was often a pretty poor service up to him into something worthwhile but, in the first half especially, most of the balls we played forward from deep areas were made to look exactly what they have been for most of the season – pretty aimless long stuff. We do have good long passers of the ball at the club and some of those are defenders, but for a lot of the time the service from back to front was poor and, when you consider how vulnerable our rearguard looked at times in open play and from dead ball situations, I think there is a very strong argument to say that defensively we were not as strong as you would expect a side which got as close to the Premiership as we did to be.
I've mentioned before that we have been spoilt by the quality of centreback we have had over the past few seasons and so Messrs Hudson, Gerrard, Gypes etc. have had some hard acts to follow. Individually, I don't think any of them are bad players at this level, but as a unit, not one combination of those three has inspired real confidence. In general terms. we were at our best defensively towards the end of the season when the Gerrard/Blake combination began to look good, but I'm afraid that in a league in which many teams still favour an aerial approach, it is always going to be a risk playing the latter in that position. We weren't great at defending crosses before Blake came into the middle of our back four, but it has become more of a problem since then (especially from dead ball situations) and it was again yesterday – it may have been the lack of the height in our team (particularly in Bothroyd's absence) which prompted David Marshall's out of character dash off his line for the corner which led to Blackpool's second equaliser.
It's tempting to say that if we had a combination of any two from Collins, Gabbidon, Johnson, Loovens and even the Darren Purse of his first couple of seasons with us at centre back this time around, we might have been an automatic promotion team, but that is to ignore that we were not too strong in central midfield either. Quite often we have been able to win matches against teams who play three against two in central midfield because the influence of our extra attacker has been greater than the opposition's extra midfielder, but without Bothroyd, that was always unlikely to happen yesterday. In sticking to his guns by leaving it two (with occasional help from Bothroyd as he dropped deep) against three for much of the time in central midfield, Dave Jones has placed great faith in our players in that area and, although there haven't been too many times when it could be said that we have dominated completely in that area, by and large the likes of McPhail and, increasingly as the season went on, Ledley have coped well in there. Yesterday however, Blackpool's well established three of Adam, Vaughan and Southern dominated for the majority of the game – Ledley, who marked what will almost certainly be his last appearance for the club with another great Wembley goal, became more of a factor as the game went on, but McPhail (for whom I have nothing but admiration after his efforts on and off the field this season) was never as influential as he had to be if City were to win.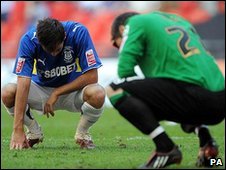 In the last couple of weeks, I read an article in which Dave Jones said he had decided that after what happened to us last season, it wasn't going to be a lack of goals which would cost us this time around and, when you consider how far forward the likes of Chris Burke and Peter Whittingham spent most of their seasons, it was almost like we were playing an old fashioned 4-2-4 at times as our manager seemed to be gambling on a combination of four from our five attacking matchwinners (Bothroyd, Chopra, Whititngham, Burke and Ross McCormack) being enough to mask our deficiencies in other areas. For much of the season this approach worked and if two of those five had really been on their game yesterday, I think we could well now be in the Premiership.
Unfortunately though, Bothroyd's match ended almost before it started and, although most of the really good attacking things we did throughout the match involved Whittingham in there somewhere, he was never the central figure he could have been, while Ross McCormack's contribution of scuffed and mishit shots rather summed up a campaign which has had more than a hint of "after the Lord Mayor's show" from him. As for the player in the team who I have enjoyed watching the most this season, well I am afraid Chris Burke has to be my nomination as our least effective player of the Play off campaign – in truth I wonder how fit the likes of himself and Kevin McNaughton really have been in the last few weeks, but Burke was one of a few passengers we had out there yesterday (McPhail and Etuhu, certainly while he was playing up front, were others).
Yet the performance of the last of our big five was almost enough on it's own to get us promoted – I'm biased of course, but I thought Michael Chopra was, far and away, the best player on the pitch and if two of his shots had been an inch or so lower we would have gone up even with all the things that went wrong for us yesterday. Chopra carried his fine form from the second Leicester match into the Final and his contribution was all the more impressive because, for most of the time, he represented our sole attacking threat.
Congratulations to Blackpool, they deserved their win and, even feeling like I do now, I can see that it is good for the game that sides such as them can make it to the Premiership, but nothing will ever stop me thinking that our best five or six players were better than their best five or six players. Unfortunately, though I also think that our worst three or four players were weaker than their worst three or four players and that, while the way our players coped emotionally with the adversity of financial problems, injury and illness setbacks and high pressure matches, showed that they were a team in spirit, I don't believe they were a team out on the pitch in the same way that Blackpool were – whereas we were largely dependant on inspired individual performances for any success we achieved, Blackpool prospered because they had flair in their side (albeit it less than us) and they also had a team plan that worked.
My last entry on here on Friday was meant to be light hearted, but it was written from the perspective of someone who has had much, much more disappointment than joy in my near half a century of supporting this club. Therefore, I cannot say that what happened yesterday surprised me in any way. Experience has genuinely taught me that the numerous disappointments are easier to take if you expect the worst from Cardiff City and so yesterday's defeat doesn't mean as much to me as I am sure it does to many others. However, what is galling is that the last three Championship Play Off winners (Hull, Burnley and Blackpool) are all clubs which we would now expect us to compete on equal terms with and so it's impossible to avoid a feeling of "if they can do it, why can't we?".
The thing is though that the Malaysians offer us hope that certainly wouldn't be there otherwise – it may well be that cost cutting will be the order of the day as we try to put right the worst of the excesses of the Hammam and Ridsdale years, but I cannot see them coming in and being content to see us drop down the leagues as we balance our books. Clubs like Burnley and Blackpool in particular show that achieving success is not entirely dependant on the size of your wage bill in the modern Championship – even if we lose some high profile players this summer, we have a good foundation to build on and I believe that, notwithstanding my chronic case of long suffering City fan syndrome, that there are genuine grounds for optimism.