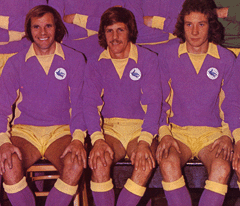 If we end up getting relegated then I believe those last few minutes of the Sunderland match where we let a 2-0 lead slip against the team who were bottom of the league at the time will be seen as pivotal in our season. The draw they got that evening is one of the factors in Sunderland's transformation from the certs for the drop they looked in the autumn to likely mid table finishers, but, on the other hand, before yesterday ,Cardiff had not earned a single point since then (including a very damaging defeat by relegation rivals West Ham as more points were dropped at Cardiff City Stadium) and had replaced the Wearsiders at the foot of the table as the appointment of new manager Ole Gunnar Solskjær saw no improvement – in terms of results anyway.
However, if we manage to escape the drop, then I feel two separate periods of play in yesterday's 2-1 victory over Norwich City will be seen as season defining. At half time, with Sunderland and West Ham having already won, Stoke, Villa and Hull all leading and Fulham drawing after forty five minutes and themselves trailing to another team battling the drop, City were staring at a position whereby a gap that would have begun to look too big was in danger of developing between themselves and seventeenth position.
Within five minutes of the restart though, the match had been turned on it's head as, aided by Norwich's habit of giving them the ball in dangerous positions, City tore into their opponents and netted twice in an amazing two minute period which also saw Jordon Mutch foiled as goalkeeper John Ruddy just about managed to turn his shot around the post. Buoyed by being in the lead for the first time in a league game since that Sunderland match, City now set about trying to hold on to it, but the giveaway that night meant that, even if Kenwyne Jones' unwitting deflection of Mutch's mishit shot had gone in, rather than hit the post, to give us a two goal advantage, the last half an hour or so was always going to be a nerve shredding occasion.
In particular, this applied to the closing minutes, but, this time, Cardiff somehow got through them to emerge with their first league victory since beating West Brom almost two months earlier – the seven games since then having yielded just the one point. On top of the damage the result did to Norwich, Everton had also turned a 1-0 deficit into a 2-1 win against Villa and Spurs had pegged Hull back to get  a 1-1 draw – Stoke had managed a 2-1 win over Manchester United, but, best of all, Fulham had been taken apart by Southampton with their 3-0 loss sending them to the bottom of the table.
Before continuing, I'd just like to make a short point about being the bottom club in any league. We spent a fortnight propping up the division and, even when the situation is as tight as it is in the Premier League, I think just being there has a corrosive effect as far as morale is concerned (certainly in the case of fans anyway) – we had to move off the foot of the table as quickly as possible. Fulham look to have made some good signings in January, but, with a gap of two points (and an awful goal difference) separating them from everyone else and a tough looking next four fixtures, there has to be a chance that they may be in danger of being cut adrift, to some extent at least, by the time they make their scheduled visit to Cardiff City Stadium on 8 March.
Anyway, back to those two periods which just could be the occasions which shape the destiny of our campaign. Each of three new signings had a part to play as City attacked with a verve, pace and quick thinking seldom seen previously this season. The quick thinking came when Craig Noone and Fabio combined from a corner as Norwich snoozed to work the winger into acres of space to deliver the cross which led to the winning goal. This, as well as a few others instances of what looked a promising attacking partnership with Noone, was the highspot of the Brazilian's afternoon – not so convincing was some of his defending (hopefully rustiness caused by so little first team football lately was a major contributor to this).
Noone's cross was bundled in at the second attempt by Kenwyne Jones to net his first Premier League goal since December 2012 – a stat which tells you so much about the latter period of his spell with Stoke. Rather like Fabio, his lack of first team football showed, but in Jones's case it was more to do with him being out on his feet in the closing stages. Apart from that, he showed surprisingly quick feet for such a big man at times while not quite being as effective in the air as I expected him to be and, besides his goal, his most valuable contribution was his defensive work from dead balls as Norwich piled on the pressure late on.
By the sort of coincidence which football often seems to produce, the equaliser came from another player who endured a goalless 2013, but while Jones had managed a few goals in cup competitions, in Craig Bellamy's case it was his first goal in any game since December 2012. The veteran forward looks to have had a new lease of life in recent weeks and he was effective here in a more central role behind lone striker Jones as he even managed a headed clearance off the line to preserve our lead.
The assist for Bellamy's goal came from the newcomer who made the most impact in my opinion. Wilfried Zaha lifted both the support and his team when he came on late in the first half and looked like somebody with a point to prove. His pace, trickery and, on this evidence at least, good eye for a pass helped give the team a cutting edge which has been sadly lacking for most of the time this season and, if his attacking influence waned as the second half wore on, there could be little doubt about his commitment to the cause.
If I can just go off theme again for a short while, talk of commitment to the cause brings me on to the reason for Zaha's very early introduction. Peter Whittingham was having a poor game and things came to a head with just about the worst free kick I've seen from him in his seven years at the club – Ole deserves praise for being brave enough to make the decision which changed the match while it was still in it's relative infancy and , in general, I find his use of substitutes to be one of the most impressive things about him so far.
So, credit to our manager for the change, but not to some of our fans for their reaction, firstly, to Whittingham's struggles while he was on the pitch and then to the sight of him trotting off the pitch. There must be an element of humiliation for any footballer who gets dragged off for reasons not relating to injury in the first half of a game, and I think it's fair to say that there was an degree of sympathy in the applause which greeted the decision. However, there were also those who were applauding for the wrong reasons – Cardiff City have always had more than their fair share of fans who are suspicious of players who are talented footballers, but don't "get stuck in" and I daresay that they were questioning Whittingham's commitment to the cause as he tried to find his missing form yesterday.
However, just because he doesn't go flying into tackles, it doesn't mean Whittingham isn't a brave or committed footballer. At his best, he is like Steve McPhail or Aaron Ramsey in that they always want the ball and are willing to be ambitious with it no matter how badly things may be going for them. For a lot of his time at Cardiff, Whittingham has been in the same mould – I find it sad rather than annoying that a player capable of so much now looks to the safe, but ultimately unproductive, option so often – I can understand the frustration this causes, but he deserved better than he got from some in the crowd yesterday.
Indeed, Craig Bellamy chose to criticise the attitude of the crowd in his post match interviews – he was right to do so in my view, but I hope he realises that it was only a section of the support that his remarks should be directed at. Even if the stick Whititngham received is put aside, it wasn't good from the supporters yesterday. By and large, City fans have gone some way towards winning over critics who expected to see a repeat of the sort of behavior and attitude which blighted the club through the closing decades of the last century with things like the fantastic support at the Man City home game, the applauding of Aaron Ramsey's goals and the aftermath of the Liverpool match seeing us being viewed as a positive addition to the Premier League.
However, for the second home game on the trot, the atmosphere was so flat in the first half and it wasn't that great after the break either – I don't think there's a correct answer to the question as to whether the players should get the fans going or vice versa, but it was definitely a case of the former yesterday.
Of course, much of the anger and the lack of atmosphere is down  to anxiety caused by our league position and it was no surprise that people got nervous as Norwich put us under more and more pressure – in fact, I would say that the crowd was probably more of a hinderance than a help to the team as everyone feared another late, late equaliser from our opponents.
This takes me on  to the second of those periods which could turn our season. Somehow, we got through that last half an hour with our lead intact. According to the BBC stats, Norwich have had a total of fifty eight goal attempts in their two matches with us – the fact they only scored from one of them says a lot about why there are where they are in the table. Twenty seven of those goal attempts came yesterday and, just as at Carrow Road, we enjoyed our fair share of luck on the day – having the excellent ex Norwich man David Marshall between the sticks didn't do us any harm either.
To add to this though, it has to be admitted that a lot of our defending yesterday was not very convincing, but here I'd like to offer a few mitigating factors;-
1. I've quite often watched Academy games at Leckwith on the morning of home matches that have been played in high winds, but yesterday was the first time those high winds were present in the first team game I watched a few hours later. The design of Cardiff City Stadium helps make wind less of a factor, but it was as bad as I've seen it yesterday and I think this was a reason why our defenders (it tended to be Ben Turner most of the time) sometimes allowed high balls to bounce – it looked bad, but I think it was more difficult to "set" yourself to attack the ball because it was moving about a lot in the air.
2. Ole wants to play a more attacking game and I think most of us are happy with that. Players like Noone and Zaha will help in that respect while we have the ball, but they aren't the best when we don't have it. Yesterday's was the latest in quite a long line of recent goals where the right side of our defence was carved open too easily. I think a full backs relationship with his wide midfield player is as important as the one he has with the centrebacks and part of the defensive problems I mentioned Fabio had stemmed from the fact that he wasn't getting great help from Noone. On the other side of the pitch, Declan John was left to fend for himself much of the time before Zaha came on and then, what help he got wasn't the best. This is a consequence of the way Ole wants to play – sides wouldn't get in down the flanks as often with Don Cowie and someone like Craig Conway offering defensive help, but Ole is more likely to take a risk than his predecessor was and so one of the consequences is we look less secure defensively.
The thing is, despite everything that was against us, the team got through and grabbed a win which, hopefully, laid the Sunderland ghost and, having done it once under Ole, then, perhaps, they won't find it so tough the next time they are in front with not too much time left. Anyway, I'll finish by saying that, despite it not seeming that way after the transfer window closed, we will have the new centre back which for me was a major priority for February onwards because former Spanish Under 19 international Juan Cala has been signed as a free agent following his release by Sevilla. On the face of it, his club being prepared to let him go doesn't sound too promising, but, apparently, Cala had played nineteen matches in all competitions for his old club this season so he must have something about him.
*pictures courtesy of http://www.walesonline.co.uk/