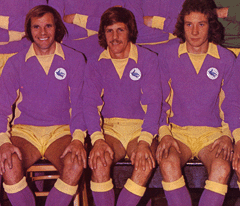 We all know of the "if Carsberg did…" adverts don't we. I daresay a if Carlsberg did football club owners ad would feature someone who saved his club from possible extinction by coming up with the millions needed to get the tax man off it's back, who gave his manager a transfer kitty which enabled him to put together a Championship winning team and then,  a year later, provided the same manager with the funds to break the club's transfer record on three occasions during a six week spell in an attempt to build a team capable of competing at the higher level. This mythical owner would also invest in a new state of the art training ground, then he'd increase the capacity of the stadium his team played in and, finally, he'd settle a long running debt which had caused his club so much angst down the years, thereby enabling him to convert the money he'd invested into equity – in essence, his club  would then be debt free.
You've got to hand it to the ad agency Carlsberg use. The idea of setting out a Utopian scenario and then telling the punters that they know this can't happen in real life, but you can get near to it by sipping our piss coloured creation is a great one – perfection might be impossible, but here's something that is as close to it as you'll ever find. The longevity of the "if Carlsberg did" theme offers all the proof you need as to how successful the ads have been and I would say that the term has become one where it's meaning has become clear to English speakers without there being anything in it which is directly descriptive of that meaning – that's sums up a very good trademark in a nutshell.
Carlsberg's ad men would have been almost, but not quite, proved wrong if they had done a football club owners ad though, because at Cardiff City we have someone who has done virtually all of those things I outlined at the start of this piece – the debt to equity conversion is likely to go through in the coming months as well if recent statements from the owner concerned are anything to go by.
In Vincent Tan, Cardiff City have someone who is probably about 90% of the way towards becoming that "if Carlsberg did" perfect football club owner and, let's be honest, that's a lot further down the road towards perfection than many of his contemporaries are isn't it. However, for many people, all of the good things Vincent Tan has done for Cardiff City are completely overshadowed by the re-branding of the club's kit and badge during the summer of 2012.
Now, before you groan inwardly and think "oh no, he's going to start droning on about what he thinks of the red kit for ages", I should say that I hope what follows will not just be seen as yet another example of someone doing that – in saying that, I'm sure some will think that's precisely what I have done when, or if, they reach the end of this piece! I'd like to state though that I believe what I'm going to outline is more of a personal viewpoint, delivered from as much of a neutral perspective as I can manage, of where those on both sides of the argument find themselves now.
Looking at it from the vociferously anti red viewpoint which has, to some extent at least, become characterised by the Bluebirds Unite movement, I'd say they have a fundamental problem in how they choose to approach the facts (and I think they have to be accepted as facts now) outlined above regarding what Vincent Tan has done for the club and the likelihood that there is more to come from him that will please most Cardiff fans (e.g. a debt to equity conversion and further spending on the team). If that does happen, then I see any "Tan out" agenda being doomed to failure – it needs to be said of course that there has been little or nothing from those in charge of Bluebirds Unite that I'm aware of to indicate that such an agenda exists, but it seems to me that there are increasing numbers amongst those who support Bluebirds Unite who want to ridicule Vincent Tan and talk in terms of getting him out of the club.
Bluebirds Unite prospered initially on the back of them being thought of as an organisation formed to peacefully pursue a return to the blue kit we wore for more than a century. I believe that to maintain that initial momentum they need to keep on emphasising that this is still their sole objective and nip in the bud any suggestion that there are other things that they now stand for. As I say, there is nothing from their Committee that I am aware of to suggest that this is the case, but the planned march by Bluebirds Unite supporters before the Manchester City match in a fortnight's time has seen them being accused by some of somehow being anti Cardiff City in their policies and I could see their credibility suffering if such a notion was allowed to take hold – that's why I believe it is so important to keep on maintaining and emphasising the policy which got so many people (myself included) behind them in the first place.
On the other side of the divide you have the club (backed by some messageboard posters who almost come over as preferring red to blue, such is their fervour in supporting the "official" line). Now, I know it sounds a bit daft to say that a club which has had blue as one of it's alternative kits  last season and will do so again this time around are somehow anti that colour, but you do wonder sometimes when you hear of some of the things which are, apparently, going on at Cardiff City Stadium these days. For example, it's pretty obvious that Ali, the stadium announcer, is under instructions not to say the word "Bluebird" when a certain  person is sat (or stood) in the stands and, to no great surprise, the club did not take the opportunity offered by yesterday's match with Bilbao to give supporters a chance to see their team play in blue at home again – supporters who went to the Brentford match saw us wear one of our alternative kits against a side playing in red and white stripes, Lord knows when we'll get a chance to see us play in the other one.
This week I've seen two things on messageboards that seem to epitomise the club's attitude to the colour blue. The first instance was someone saying that the wearing of blue shirts by any members of the club's staff attending was banned at Friday's "#ILOVETHECITY2013″ event at the ground. The second occurred when someone who went to the club shop to buy the blue shirt worn last season was told that they were still on sale, despite the fact that there were none on display, but they were "upstairs" and someone would go and get one for them in an hour. When the person asked why they couldn't go and get it now, they were told no, it had to be in an hour! Needless to say, the person left without buying a blue shirt.
Now, of course, you shouldn't take everything you read on a messageboard as gospel, but the point for me is that, when you consider the attitude the club has shown so often during the past fifteen months (e.g. the chance of a free season tickets for people wearing red and the wearing of a black kit for so many away matches where a change from red was required, despite assurances beforehand that blue would be our "second" strip), they both sound eminently believable even if they didn't actually happen.
So, you have two opposing sides, who, if anything, are more entrenched than they were at this time last year. Vincent Tan likes to say that 95% of City fans have accepted his re-branding, but, by the same token, at least as many (I think it's quite a bit more actually) wish it had never taken place. It is possible to put two such, seemingly, different interpretations on something when the middle ground is occupied by as big a proportion of the total number as it is in this case. I believe I'm right in saying that many of those who are in this middle group (which covers the huge range of attitudes characterised by the reluctant red tag) look at what's being claimed to be going on at either end of the argument and think "that's not for me" – it's such a sad situation and for many, including myself, it's leading to the anticipation of the club's first season in the top flight for more than half a century not being as great as it should be.