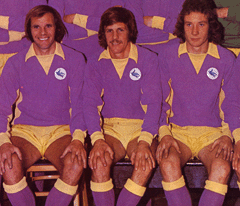 Before going on to try and forecast what the next nine months might hold for the Cardiff City team, I should first record the good news that our transfer embargo was finally lifted yesterday. This allowed us register the deals for Tom Heaton, Danny Drinkwater and Jason Koumas with the Football League and FA and means that they are all available for tomorrow's season opener with Sheffield United (unfortunately, it looks like Koumas will need another week or ten days to get fully fit though). Youngster Jon Meades has also finally been able to sign the one year pro contract contract we were first told about months ago and, for the moment at least, I'd say that he is the closest thing we have to a specialist left back on our books!
In recent times City fans have become used to what at first appears to be good news being followed by the word "but"and the "but" in the case of the lifting of the embargo is that both our Chief Executive and our manager talked yesterday of the possibility of a third set of sanctions being put on us sometime in the future. It seems to me that there would be no point in bringing this up unless both men knew that it was going to happen and my guess is that we haven't paid the taxman for the July wages yet. With us also, seemingly, not having paid our June contribution either, we could well soon be in the same position as we were back in early July when the story broke in the News of the World about us being issued with a summons to appear in the High Court on 11 August.
Whether I am right in my guess or not, I think it is reasonable to assume that Dave Jones might not have until the end of the month like his rival Championship managers do to bring in the four more players he would, ideally, like added to his squad. As to who these players might be, well my earlier remark about Jon Meades is a clue to the fact that, surely, one of them has to be a left back. With Mark Kennedy and Tony Capaldi no longer at the club and the two trialists from last week (Toni Kallio and Gregory Vignal) seemingly let go by Dave Jones, there is no one who stands out as being an obvious candidate to play there – yes Kevin McNaughton, Adam Matthews and Paul Quinn (who seems to have disappeared off the face of the earth!) can all play there and my feeling is that the first named will do so on Sunday, but if anything were to happen to the injury prone McNaughton we would really be in a mess.
The word on the messageboards is that ex Wolves and Celtic man Lee Naylor has been training with the club this week with some speculating that a signing is imminent and, certainly, in his Wolves days he was consistently one of the best left backs in the Championship. Naylor would appear to be a good addition to the squad – in saying that, it has to be noted that he is now thirty and was not a regular in a poor Celtic side last season, but, overall, I would think that his addition would leave us no weaker in the left back position compared to last season.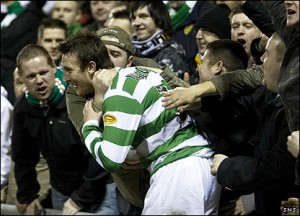 Dave Jones has said we need another midfield player and one can only assume that he means another artisan as against an artist because the balance between the two currently doesn't look right to me. While Danny Drinkwater showed a willingness to tackle in the Deportivo game last Saturday, our midfield at the moment looks to lack physical presence and, although people have tended to write off Joe Ledley's contributions for us since he left for Celtic, we aren't half going to miss his willingness to do the unspectacular but very necessary work that at least one midfield player has to do in any successful team. The name of Robert Koren keeps on coming up every now and again as a possible signing, but I can't help thinking this is wishful thinking – Koren is a fine player, but would come with a large wage packet and, anyway, he would not be the "ball winner" type that we need. No. more realistic to me is Hull's Seyi Olofinjana who, like Lee Naylor, worked with Dave Jones at Wolves. Olofinjana is another who won't see his twenties again and he has hardly set the Premiership on fire during his time there with Stoke and Hull, but, after  a slow start with them, he became a very good Championship quality midfielder player with an eye for a goal while at Wolves.
The other position where, for me, we obviously need strengthening in is target man where we have already seen all too well the consequences of not having a suitable alternative to Jay Bothroyd. Names that have been mentioned here include Andy Keogh of Wolves and two players currently unattached in Marlon Harewood and (heaven forbid!) Marlon King – again, messageboard gossip has it that Harewood was in contact with City last week and, although he faded out of the picture completely during the latter stages of his time with Villa, he would fit the bill as far as I am concerned.
To be honest, I'm not sure where a fourth signing would fit in, but if we could get three decent players in for those positions I have mentioned, I would be pretty optimistic for the new season now that the players have been paid bonuses earned from last season. Also, the signing of Jason Koumas must surely go some way towards satisfying someone like Michael Chopra who had gone public about the lack of new faces arriving at the club.
Talk of Chopra brings me on to what I believe will be the best thing about our close season if we can manage it. So far at least, we have not lost any of the players whose contracts are up next summer and, although you would like more of them to have agreed new deals, this has to help our chances of success over the next nine months. Of course, there is still time for the likes of Chopra, Whittingham and Bothroyd to disappear before the transfer window closes and the Joe Ledley example shows the danger of leaving contractual matters unresolved for too long, but in purely football terms it has to be a good thing that some of the players most responsible for our succes over the past couple of seasons are still with us as the new campaign starts.
So, City's squad still has a work in progress look to it, but the addition of Koumas to an attacking five in Burke, Chopra, McCormack (who really does need to start showing his 08/09 form), Whittingham and Bothroyd which I thought was as good as anything in the Championship last year will ensure that a few sides are likely to take a right pasting off us over the coming months. However, a squad which has always been too small in recent years, looks dangerously so at the moment and, if we had to go with what we have currently, I couldn't see better than a mid table finish for us. Add the four players Dave Jones says he needs though and, as long as the attitude in the dressing room is right, we would have to have a good chance of repeating or, hopefully, bettering last season's performance.