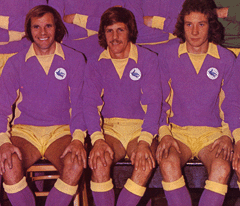 This time last year I did a preview piece on the season ahead for Cardiff City off the pitch in which I expressed the hope that it would be the only entry I would make under the "Up in the Boardroom" category over the next nine months. Well, as it turned out, there were another thirty six to follow (almost one a week) over the duration of the 2009/10 campaign and, with occasional additions during the close season, I am now rapidly closing in on my half century of entries in this category!
Now, I realise that my wish last August for a very quiet season off the pitch for the club looks naive and foolish now, but, in my defence, I would say we had our Chairman giving his upbeat forecasts for our future now that the new ground was built – yes, we still had to sell players during the summer, but it was onwards and upwards from now on.
Although there were always some credibility problems with Peter Ridsdale following his time at Leeds and, to a lesser extent, Barnsley, I think it's fair to say that an awful lot of City fans (including myself) would have said a year ago that he had done a decent job at Cardiff in very trying circumstances – certainly, I would take claims by anybody who said that they knew in August 2009 what the next twelve months would hold for Peter Ridsdale (and his reputation) and Cardiff City's off field situation with a pinch of salt unless they were able to back it up with some sort of documentary evidence.
However, it only took six months or so, for Ridsdale's reputation to be in tatters, amongst Cardiff fans anyway, as bad news story followed bad news story in a manner which left our Chairman's credibility shot. Things like the manner in which the news of our first Court date was dealt with, the golden ticket "misunderstanding" and the Ben Steele fiasco ensured that, but the summer has brought further revelations (e.g. the Sports Assets Management loan and the non payment of bonuses to the players) as to the enormity of the problems that are Peter Ridsdale's legacy to Cardiff City – my own view is that the man should never be allowed near another football club again, but, with this unlikely to happen, I would like to offer my sympathies in advance to the poor supporters of the next team unfortunate enough to take him on.
However, while I am playing the blame game, a certain Sam Hammam should not be forgotten. Neither should those in the Boardroom or close to the club who, during the ten year period since Hammam's first involvement with us, have been, on the face of it, happy enough for the  two high profile front men we have had to take all of the flak. While doing this, they have adapted a "nothing to do with me guv" attitude towards a time which has seen us chalking up Court appearances left, right and centre, under a transfer embargo and crippled by debt levels which are thirty times or more higher than they were a decade ago.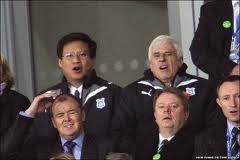 Mention of Sam Hammam naturally takes me on to the Langston loan notes debt which is something of a ticking time bomb for the new Malaysian investors. Trouble is though that there are probably more bombs ticking away currently threatening the club than there has been at any time in our history and I can't help thinking that  Datuk Chan Tien Ghee (TG) and Vincent Tan (who has already made it clear that he previously thought getting involved in football was a sure fire way of losing money) represent a last chance which those responsible for getting us in this mess do not really deserve. I don"t think it is an exaggeration to say that, on the day which might see Portsmouth pushed to the very brink of liquidation, the consequences of the Malaysians pulling out of Cardiff City now would be dire.
It is now something like ten weeks since the Malaysian's investment was ratified at the EGM held on 27 May and, if I am being honest, it's still quite hard to figure out what they are about. Certainly, anyone who expected even more money to be thrown about in a continuation of the previous "Premiership or bust" philosophy will have been disappointed and, much as I would like to do so, that embargo cannot be ignored. On the other hand though, they have always been there to pay the wages and just because we don't get to hear about it, this doesn't mean that the new investors aren't making progress as they work their way through the club's army of creditors.
Those ten weeks have surely taught us that the new people in charge at Cardiff City Stadium go about their work in a quieter and more businesslike way than their predecessors in the past ten years did. For a set  of supporters who have grown used to bluster from the men in charge telling us how good they are and how everything is going swimmingly, the transition to a more low key approach was always going to be a difficult one and I think that is the reason why this summer has been full of demands for "the truth" from the club from some supporters.
One reason why I didn't think the Craig Bellamy rumours from early in the summer were as groundless as most did was that I thought we might well see a "grand gesture" from the Malaysians to prove to City fans that they were serious in their intentions – it now looks like they aren't the type for grand gestures though and I suppose when you look back at the example of Robbie Fowler, it's probably not a bad thing.
Perhaps the best way of looking at what the new season may have in store for us off the pitch is to go back a year and, knowing what we do now, think of what we were being told and promised then. Yes, the financial challenges the club faces are frightening if you think about them for too long, but a year ago the method of dealing with them was to either ignore them, throw even more money (which we had to borrow) at them or fleece supporters with promises of new signings if they pay up. This time around though we seem to have a set of people in charge who are facing these challenges head on. There will probably be more setbacks along the way and we might have to get used to worse results on the pitch, but, without the Malaysian's involvement, we would now be up the creek without a paddle and people should not forget that if there are difficult times ahead – five years of "keeping the faith" with Sam's dream, followed by five years of living it with Peter is quite enough for me thanks.