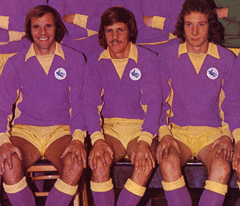 If I am being honest, I am a little surprised to see Dave Jones still in charge at Cardiff City as we head into the 2010/11 season. The Play Off Final defeat had a "he's taken them as far as he can" feel to it at the time and the end of the Ridsdale era at the club seemed to me to represent a point when the manager might decide he was ready to move on. The summer has seen our manager very strongly linked with Fulham following Roy Hodgson's departure to Liverpool and there was plenty of speculation a few weeks ago that Hull were very interested in taking him on (indeed, there are moderators on the Cardiff City Online messageboard who tell us he was interviewed for the job which eventually went to Nigel Pearson).
Yet Dave Jones is still here and has spoken in recent weeks about how he will continue to give everything to the club in the current, very trying, circumstances. However, you never get to hear supporters praising him for his loyalty to Cardiff City during what has been a very testing five years and more at the club for him. For me, this goes to the heart of what has always been a pretty uneasy relationship between the man who, let's face it, has to be a realistic candidate for the title of the best manager seen at Cardiff in the last fifty years and the supporters of that club as well as the local media (which also has it's fair share of City fans amongst it's number).
One reason for that of course is his very lucrative one year rolling contract with the club which sees him paid a wage which compares very favourably with most in the Championship and, given the parlous state of City's finances, it is far more than we should really be paying a manager. However, it is equally true to say that there are many who will be there for Sunday's season opener who simply do not like and/or rate our manager.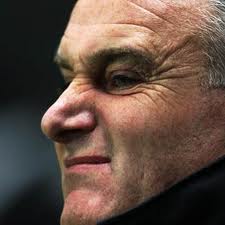 A football manager who goes about his job in a relatively low key fashion and does not wear his heart on his sleeve is always going to attract criticism from some for lacking "passion" and when you combine this with a relationship with much of the media where he struggles to hide his contempt for those asking the questions, you are always likely to antagonise sections of support. Speaking for myself, I don't want a manager who is up and down from the dug out like a jack in the box as he rants at players, officials, water buckets, seagulls, corner flags etc. and, given the drivel that they come out with for much of the time, I can understand why ours does not feel the need to speak to Media Wales hacks, but not everybody feels like me and Dave Jones is always going to have critics of his "surly" persona.
More relevant for me though are the footballing factors that Dave Jones gets criticised about. I've mentioned before that I thought we played into Blackpool's hands when Jay Bothroyd went off by continuing in what seemed to be exactly the same way tactically despite the fact that Kelvin Etuhu never ever suggested during his time with us that he could come close to being as effective in the target man role as Bothroyd is. Those who have accused Dave Jones of a lack of a Plan B in the past have a valid point as far as I am concerned, but, interestingly, the talk coming out of the camp during the summer has been of a different, more patient, approach when Jay isn't available. I've got to say that I saw precious little evidence of this on Saturday when, particularly in the second half, Chopra and McCormack were given a service which suggested that their team mates thought there was a six foot four inch targetman in a blue shirt on the pitch, but, without Steve McPhail in there to knit things together, perhaps it wasn't the best time to judge whether we will be see anything new from Dave Jones' side this season.
So, for me at least, Dave Jones has his faults and doesn't measure up to the best from Britain in his job, but he gets more things right than he gets wrong and I believe he is a good manager at this level. Those who question our manager's passion have to, surely, agree that the team were all pulling in the same direction through the desperate first few months of this year and, although we very rarely get to see it in public, Dave Jones seems to have something that gets players to want to play for him (in some cases he does this with footballers who have not been too keen on doing the business for more fashionable managers than ours).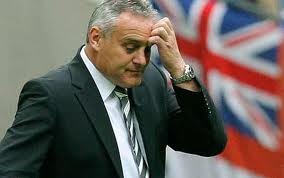 Although it all went wrong in the end, getting a club that was not able to bring a single new player in from late August onwards into a Play Off Final has to be seen as a considerable achievement and who knows what would have happened if we had a fully fit Jay Bothroyd on the pitch for the ninety minutes against Blackpool? Clubs like Fulham and West Brom are more successful and better run than us and they have both considered Dave Jones to be a serious candidate for their manager's job when it was available – this represents a sure sign for me that he is doing a good job at Cardiff and this is recognised by many in the football community.
At the moment, the upcoming season looks to be a very testing one and I for one do not think that, as things stand, we will be seeing another promotion challenge. However, I said on here more than once in the first three months of this year that I thought we had very little chance of making the Play Offs last season and yet we did do so on the back of an unbeaten run which flew completely in the face of the oft repeated claims about Dave Jones sides being unable to last the pace in the closing weeks of a league campaign.
I think all managers, to varying degrees, try to engender a siege mentality at their club and Dave Jones succeeded in doing this at Cardiff in the second half of last season. With all of the financial problems we have, a squad which is weaker than last season's, has the disappointment of the last three years to cope with and may well have issues regarding late payment of their wages and bonuses, it is going to be harder for Dave Jones to repeat his achievement of 2009/10, but you get the feeling that the worse the situation gets at Cardiff, the more important he becomes to the club.
Providing the desire is still there, I would say that Dave Jones' hold on his job at Cardiff is as secure now as it has been at any time during his five and a bit years at the club. Of course, some of this is down to finances as I'm not sure we could afford to get rid of him even if there was a desire to do so, but, in the current circumstances, it is my view that Dave Jones is one of the club's major assets and I am nowhere near convinced that we could get his equal, let alone better, if he left – enormous pay packet or not, for me we are much better off with Dave Jones going into 2010/11 than we would be without him.