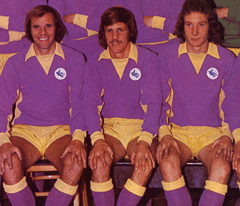 The 2014/15 Championship got under way last night with a 1-1 draw for Cardiff City at Ewood Park, Blackburn. I would certainly have taken that result beforehand given the way the home team had finished last season (twelve matches unbeaten), but it was a strange night for those who thought they had Ole's team for the new campaign figured because what we got was certainly not what the pundits had been telling us to expect from his side.
The received wisdom was that City were going to be a free scoring outfit with the challenge for them being whether the gaps caused by the manager's attacking approach would leave a defence some said was lacking in ability and organisation exposed too often to deem all of the goals that would be flying into  our opponent's net redundant.  Last week's 3-3 draw with Wolfsburg seemed to sum up what we could expect from City in 14/15 – twists and turns aplenty and loads of excitement.
So, it was strange that what we got first up was virtually the complete opposite of that – in fact. for Ole's Brave New World, read Malky's Old Approach from two season's ago! After all, many insist that what we got in 12/13 was set piece orientated attacking football, backed up by solid, streetwise defending from a cautious side somewhat short of guile and flair – from what I saw, that was what City showed us for the last hour of the match in particular last night.
The feeling of City promising one thing and delivering something completely different extended to Ole's team selection which suggested a bold, attacking approach with three up top as Kenwyne Jones, Nicky Maynard and Adam LeFondre threatened to keep the Rovers defence fully occupied. My first thoughts on learning the City line up were that Peter Whittingham, Aron Gunnarsson and Mats Dæhli had been left with a huge work load in the centre of the back, but, if they could provide a base to work off, we would score goals.
However, just like virtually every other City fan watching, I had been fooled into believing we were playing 4-3-3, when, in fact, what we got was, virtually, a bog standard 4-4-2.
I'd read quite a few prediction pieces saying that Adam LeFondre was going to be our most important player this season – here was the natural goal poacher we have lacked over the past three seasons, the twenty goal a season man who could be the penalty box predator that the best sides usually possess. What most of those writers (and me!) expected was to see the former Reading man used as an out and out goalscorer who, by reputation, doesn't contribute a great deal in general play, but comes alive when there is a sniff of a chance – what we didn't reckon on was LeFondre being used as a right sided midfield man who seemed more concerned with defensive duties and taking throw ins (why wasn't Brayford taking them?) than getting into the areas where he could cause most damage.
To be fair to him, LeFondre, who was constantly being picked out by television match summariser Don Goodman as a potential weak link in the City team performed his defensive duties pretty well, but I'm sure those who predicted he would be a key player if we are to have  a successful season did not do so because of what he might be able to do as an auxiliary right back!
The role LeFondre played last night would have been ideally suited for the departed Don Cowie and Ole cannot be blamed for the fact he chose to take up a contract at another club, but, having used someone like Magnus Eikrem in a wide right role in pre season matches, I would have thought he would have been a better candidate to play there than LeFondre.
Someone like Eikrem would have meant less of a potential goal threat, but he would have provided more support to what I thought was going to be a three man midfield, but, in effect, became two as the virtually anonymous Dæhli spent his time stuck out on the left taking throw ins – very occasionally, he showed what he was capable of giving the side, but having spent so much of his time drifting in and influencing matches while, ostensibly, playing on the left last season, it was strange to see him virtually stuck to the touchline last night.
The result was predictable, Dæhli saw less and less of the ball as Whittingham and Gunnnarsson found themselves outnumbered and, eventually overrun in central midfield and the Norwegian teenager made way with less than an hour played as new signing Tom Adeyemi was brought on to shore things up in the middle of the park.
The change succeeded to the extent that Adeyemi's introduction gave City a more solid look at a time when it seemed to me that Blackburn were getting up a real head of steam and threatening to completely take control. This meant that the final thirty minutes were not quite as much of a case of us hanging on for grim death as I feared they might be, but the overall shape of the game with Blackburn being the only team really threatening to break the deadlock continued – City had long since stopped doing anything to suggest they could manage a second goal.
There was little sign that the game would take the path it did in the first half an hour mind. Having survived a penalty scare in the first minute when Mark Hudson was harshly penalised for a handball by a referee who seemed to me to favour the home side throughout (the offence occurred inside the penalty area, but Mr Madley gave a free kick), City settled down to play some good stuff as the Whittingham/Gunnarsson axis gained an early control in midfield. With Jones buidling on his encouraging pre season by looking far more willing to put himself about than he was last year, City were able to build attacks with some style.
There weren't many chances created, but Jones could have had a hat trick in the first half an hour as Paul Robinson was forced to turn his header over and then the keeper was relieved that the striker's shot was a pretty feeble one when a good combination with Maynard worked him some space. Jones did find the net though with a far post header from one of a few high quality set pieces delivered by Whittingham and for a while afterwards, it was all looking pretty comfortable for a City team who suggested they had it in them to repeat the three goal victory margin of their last visit to Ewood Park in 2012.
However, Blackburn are a much better side now than they were then and they were always going to have a spell where they got on top. The tide gradually began to turn around the thirty minute mark as Rovers began to win more of the fifty/fifty balls that had been going in our favour previously. That said, despite their improvement, it was still something of a surprise to see the impressive Tom Cairney equalize when his fine shot from twenty five yards beat David Marshall after Whittingham (who, with all of his experience of the Championship, should know that you cannot take as many touches just outside your own penalty area as he tried to) was robbed by Jordan Rhodes.
Maybe that error affected Whittingham (who had been the victim of crude fouls by Baptiste and Evans that the unimpressive Madley did not deem worthy of even a yellow card), but the pattern of the game was now changed permanently, with the home side using their goal to build a superiority which they did not lose throughout the second half.
With the players further up the field proving to be incapable of holding on to the ball for any amount of the time, City's much maligned defence had a big task on their hands, but the so called weakest part of the team responded well and were, largely able to keep the dangerous Gestede/Rhodes partnership at arm's length.
At full back, John Brayford did a solid defensive job on his league debut and although Fabio had his careless moments when in possession, he stuck to his defensive task well. Inside them, a pair of centrebacks who, almost certainly, wouldn't have been playing if Turner and Cala had been available, formed a solid partnership that was the most impressive aspect of City's display on the night. Mark Hudson led by example, but it was Matt Connolly who most impressed me – the fact that he doesn't appear to be quite good enough for the Premier League seems to influence many City fans' opinion of Connolly, but he has spent six or seven years proving he is a highly competent performer at this level and he did so again last night.
So, a draw from a tough opening match is nothing to be sniffed at, but I have to say I still haven't seen anything yet from City as to even hint as to why they are regarded as favourites to win the league. In each of the matches I've seen so far we have looked very, very poor at times. True, there has been a spirit shown in our last two games which offers some promise and there has been some tidy football at times, but the overall play of our front six has to be an awful lot more effective than it was last night – our "dodgy" defence aren't always going to be able to cope as well as they did last night.
* pictures courtesy of http://www.walesonline.co.uk/