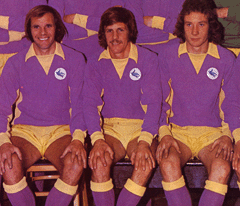 Some people sat around by me were getting very agitated with the team in the second half yesterday as Reading pushed relentlessly for the goal which would have meant so much for them, but I think you need to look at City's performance and attitude in context – they have played five play off rivals in the past two and a half weeks, come through unbeaten and, in all but the Forest match, the opposition's hopes of playing Premiership football next season have been lessened after they played us. The converse of that of course is that the prospect of us playing top flight football next August has to be greater after our matches with Sheffield United, Leicester, Swansea and Reading than it was when those games kicked off – given that, I can gladly accept yesterday's stalemate.
Not losing yesterday was far more important than winning. If we had piled men forward in the last ten minutes looking for the winner and Reading, who are one of the quickest counter attacking sides in the Championship, had caught us on the break to get the decisive goal, think of the momentum they would have taken from winning the game and think of the devastation we would have felt – especially given what happened in our last four games last season.
Reading's attitude and substitutions as the second half wore on showed that they knew they really needed the three points. Under those circumstances there were inevitably going to be potential attacking situations where there would be as many, if not more, City forwards as there were Reading defenders and, if I am disappointed about one thing from the game, it was how poorly we did when those chances arose. Our attacking players have, by and large, been the main reason why we find ourselves where we are now, but none of them showed their true quality when we had those chances late on yesterday. Apart from that though, you'll not hear many complaints from me about yesterday's game – Reading did win too many second balls, but at least our defence and midfield kept their shape and made it very difficult for the visitors to create much (although they had the better of the battles for territory and possession, it was their keeper Federici who had the more difficult saves to make).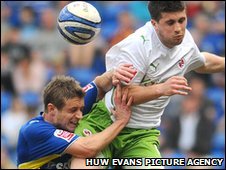 For much of the season, our defending has not been as good as you would expect it to be from a team in the top six of the Championship, but yesterday saw a repeat of the dogged qualities that had denied Forest last Monday and most of the praise for that has to go to our back four. Although his passing was below par for most of the time, having Kevin McNaughton in there almost always improves us defensively and, having been given the task of keeping one of the in form players in the Championship quiet in Jimmy Kebe, Mark Kennedy turned in his second successive good quality performance – a marked contrast to this time last year when he was one of a number of players who were running out of steam as the finishing line approached.
However, the real heroes for me were our two central defenders. Anthony Gerrard was my man of the match – so far at least, he appears to be revelling in rather than shrinking under the end of season pressure and this was a third successive dominant performance from him following his return from injury. Gerrard's composed attacking contribution out on the right wing in the second half again showed that he has more ability on the ball and is a better passer than many who play in his position at this level, but he is in the team primarily to defend and I think there has been plenty of evidence in the last week or so that he has come on significantly during the season in terms of anticipation and decision making.
It will be interesting to see how Dave Jones goes when Mark Hudson and Gabor Gyepes are available again. Everything he has done since he came to Cardiff makes me think that he prefers to have two tall, traditional centre half types who may lack a little in terms of speed and maneuverability, but will take some beating in the physical battle that is so much of what playing in that position in this league is all about. The thing is though, Darcy Blake must now be giving our manager an awkward decision to make. While the way Shane Long won virtually all of the aerial battles between the two players and the way Blake got into trouble at Forest for trying to play like the central midfielder he considers himself to be in dangerous areas of the pitch shows that there are valid reasons to use the more traditional "stopper" type centreback,  the threat Reading posed (certainly before Rasiak came on anyway) was more to do with movement and pace than an aerial threat and, for me, Blake is better suited to cope with that type of attack than either Hudson or Gyepes. Whatever, Darcy Blake showed again yesterday that he has become a very valuable member of the squad in the second half of the season and it should mean that the loss of Gavin Rae for the rest of the campaign is not as big a blow as it could have been.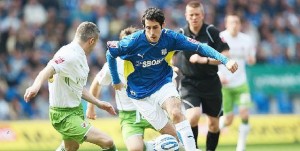 So, we now find ourselves in a position where only three sides can come from outside the top six to take our Play Off spot. Of those Blackpool still probably represent the biggest threat despite their defeat yesterday – although they face Forest at Bloomfield Road next week, matches at Peterborough and at home to Bristol City certainly look winnable and nine points from nine has to be a possibility for them, but anything less than that means that City just need the one point to ensure we finish above them . As for Reading, you really get to see what a good result it was for us yesterday when you consider that nothing less than five wins from their last five games will see them finish above our current points total and, with them entertaining a Newcastle team needing four more points to make sure of the title on Tuesday, they'll be doing very well to still have a chance of overhauling us come Wednesday. After that, the games don't look too testing for them – visits to Scunthorpe and Watford will be tricky if those sides are still in relegation trouble, but matches with Peterborough and Preston look like home bankers to me. The other team that could, conceivably overhaul us is Middlesbrough, three wins would take them to seventy points and three defeats for us would mean that there would be a very good chance that their goal difference would be better than ours come the end of the season. However, although a home match with Coventry is exactly the type of fixture they would want at this time of the campaign, visits to West Brom and Leicester most certainly aren't.