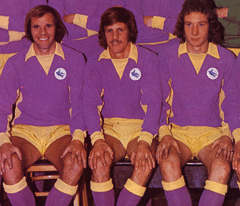 In his post match press conference following yesterday's abject 2-1 defeat at the hands of an Ipswich team that occupied twenty third position in the table beforehand with just one win to show from seventeen games, Dave Jones said we haven't become a bad side overnight – I'm sorry Mr Jones, but your sides often do exactly that and they have been doing that throughout your four and a half year tenure as Cardiff City manager!
Sitting top of the league in October 2006 and then winning one of the next fifteen matches, form good enough to win Dave Jones the Manager of the month award in January 2008 to be followed by a haul of just two points, and two goals scored, from six matches, the spectacular capitulation in the  last four games of last season are all examples of the sort of thing we are seeing now and there are a few others as well during the "feast or famine" Dave Jones years.
The fact that runs like the current one of one point from four matches follow periods of good performances and results suggest to this supporter that too many on and off the field at Cardiff City become complacent at times when things are going well as they start believing what is being written and said about them rather than work on keeping things going.
How else can the sort of switchback form that has become so commonplace since May 2005 be explained? I entitled my reaction on here to the Barnsley defeat "Consistently inconsistent" and to maintain that theme I would say that what happened yesterday was predictable in it's unpredictability! A team in seventh entertaining the last but one side in the league has to be a home banker doesn't it? Well those familiar with the way things go at Cardiff City during the second half of this decade know better than that!
So, City maintain the pattern of this season which sees them get healthily into credit in the ratio of wins to losses only to give it all back again in the following month. Shouldn't that therefore mean that December will see us climbing the table again? Well I'm afraid that the signs are that the sequence will come to an end during the next thirty two days – a very tough looking run of matches against West Brom, Middlesbrough and Leicester makes an upturn in results unlikely but it is mostly the fact that, based on yesterday's second half display, we would have trouble beating a team from League Two let alone one from the Championship which has me fearing the worst.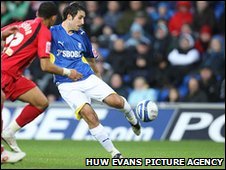 In particular, our central midfield looks woefully inadequate at the moment and with Steve McPhail absent for at least a few weeks more, it's hard to see what can be done with the players we have to pick from until January to improve things. I have always tried to defend recent central midfield pairings by saying that while Dave Jones' slavish devotion to 4-4-2 ensures that when we play a team using 4-5-1 it means that we have options up front than our opponents, our two in the middle are always outnumbered so it is asking a lot to expect them to run the show. However, although one of their strikers sometimes dropped a bit deeper, Ipswich came here and played 4-4-2 so, in terms of numbers at least there was parity in central midfield and yet Ledley and Rae were so poor after the break that they ended up finishing comfortably second best to Garvan and Leadbitter. The sad truth is that in the last three matches we have seen just one half (the first forty five minutes yesterday) in which Ledley and Rae have shown anything like the standard needed for this league, let alone the top six of it, and, although I am not convinced that such a move would work, I think the time might have come to try Peter Whittingham in that area.
It would be wrong to put all of the blame on Ledley and Rae for yesterday's second half horror show though. Joe Ledley in particular made his frustration with the lack of movement in front of him pretty clear at times and it has to be said that he had a point. In the first half Jay Bothroyd was one of if not the best player on the pitch, but if it hadn't have been for his disallowed header, you could be forgiven for thinking that he didn't come out for the second half! In the case of Michael Chopra, his performance was a definite improvement on his Barnsley showing as he linked up play well at times and there was a real appetite for closing opposing player down, but, although that always wins a round of applause from supporters, it's attacking runs to give midfielders options that are probably more important and there were few of them after the interval – worryingly, apart from the incident which caused Richard Wright to leave the pitch, there was, once again, no goalscoring threat at all from Chopra.
To be fair to those I have mentioned, so many others all over the pitch had a nightmarish second half and I think it has to be said that only the much maligned Mark Hudson emerged with any credit – while too many showed the familiar failing of taking a backward step when things got tough, Hudson put in a decent shift over the whole ninety minutes and I would say that he has been head and shoulders above his team mates when it comes to performance levels over the past three matches.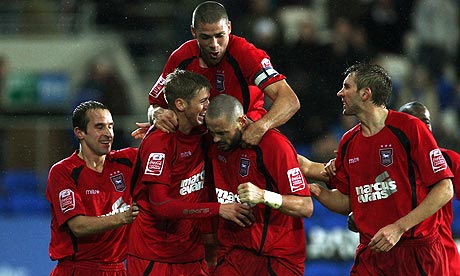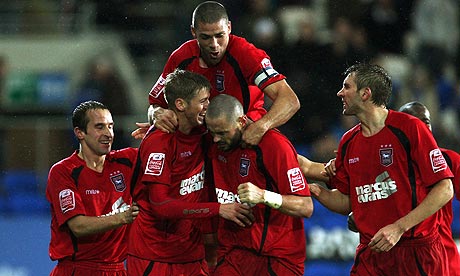 Over the past seven months it has been my habit to point blame more at the players than Dave Jones when things go wrong, but, this time I have to go back to our manager. I agreed with an awful lot of what Dave Jones said in his post match interviews (what he had to say to the BBC can be seen here) and it was good to hear him acknowledge his share of the blame for yesterday's debacle, but  there are two matters which he didn't talk much about that have someone as supportive of him as I have been beginning to wonder if it is time for a change of manager.
Firstly, although the way we start matches poorly has been commented on quite often this season, there hasn't been as  much said about how we take time to get going after the interval as well. Yesterday was different – we never got going at all in the second half and so, not for the first time, I find myself asking what on earth was said to the players during the half time break? According to Dave Jones it was along the lines of "more of the same lads", but it didn't half look to me as if they came out with a what we have we hold mentality which, if true, represented a change of approach from the closing minutes of the first half when they continued to push forward even though they were a goal up.
Now, if I am right, the natural question to arise is where did that change in attitude come from and the obvious answer is the manager and, possibly, his coaching staff – even if I am wrong and the players just ignored what they had been told, that also doesn't reflect well on our manager.
The second point is the way Dave Jones used his substitutes. The first fifteen minutes of the second half saw some awful football as Ipswich, by and large, played as poorly as City were. However, while Roy Keane took steps to rectify the situation by making his two remaining substitutions, Dave Jones  kept things as they were despite the fact that there were five or six genuine candidates for the "hook" in his side. If our manager thought that things couldn't keep on going as badly as they were, then he was proved to be utterly wrong in that viewpoint as Keane's substitutions helped his side  seize the initiative in the last half an hour. When Dave Jones was finally moved to look to the bench after each of Ipswich's goals, it smacked of tokenism and, although Ross McCormack did nothing at Swansea or Barnsley to merit inclusion from the start yesterday, he has shown in the past that he is someone who can come up with something special to change a game – with us playing so appallingly, I cannot begin to understand why Dave Jones only saw fit to give McCormack just the last four minutes to try and turn things around.
So, the team did nothing yesterday to lift the morale of supporters who have been left shocked and angry by the disclosure that the club were up in front of the beak last week for non payment of taxes and it was very disappointing to hear Dave Jones follow the Ridsdale lead of shifting blame on to those who broke the story rather than addressing the issue itself. While it was good to hear him refusing to blame last week's events for the performance yesterday (after all if the players were reacting to something they had be told about the club's financial position, why did they play pretty well in the first half?), the reaction which sees club officials having a go at the press for breaking the story they refused to tell us about smacks of a five year old who believes that if they ignore something unpleasant long enough it will go away – memo to Mr Ridsdale, the court hearing didn't take place because of what the Echo printed, it took place because you and other highly paid officials at the club didn't do your job properly.