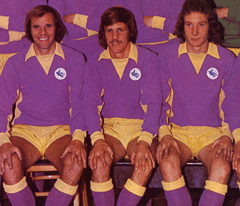 On 9 April Cardiff City manager Ole Gunnar Solskjær kept an appointment to meet members of Cardiff City Trust despite his beloved Manchester United playing the Second Leg of the European Champions League Quarters Finals at the same time as the meeting. About forty of fifty fans turned up four days after the disastrous 3-0 home defeat by Crystal Palace which had many City supporters believing that there was no way relegation could be avoided. From memory, there were people there who thought he should be sacked and others, like myself, who had serious misgivings about him but believed he should have the chance to to put things right in the opening months of the 2014/15 season in the event of relegation.
The meeting lasted an hour or so and Ole got the chance to watch the second half of the Man United game, but, although references to the match became something of a standing joke as the event went on, he gave full attention to the questions he was being asked and was honest and open (more than I expected him to be actually) in his answers. I cannot speak for everyone at the meeting, but I was very impressed with our manager that night, he came across as enthusiastic, determined and fully committed to the club.
After the meeting, and not for the first time, Ole had me hoping that he would do very well at his club, not just because it was my club, but because I liked the man and thought he deserved success.
Unfortunately, even after his impressive performance in front of that fairly small band of City fans, it was a hope I had that he'd get things right, not an expectation, because, while you could listen to the rhetoric and believe what the manager was saying (in my case because I so wanted to believe it), it only took a few days before reality would set in. Then you saw a manager and team struggling, and failing, to provide the entertaining, winning football that was supposed to replace the dour, but more successful in comparison, stuff Malky Mackay's side had been serving up in the autumn.
The first half of last season was played out against a backdrop of complaints about a lack of entertainment from the team as they looked to cobble together the points to keep us up by playing defensively while relying on set pieces to provide the goals that were nicking us the odd win or draw. At the time of Ole's appointment in January, I think it was probably true to say that the feeling was that he might not keep us up, but at least it should be more entertaining from now on.
Truth be told though, I never came out of too many of the matches Ole had charge of feeling entertained – sure, there were more goals to see than there used to be and the encounters with Liverpool and West Brom were easier on the eye than almost anything Malky's side had come up with a few months earlier, but with us conceding at a rate of almost two and a half goals a game, there was not much to get enthused about – in fact confused was the more appropriate word!
Ole didn't have charge of too many games, but other City managers only needed a few to imprint their philosophy on the team. Ole's predecessor is a excellent example of this – within weeks of him taking over people could talk of Malky Mackay's Cardiff City and, good or bad, you knew what they meant (much the same could be said about Jimmy Scoular, Jimmy Andrews, Len Ashurst and Frank Burrows to name a few more).
Nearly nine months after his appointment and after thirty matches in all competitions in charge, could any supporter claim to know what Ole's tactical thinking was or what his preferred means of setting his team up were? For me, the word I mentioned earlier was most appropriate – I was confused before games by his selections, confused during them as I tried, and almost always failed, to work how we were trying to beat our opponents and confused after them as I tried so hard to find anything worthwhile to take out of the match which suggested some promise for the future.
To be honest, it started going wrong for Ole right from his first league game in charge – addressing the crowd ahead of a crucial six pointer against injury hit opponents in woeful form didn't seem the best of ideas at the time and the atmosphere soon fell flat as City made an unconvincing and nervy start which gave West Ham the confidence to think they could get something out of the game – the new manager had started with exactly the sort of result that gets sides relegated.
It's ironic that it was just about the only match I can remember where an Ole team tore into the opposition right from the start which probably marked the beginning of the end for him. At half time against Norwich on Saturday I would say that it was inconceivable to think that Ole would be out of a job five days later, but when you look at the statement from the club today confirming his departure, there are clues which suggest that the writing may well have already been on the wall for him.
At the time I paid little attention to the fact that former Gillingham, West Ham, Watford, Newcastle and Norwich manager Glenn Roeder was at Saturday's match, but when he was also present on Tuesday for the Middlesbrough game there seemed a bit more to it. The Supporters' Trust have also issued a statement about their meeting with Mehmet Dalman and Chief Executive Ken Choo on Tuesday afternoon which contains the following;-
"We had been told at previous meetings that the club was looking to bring someone with considerable football experience into the boardroom and it was interesting to see Glenn Roeder at the recent Middlesbrough match. Mehmet is keen not to create any conflict with a manager but said that there are still ways of getting some additional advice and experience into the club."
So, we have a statement about our manager's departure in which both sides admit to a "a difference in philosophy of approach to the game", an older, former manager at our last two matches and our Chairman, apparently, keen not to create any conflict with a manager but saying that there are still ways of getting some additional advice and experience into the club.
Now, it may be that these differences of opinion were down to Vincent Tan wanting to pick the team as some are suggesting, but it seems far more likely to me that our inexperienced manager was thought to be struggling by senior figures at the club (a completely reasonable conclusion to come to in my book given our results and the money Ole had been given to spend on the team over the summer) who reckoned he needed some informal help in the form of an ex Premier League manager. If that was the case, then I could fully understand Ole not being too happy about this if he hadn't agreed to it and so you have the circumstances which made today's news pretty inevitable.
All of this is pure guesswork of course, but, whatever these differences between owner and manager were, I think it's probably best that Ole has gone sooner rather than later – performances and results were getting worse and I have to say we have had the look of a side that will be struggling at the bottom of the league more often in matches than when we looked like a potential promotion chasing team.
A change now means that there is still plenty of time to turn around the season, but hopes of an immediate appointment have been dashed with the news that Dundee manager Paul Hartley, who it seems was the club's first choice, has said he has no interest in the job and so Scott Young and Danny Gabbidon will be taking charge for Saturday's testing game at Derby.
As to who will eventually get the job, I haven't a clue, but I'd be very surprised if it turned out to be Tony Pulis.
Anyway, despite spending much of this piece being critical of Ole's management, I hope my opening few paragraphs made clear that there was a lot I liked about him as well – usually when a manager has left the club with a record as poor as Ole's was, my reaction has been good riddance, but I genuinely mean it when I say that I hope his managerial career recovers from this setback, that he learns from this experience and he goes on to prove that he has more to offer than he showed at Cardiff.