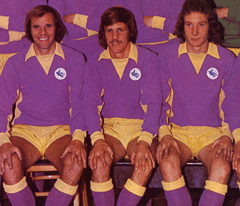 I daresay there are fans of virtually every other team who say that, too often, off field matters become the main focus of attention at their club, but I firmly believe it happens more at Cardiff City than almost anywhere else. Yesterday morning I found myself thinking about who would be Ole's successor and some of the truly bizarre rumours as to what the management structure will become in the coming weeks and then there'd be an "oh, and we're playing today" which would float into the back of my mind.
Given how truly wretched 2014 has been so far in playing terms, I suppose it may well have been a case of what happened between Wednesday and Friday being almost a welcome distraction from the miserable performances City fans have had to endure over the past nine months -actually, make that a year because, once we'd won at Fulham to complete a short welcome to the Premier League honeymoon when we kidded ourselves for a while that we could survive quite easily, it's been a real grind since losing to Newcastle in early October 2013.
In many of the bad defeats we suffered as relegation became an inevitability, the fact that we were up against good quality opposition could at least act as some sort of salve for the hurt being felt, but Tuesday's no show against a Middlesbrough team who had to be no more than ordinary to be comfortably better than us, was as poor as anything I've seen during our annus horribilis when you consider the league we are now playing in.
So, the thought of City going to a Derby side who, Champions Leicester apart, were the best side I saw in the Championship last season and who looked to be coming to the boil nicely after a draw at leaders Forest and a midweek win at Blackburn was not a prospect to look forward to.
The feelings of foreboding weren't helped by the fact that the team were in the hands of two men who, as very popular players with the club, would have the goodwill of all supporters behind them, but were, when all's said and done, complete novices when it comes to managing and coaching at this level.
Those pictures of Danny Gabbidon jumping on Scott Young's shoulders after the latter's winning goal against Leeds back in 2002 had been replayed a few times over the past few days – City were big underdogs that day and, in my mind anyway, a City win yesterday was less likely than it had appeared on that explosive January afternoon twelve years ago.
I got a bit more optimistic when I saw the team the caretaker managers had picked – for me, it had a more solid look to it than most of Ole's selections and I liked the idea of having Anthony Pilkington and a fit again Craig Noone in there to utilise the flanks. The team lined up in what was certainly more of a Malky like 4-5-1 than it was an Ole type 4-3-3/4-5-1 with the main question about it being the one often asked when we played this system under Mackay – did we have anyone in the midfield five capable of giving worthwhile support to our lone striker?
The question became irrelevant during a totally one sided first half because we never had the opportunity to get anyone close to a labouring Kenwyne Jones – we were just concentrating on trying to keep Derby out. Given, the one way traffic towards our goal during the opening forty five minutes, we defended well. When the home side did manager to work an opening, David Marshall made good saves, but, with Bruno Manga and Matt Connolly to the fore, there weren't too many scary moments when you consider we only had possession of the football for 23% of the time.
That said, the contrast between the two teams was pretty frightening from a Cardiff perspective. Derby wanted to play the game at pace and took quick restarts whenever they could – they passed the ball quickly and accurately and their full backs were playing more like wingers. Now, I know that, as an away side down on confidence, City would be looking to slow the game down as much as possible. However, as you watched our laboured backwards and sideways passing, which would would almost always end  with either a pass back to Marshall or a lump forward from close to our goal by a defender or midfielder and contrasted it with Derby's crisp passing (albeit their players were never put under the pressure when in possession that ours were), it was hard not to think of an FA Cup match where a bunch of plucky non leaguers are interested in nothing more than hanging on to a 0-0 scoreline against vastly superior opponents.
I don't think this expensively assembled squad of ours is capable of playing with the pace and urgency that Derby showed and questions have to be asked as to how fit some of them are – yes, Kenwyne Jones had a thankless task yesterday, but I agreed with Radio Wales'Kevin Ratcliffe when he questioned his fitness levels after the game (it says so much that Jones can look so immobile at times and yet you get the feeling that he is quite a bit fitter than he was last season!).
So, City went in at half time having played four halves of football during which they had barely created a chance or forced a goalkeeper into a save (Pilkington had a shot which flew yards high and wide, but I cannot remember another goal attempt in the first half yesterday) and, yet, in another example of what a strange game football can be, they had scored twice before the second half was ten minutes old.
It took the old faithful of a set piece goal to end the drought when Pilkington's far post corner was nodded back by Connolly for Aron Gunnarsson to hook in from close range and then Peter Whittingham hammered in a second four minutes later when Jones did well to force an error out of a defender and Pilkington was able to provide the scoring pass.
If City could have held on for another ten minutes or so, then, perhaps, Derby heads would have dropped and the game could have been seen out quite comfortably, but the home side hit back hard – substitute Jordan Ibe soon reduced the arrears and there were six minutes left when Craig Bryson's twenty yard shot flew in via an upright to make it 2-2.
Of course, there was disappointment at City having let a two goal lead slip just like they had done against Norwich, but, all things considered, a draw was a very good result considering the build up to the game and it should be seen as a feather in the cap of the novice managerial combination who certainly improved things at half time by getting their team to stay ten to fifteen yards further up the pitch – there's still an awful lot for the new regime to do and the possession figures still make for worrying reading, but the second half represented some progress and, hopefully, confidence levels will be lifted a little.
If Internet rumours are to be believed, then City may well have a new man in charge by the time they play Bournemouth in the League Cup on Tuesday. Leyton Orient manager Russell Slade answered "I think they may have requested permission to talk to me. But I'm uncertain. I'm a little bit in the dark." when asked about reports linking him with the City job and since then there has been Twitter claims by a journalist who has worked for the Times that the deal has been done.
If this is the case, then City will be getting an ex teacher who never played the game at professional level and has spent most of his managerial career in the lower divisions. Furthermore, Slade was given one more game to save his job last weekend after his side (who were beaten on penalties in the League One Play Off Final last season), dropped closer to the bottom of the table. Since then, Orient have picked up four points in two matches, but, on the face of it, Slade coming to Cardiff would appear to be another whacky moment in the madcap world of Vincent Tan's Cardiff City for the headline writers to drool over.
Scratch a little deeper though and it's possible there might be a little method in the madness this time. Slade is quite highly regarded and, with the spirit in the City camp looking to be very low to this outsider, his reputation of being an excellent man manager and motivator may be relevant. The 53 year old is also someone who has never paid a fee for a player in four years in charge at what I still call Brisbane Road and is someone who seems to revel in that fact. Quite where a philosophy like that would fit in at a club where managers have become used to being given huge sums to spend over the past few years is hard to see.
To a degree, I can see that Slade might be a contender for the "Head Coach" job which involved him working on the playing side of things and leaving transfer dealings to the owner, Chairman and a newly created Director of Football. However, it seems to me that this would be wasting another of the man's talents – his eye for a footballer. Apparently, in one night Slade found Michael Tonge, Richard Montgomery and Phil Jagielka for Sheffield United after all three had been released by other clubs as youngsters.
It seems to me that there is one scenario whereby appointing Russell Slade makes a lot of sense and that is if Vincent Tan has decided that the spending on players has to stop (or be cut back at least). If Cardiff City are set on "downsizing", then Slade's talents look to be very useful indeed, but, to get the best out of him, I would argue that he needs to be used as a traditional manager, not someone who has no say on player recruitment and works to a Director of Football.
*Picture courtesy of http://www.walesonline.co.uk/