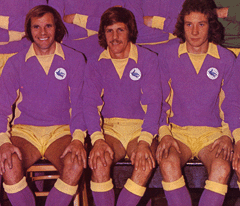 In the three weeks or so since my last entry in this category, there have been all sorts of rumours as to impending financial disaster at the club – some of it at least coming from people who you would expect to have a bit of inside knowledge as to the real state of things at Cardiff City. For example, someone on a Burnley message board (?????) claimed that we had come very close to administration over an unpaid tax bill (speaking of which, has our Chairman……. no, I'd best not go there!), there have also been claims about staff being laid off and that work on a training area for the Academy at the club's base in the Vale of Glamorgan had to be halted because they couldn't afford to pay the builders.
When this is looked at in conjunction with the announcement of the Platinum Ambassador scheme whereby the club wanted supporters to pay for 2010/11 season tickets in October/November and the launch of the Academy Foundation scheme which asks for a donation from supporters to raise a total of £20,000 towards Academy running costs then it's completely understandable why the term "no smoke without fire" has been done to death on the messageboards recently. For my part, another term has come to mind when looking at these rumours – there is certainly plenty of "circumstantial evidence" around, but not enough for to me vote guilty.
All of this seems a little odd at a time when our Chairman is talking about us being debt free by the end of 2010, but I wonder if all of the rumours and innuendo are linked to the negotiations that are currently on going with Langston regarding the settling of their loan notes debt in that it probably doesn't do the club's cause any harm at all if there is plenty of gossip doing the rounds about it's parlous financial state.
Anyway, enough speculation, what did Peter Ridsdale actually have to say yesterday? Well, it would appear that what he said on the GTFM phone in last night was very much along the lines of what he told a group of Trust members at a meeting  yesterday afternoon. In his radio appearance, Mr Ridsdale came across as being very positive about the club's future and, as he always does, sounded very convincing in doing it as well. However, previous experience of occasions like this has taught supporters that what sounds very good in practice with our Chairman doesn't always work out to be quite so good in theory.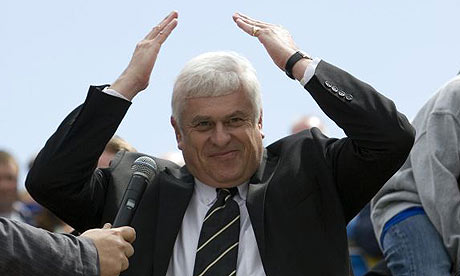 In the interests of fairness though, I'll report what I consider to be the four most important points raised by Mr Ridsdale without comment;
1. The club does have a cash flow problem currently, but he argued that every other club in the country has one as well.
2. He confirmed that the negotiations with Langston had stalled a while ago – after an initial agreement, the other side came back with added demands which the club could not agree to. However, Mr Ridsdale also said that he was of the opinion that things had now moved on and, recent telephone conversations with Sam Hammam in his capacity as Langston's representative had him hopeful that an agreement could be signed off within days – he did add the rider that he had felt much the same way before and had been wrong, but his gut feeling was that things would work out this time.
3. As well as his comments regarding the Langston situation, Mr Ridsdale also repeated his view that he hoped the club would be debt free by the end of next year – that is that the loan debt to PMG will also be cleared.
4. It was confirmed that Mr Ridsdale is still in contact with Dato Chan Tien Ghee (in fact he speaks to him on a daily basis) and that the planned investment into the club will go ahead. Furthermore, it was revealed that there was another party who were also eager to invest in the club and he seemed pretty confident that this will happen.
However, it was made clear that there would only be investment from the two parties mentioned above if the Langston debt was cleared. Our club was considered a very attractive proposition for potential investors if the threat of legal action was removed and Mr Ridsdale argued that as Langston would not get paid anything without the sort of financial input into the club that Dato Chan Tien Ghee and a possible second investor were offering then it is in their interest to settle with what is currently being offered.
That all seems pretty logical to me and I hope Mr Ridsdale is right, but, essentially, it appears that in the last few months we have been back in another game of poker with Langston/Hammam whereby the club, probably struggling on the financial front through not selling one of Joe Ledley or Ross McCormack during the summer, is hoping that agreement can be reached. If it isn't by the time that Langston/Hammam can use the option of taking the club to court again in January, then the future could be as bleak as those rumours were suggesting.
One other thing, Mr Ridsdale made it clear that he cannot comprehend why so many of the club supporters seem so cynical regarding the future. In particular, he sounded exasperated that some supporters could not take the Platinum Ambassador scheme at face value (i.e. as a goodwill gesture to the club's support) – I think that is understandable from his perspective. After all, the CV he presents of his time here is an impressive one – he has delivered on the new ground as well as getting the club the sort of training facilities that they could only dream about three years ago, last season saw us finish in our highest position for thirty eight years and we reached the FA Cup Final two seasons ago and all of this has come about despite having a surplus of £22 million on transfers over the period he has been in charge.
The trouble is though that, as he acknowledges, our supporters deserve at least a taste of Premiership football and it is far too long since we last featured in the top flight. Long term fans of the club in particular have had what seems a never ending stream of chancers telling us how great things are going to be and, after we finally believed that our previous owner was going to take us to a place amongst the elite, the disappointment caused by the financial collapse that was Black Friday was tangible. As someone who has only been connected with the club for around five and a half years, I don't think it's possible for Peter Ridsdale to judge how people who have followed this club for thirty years and more feel about things – to be honest, I am quite optimistic about our future, but, no matter how good things look at the moment, I cannot really blame those amongst our support who say "Yeah, but what's the catch?".
One last thing, speaking as someone who now only has to look at a bar of chocolate or packet of biscuits to pile on the pounds, well done to our Chairman for losing three stone in weight this year!