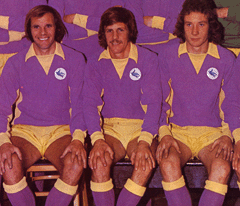 It's not just young supporters who would say that the football produced by the City in the first couple of months of the 2006/07 campaign was the best they have ever seen from us. For twelve glorious games that stretched until that day in late October when it was announced that Sam Hammam was leaving and we got beat 1-0 at Norwich, City played with a pace and skill that  I had not seen in decades. Well, we matched those standards yesterday in turning in what was, with the possible exception of the Quarter Final win at Middlesbrough, our best display since those heady days when the likes of Birmingham, Wolves and Sunderland had no answer to our rampant team.
I suppose some allowance has to be made for the fact that we faced a Bristol City side that was some way short of the best eleven they could turn out, but, with five possible first teamers of our own out for one reason or another, that allowance should not amount to a great deal. City were excellent yesterday as they scored three or more for the fourth time in five matches (remember how long it took us to do that just once last season!) – it would be wrong to single out individuals after the team played like that, so here a my thoughts on, and marks out of ten for, each player yesterday;
Marshall 7
Made a great save to keep out McCombe's header shortly after we went 1-0 up. The bloke sat behind me still doesn't think he "dominates the area" enough by coming for crosses, but, based on his games for us so far, my one small criticism of our new keeper is to do with how he does when he comes out for crosses. That's a minor quibble though and it still looks to me as if we finally have a keeper who can put an end to all of the uncertainty there has been regarding this position over the past couple of seasons.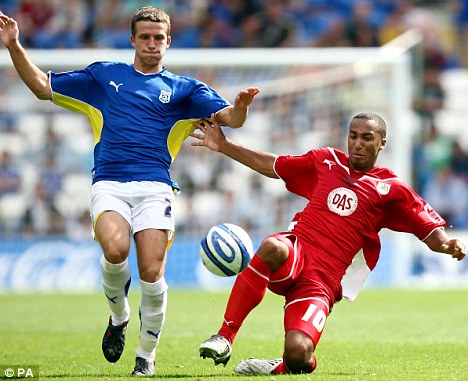 Matthews 9
Having watched him a lot over the past eighteen months or so, I fully expected him to play first team football this season, but what I didn't expect was for him to make it all look so ridiculously easy when he did – a home debut to match, or maybe even better, Aaron Ramsey's outstanding performance against QPR in January 2008. Significantly, the only real mistake Matthews made (which he then recovered himself) came from some over confidence on his part which was probably born out of the fact that he was coping so well. Did all that was required of him defensively, but it was when he went forward that he really looked the part – I don't think we have another full back on the books who could get so far up the pitch and then deliver the sort of high quality crosses that Matthews did yesterday.
Hudson 8
It would be nice to see those who were giving him so much stick before he had even kicked a ball for us and those who left it a game or so before deciding we had signed another David Greene acknowledge that they might have been a little hasty in their judgement. Hudson reminds me of Darren Purse in many ways in that he is an easy player to knock because his weaknesses are pretty evident once you have seen him play for a short while. Like Purse, I reckon Hudson will have games where those weaknesses get exposed, but, again like Purse, for most of the time he will do a perfectly decent job for us. Yesterday Hudson looked what I thought he was when he used to play for Palace against us – that is a good Championship level centre half – if you recorded  the game and are going to watch it again, notice how many times the commentator says things like "away by Hudson", "Hudson clears" etc.
Gerrard 7
Only misses out on an eight because of one or two careless errors on his part, but, overall, another display which offers plenty of promise that Dave Jones has got it right again when it comes to centrebacks. Was praised by Walsall fans when we signed him for his passing ability and, increasingly, you can see what they meant. Gerrard knows when a Row Z (is there a row Z in the new ground?) clearance is required, but when given a bit of time can hit a fine pass – people are forever comparing Gerrard with Roger Johnson, well this is one facet of the game where he is already better than our former player.
Quinn 6
Nobody played poorly for us yesterday, but I thought Quinn was our weakest performer as, not for the first time, he showed a tendency to get caught out as he dived into tackles. Allowances should be made though in that he was playing on what was the wrong side of the pitch for him and, just as with Gerrard, he continues to show a passing ability that we haven't always had at the back – almost scored with what I am sure would have been our goal of the season if it had not been for a fine save by the overworked Gerken.
Burke 9
People still despair that we missed out on Wayne Routledge, but this performance from Burke should tell them that the player we got instead of him isn't too far short of or, whisper it quietly, even better than the QPR man! I can't remember Routledge ever causing the sort of devastation Burke did yesterday by roaming infield to such great effect. The way he handled that great early opportunity he created for himself confirms that Burke may not be the finished article in front of goal, but he has so much else going for him (including the ability to do a decent defensive job when required) – he's going to cause Championship defences no end of problems this season.
Rae 9
Before the season started, I thought the players who were here at the back end of last season would suffer this time around because of what happened in April/May. It's early days yet, but so far it looks like I was wrong there because those last four games appear to have made them so determined to put things right this time around. More than anyone else, this is true of Gavin Rae who gave the best performance I have seen from him in a City shirt. From his run past three opponents on the left touchline, to the number of lung bursting forward runs he made, to the calm finish that got him his deserved reward for such a run and, finally, to the tremendous shot that almost knocked Michael Chopra out, Rae showed facets of his game that I had not seen from him before in his previous two seasons with us – I am reluctant to pick a man of the match after such a great performance, but, if I had to, it would be Gavin Rae.
Ledley 8
Deep into added time, Ledley made a twenty yard run to tackle a Bristol player in a match that was long since won – that sums him up for me and, although some will probably say that he is playing for a move to a Premiership club, we aren't half going to miss him if and when he goes. His first half miss shows that his finishing may still not be at the sort of level he showed two seasons ago, but, after a bit of a stutter last year, his all round game is back to where it was and yesterday he seemed to have added an ability to burst past opponents with a mixture of power and skill to his game.
Whittingham 7
Didn't stand out as much as he has done, but this may well have been down to the fact that others around him were playing so well. However, this was not the sort of diffident and laid back stuff that can drive you mad from Whittingham – he still turned in a perfectly acceptable performance which included one or two special moments such as a pass to Chopra which could well have led to a goal if Gerken had not been so alert.
Bothroyd 8
Three matches without a goal now for Bothroyd, I hope he gets the goal soon that his level of performance deserves. If he keeps on playing like he is and can get up to the fifteen goal mark for the season then I would say that he is the complete centre forward at this level. He did get a bit careless towards the end of the match, but this might have had something to do with the tremendous amount of closing down work he had done throughout the game – and to think that people like me were calling him a lazy so and so when we signed him!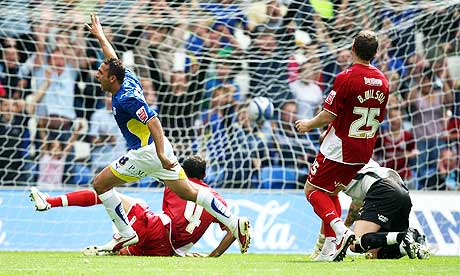 Chopra 8
Was called a Championship version of Michael Owen in the build up to the game, but I have not seen Owen produce the sort of vision that Chopra did in providing Joe Ledley with his chance yesterday. Based on his current form, a target of thirty goals this season does not look an outlandish one. I think it is safe to say that Chopra has now proved beyond reasonable doubt that his poor form at the back end of last season was indeed down to that heel injury and, perhaps, some off field problems – speaking as someone who often finds such things pretty cringe-worthy, it has to be said that Chopra's goal celebration wasn't bad either!
Subs
Etuhu 7
I suppose it has to be acknowledged that ten minutes against a beaten and demoralised team represents a gentle introduction to life at Cardiff City, but I was pretty impressed by what we saw of him yesterday.
Magennis 6
Not on the pitch long enough to make an impression, but getting the sort of first team experience that he is at a time when he couldn't have been expecting it has to be of benefit to him.
I started off by mentioning the start of the 2006/07 season, but, what happened during the rest of that campaign offers a timely reminder that we shouldn't build our hopes up too much after a few very good performances. However, even if the upcoming months do not bring the promotion challenge that we want, the day that we took the team that I still consider to be our biggest rivals to the cleaners for the first time in over forty years will remain with me for years to come – thank you to Dave Jones and his side for that at least!