No one enjoyed the run to the FA Cup Final two years ago more than me, but right from the moment the draw was made, I had little or no interest in yesterday's game because I thought it was inevitable we were going to lose (and probably very heavily) so my main concern was that we get through the match with as few injuries as possible.
Of course, the money the club will make from what will be the biggest attendance of the Fifth Round will come in handy provided it doesn't fall into the same black hole which has seen nearly £30 million in the transfer fees come into the club since 2004 while our debt continues to mount, but the fact that, hopefully, the players involved yesterday should all be fit enough for Tuesday's far more important game with West Brom is the main reason to be grateful in my book.
As for what happened on the pitch, well I'm sure that many will be pleased to read that my lack of interest in the match will be reflected by the fact that you won't get to read my usual 100,000 word thesis on what happened – as far as it is possible for me to write something short and sharp, this will be it!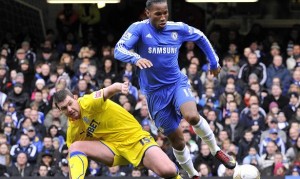 I hate the word "plucky" when it is applied to lower division teams who face top sides in a Cup competition because it is so patronising, so I'll use the word gallant (which might be just as patronising!) instead to describe our display. City reacted very well to the disappointment of going 1-0 down so early and for a while after Michael Chopra's equaliser just began to get on top a bit – I thought that, although Chelsea had been slightly the better team, 1-1 at half time was about right.
Despite, annoyingly, conceding so soon after the break, City remained competitive for a fair bit of the second half as well, but, as the game began to take it's toll on some of our walking wounded, Chelsea got right on top and you got the impression that there were further goals there for them if they had really wanted them – in the event, Kalou's fine header in the last few minutes was rough on City in my book because 3-1 would have been about right over the ninety minutes.
As it turned out, the game was something of a microcosm of our season with each of our four attacking players at various times showing some of the qualities which have made them a potent force in our division. In central midfield we were second best (although, considering that we had a seventeen year old, who certainly did not let anyone down, and a player who probably would never have been considered fit enough to start at most clubs in there, that's not meant as a criticism of Aaron Wildig and Gavin Rae) and at the back, the dependable McNaughton apart, we didn't defend as well as you would expect a top six Championship team to.
Although the outcome was very much as predicted, we helped Chelsea along the way with some right ropey defending at times. Gabor Gyepes may as well have said "after you sir" as he waved Drogba through for the first goal as what I assume was an intended offside trap went completely wrong and Mark Kennedy, whose relative inexperience at left back is still evident on occasions, allowed Ballack to get the wrong side of him for the second goal – if City are going to defy the odds by finishing in the top six with a squad that is far too small, I think we are going to have to keep on scoring at the same rate as we have done in the first six months of the season because I don't see us tightening up at the back over the remainder of the campaign.