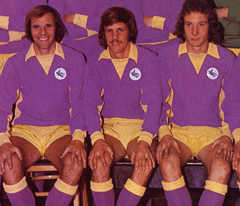 For the last couple of seasons I have thought that Jason Koumas was a footballer in decline – I think he may well have jumped before he was pushed as far as his retirement from International football is concerned and, apart from one or two cameos at Wigan, his performances at club level had shown that he still hadn't been able to prove that he could cut it at Premiership level. With Roberto Martinez losing patience with him quite early on in his debut season at Wigan, Koumas looked like he was content to quietly wind down a career which had, largely, seen him fritter away a footballing talent which very few are born with.
Therefore, I would be lying if I said I didn't have some reservations about yesterday's news that Jason Koumas would be returning to Cardiff City for another season on loan to follow on from his successful campaign with us back in 2005/06. After all, five years is a long time and so much has changed in the intervening period. For example, Koumas has got his big money move to the Premiership since then and reading stuff like this and this discussion about him on a Wigan Athletic messageboard tends to confirm the impression that here is someone who is prepared to do as little as possible to pick up his wages.
The thing is though that I seem to remember that West Brom fans were saying much the same sort of thing about him five years ago when he joined us for the first time and he hardly played like someone who was just going through the motions then did he. Yes, he is the wrong side of thirty now (in fact he'll turn 31 next month), but that is still no age really for someone who has never been your archetypal box to box midfield player and he is coming down to a division in which he has always prospered in the past.
As to what all of this means as far as our embargo goes, it's still not really clear. On Tuesday night it was being claimed that the Football League had given us special dispensation to bring in three new players because of long term injuries in our squad – unless we haven't been told about them yet, it's hard to think of anybody who falls into the long term injured category unless you include Soloman Taiwo and Miguel Comminges (who has only been offered a short term contract to try and get fit). This would give us the chance to register the signings of Tom Heaton, Danny Drinkwater and Koumas before Sunday's game with Sheffield United, but I've not seen anything since then to confirm  this. The local press are reporting this morning that the club are "hopeful" of the embargo being lifted tomorrow, but that word (or something very similar to it) seems to have been applied to all communications from the club in recent months regarding the embargo!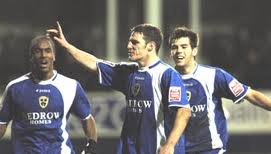 Naturally, the announcement of Koumas' loan has had people questioning whether this means that Peter Whittingham is on his way out of the club. When you consider that, having lost Joe Ledley's unspectacular virtues, we do look top heavy with flair players in the middle of the park at the moment and with his habit from his first stay here of cutting in from the left to fire in shots, Koumas would seem to offer more of what we already have with Whittingham.
It is interesting therefore to see the Daily Mail reporting this morning that Whittingham has turned down a contract offer from us. If this is true, then, when you consider that he will be free to talk to other teams if his contract situation isn't resolved before the January transfer window, a set of circumstances is taking shape where it would be sensible to cash on Whittingham now while we can. I know this would probably have some supporters coming out with the "same old City" line (something which I can certainly be accused of using down the years!), but a decent fee for Whittingham (or any of our other high profile players if they are reluctant to commit to a new contract) could see us out of the embargo sooner rather than later with Dave Jones being in a position to do a bit of wheeling and dealing in the transfer market.
Given the way that he played last season, Peter Whittingham would be a hard act to replace in the City team, but the player who committed to a loan deal with us yesterday could certainly do it – if his head is right (the main reason for any misgivings I have about Koumas is that it might well be a very big "if), then we are getting a player who is better than Whittingham.