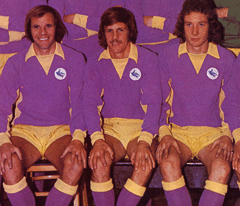 Four weeks ago I ripped into the City team after a tame 0-0 draw at Cardiff City Stadium with Crystal Palace. I daresay anyone reading those comments now for the first time would think that they were something of an over the top, knee jerk reaction and I have to concede that, given what has happened since then, they might have a point. That is why I don't want to fall into the trap this time of going too far in the opposite direction after last night's 4-0 win at Elland Road, but I have to say that, after watching some of our second half play (the eighteen pass move which ended with Lee Naylor's less successful right foot shot from distance was real top drawer stuff), I'm not sure I'll manage it!
Trying to keep my feet on the ground, I'll say that we created very little until Jay Bothroyd's gift of an opening goal and television replays showed that Michael Chopra was offside when he received Mark Hudson's fortunate pass which enabled him to put us 2-0 up. Speaking of Bothroyd, the outcome might have been different if  referee Oliver had not been unsighted for his challenge on Becchio in the first half – it was odd that no Leeds player made anything of the incident at the time and that neither manager seemed particularly bothered by it in their post match interviews, but, for me, it looked a red card offence the first time I saw it and nothing I have seen since has changed that opinion.
I'll also mention that right from their televised defeat by Derby on the opening day of the season, I have thought that Leeds have looked suspect at the back on their return to the Championship and City were certainly helped along their way with some woeful defending which included a performance by Kasper Schmeichel (who was so good during his loan spell here three years ago) which proved that even goalkeepers can suffer from a lack of match fitness – my reaction on seeing our goals for the first time was that he could be blamed in some way for all of them bar the third one but, on reflection, that's being harsh on him as far as Lee Naylor's goal is concerned.
However, that is about as far as I can go with the "negative" stuff on last night's match because by the end, the difference between the two sides was almost embarrassing. Looking back now, although there were a couple of dangerous headers from early set pieces and one or two balls flew across the face of our goal without anyone getting a touch, Leeds barely threatened our goal and the Sky pundits made a point of saying how well we had played without the ball (we were the "real deal" according to Peter Beagrie). I agree with that – City were as good at closing down the opposition in all areas of the pitch as I have seen them in some time last night and I would suggest that this has something to do with Craig Bellamy making an impact in areas which did not immediately spring to mind when we first signed him.
Although there have been plenty of negative headlines and public spats down the years to test this opinion I have been a big fan of Craig Bellamy ever since I read his first manager at Norwich Bruce Rioch say that yes he can be a nuisance at times, but at other times, he found himself wishing that others in the side cared as much as he did. Apparently, dressing room pecking orders meant little to Bellamy right from day one as senior members of the Norwich team got it in the neck from the Welsh teenager if he thought they weren't pulling their weight but, unlike others I would suspect, he always applied the same standards to himself as he did to others.
Dave Jones said when we first signed him that the problems that Craig Bellamy has encountered in his career have nearly always come about because he thought others were not reaching the standards he sets for himself and he was never slow to let them know this. Now, in a dressing room which includes players who are his equal or better than him, it is, perhaps, understandable that Bellamy's approach might lead to friction and a drop in dressing room morale if those good players do not care as much as he does, but I believe it becomes so much harder to justify when a player as good as Bellamy still is drops down to the Championship.
Although we have had the likes of Allchurch, Charles, Fowler and Hasselbaink who were all, arguably, better players than him in their pomp playing for us down the years, Craig Bellamy is the closest thing to a superstar that I have seen play for the club because, unlike the other four, he was still at the height of his powers when he came here. I have mentioned before that you could put a good argument together to suggest that he was the best British player in last season's Premiership and you only had to look at the queue of clubs who were linked with him in the summer to realise how lucky we are to have him here.
I can't help thinking that many big name Premiership players would treat a season long loan to a Championship club as something of a career break, but because Craig Bellamy still cares even at this relatively late stage in his career that was never going to happen with him at Cardiff (in fact doing his knees more damage as he tried to play when he really shouldn't have was always likely to be more of a problem). Bearing that in mind, how would you feel if you were playing for Cardiff last night and you saw a player who has achieved what Bellamy has in his career, a player who is still too good really for the Championship, working so hard to close Leeds players down and generally making a nuisance of himself? I can only speak for myself here, but I would want to show that player, who was doing so much to show that he isn't a "big time Charlie", that although I may not have his ability, I can match him for application and work rate and I would do all that I could when not in possession of the ball to make life difficult for the opposition.
On last night's evidence at least, it seems that many City players felt that way – Bellamy gave his best performance so far in a City shirt I reckon and he was a deserved winner of the man of the match award, but his influence went so much further than that. Of course, there will be times over the coming months when for, whatever reason, players might not be so willing to put in the sort of shift they did last night (for me, with his defensive work and willingness to do the unglamorous stuff, Peter Whittingham gave his most complete central midfield performance so far), but I doubt very much if heads will ever go down because Craig Bellamy is just going through the motions in a match – that would be anathema to a player who cares so much.