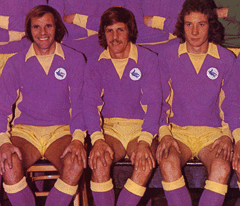 Boxing Day 2001 dawned clear, crisp and cold as a layer of frost, seemingly, posed a threat to the lunchtime kick off game at Ninian Park between City and Reading as my 9 am inspection of my back lawn deemed it to be unfit to have twenty two professional footballers charging around on it. However, once the sun got to work on ground, the underfoot conditions out my back (and, far more importantly, at Ninian Park!) became that much more easier until it became clear that the game would be played in what were ideal conditions for mid winter with a slightly hard pitch and clear blue skies with not a breath of wind.
The players of either side then could not use the conditions as an excuse if the match did not live up to it's billing. With Reading in fifth position in the third tier and us one place lower and two points behind, this was a very important game for both sides – firstly,  it was an opportunity to cement their place in the Play Off positions at the expense of one of their rivals and, second, there was the chance to cut the gap (seven points in City's case) between them and the automatic promotion places.
On the face of it, sixth place half way through their first campaign after winning promotion would be viewed as very acceptable at most clubs, but Alan Cork was a manager under pressure at Cardiff because in the eighteen months or so since Sam Hammam took over the club, the normal rules did not apply – promotion wasn't an option, it was a necessity. To be fair, when you considered the amount of money being spent on new players, you could see Sam Hammam's point – the summer of 2001 had seen a spending spree which had included the club's first£1 million player in Graham Kavanagh as well as the arrival from Manchester City of Spencer Prior, who cost only slightly less than that, and a month into the season the club's record transfer fee of just over two months old was almost doubled when Stoke received a whopping £1.7 million for striker Peter Thorne.
With expensive signings such as Gabbidon, Weston, Fortune-West, Hughes and Gordon already at the club, it was little wonder that expectations went through the roof as not too many wondered where all of this money was actually coming from! When the team went to the Madejski Stadium though in early September to deservedly beat a highly fancied Reading side who had made a great start to their season 2-1, it appeared that a top two finish was there for the taking – especially when you consider that the newly signed Thorne would be making his debut in the next match at Cambridge United who were without a win in their first seven matches and destined to finish bottom of the league.
The match at the Abbey Stadium was lost 2-1 though amid opposition claims that City had a team of "big time Charlies" and the side found that a hard label to shake off as what became a frustrating autumn wore on. Although City weren't losing too many, there were an awful lot of drawn games – especially at Ninian Park where, in my opinion, the bigger, more critical, crowds were proving to be more of a hindrance than a help. When City got it right, as in televised wins at Wrexham and Swindon and in the home victory over second in the table Brentford, they showed exactly what their, expensively assembled, side was capable of, but, for every match like that there were home draws with strugglers Bournemouth, Tranmere and Colchester, while a 3-0 stuffing at lowly Bury to go with that one at Cambridge sent out a clear signal that City were nowhere near the finished article.
When things weren't going right back then, Sam Hammam's solution was to throw more money at it and he did that again in November as City continued to struggle to turn those draws into wins. This time it wasn't in the form of an expensive permanent signing, but, instead it was a loan signing which I am sure was beyond the financial reach of most of our rivals in what was then Division Two of the Nationwide Football League as left back Dean Gordon arrived from Premiership side Middlesbrough on a two month loan deal. At his best, Gordon was a quick attacking full back good enough to cope at Premiership level with few alarms and also to be seriously considered as a possible England left back  – injury had blighted his career in recent years, but, on the face of it, he looked a fine signing for us.
Results went well in Gordon's first few matches at Cardiff and superb free kick goals to earn us 1-1 draws at Blackpool and Stoke demonstrated his expertise from dead ball situations, but there were also signs that he was finding life in the third tier harder than expected as, defensively, he sometimes looked a bit of a liability and this feeling intensified in what turned out to be an entertaining, but, ultimately, frustrating encounter with Reading as two evenly matched sides battled out a 2-2 draw.
Despite all of the expensive newcomers, it could be argued that City's best and most important player at that time was someone who came up through the ranks and did not cost us a penny. With ten goals already in all competitions, Earnie was proving that he could score goals at a higher level than the basement and a sharply taken effort around the half an hour mark was enough to give City a 1-0 half time lead which was just about deserved on the balance of play. However, the visitors came out well fired up by manager Alan Pardew after the break and when the dangerous Nicky Forster scored a close range equaliser ten minutes or so into the second half you couldn't say that it hadn't been coming.
Marcus Hahnemann has turned out be a very good keeper as well as a a fine servant to Reading during his time with them, but he was only on loan from Fulham and playing his third match for them that afternoon and his overall performance justified the "dodgy keeper" chants that came his way after his blunder in failing to cut out an innocuous cross presented Earnie with an easy chance to restore our lead with twenty minutes left. Unfortunately though there had already been four examples of City letting leads slip in home games that season and  no one was too surprised when ex England winger John Salako, who had been making Gordon's life a misery when he ventured from his normal left wing role, made it five when he scored with a fiercely struck low shot from the edge of the penalty area.
Although the result was about right, it offered more of the same to City fans who had grown used to watching a side which lacked the killer instinct and, despite the euphoria of the Leeds FA Cup win in between times, the next two home league matches were lost. In the first of these, City again threw away a winning position as Bristol City replied to a Graham Kavanagh opener with three second half goals in the space of twenty minutes. Once again, Dean Gordon's defensive limitations were exposed, this time  by the visitor's Scott Murray who helped himself to two goals and the left back found himself being substituted – in boxing parlance, it was to save him from further punishment.
Dean Gordon never played for City again after that – his loan spell was ended early and City continued on their inconsistent way until Alan Cork was sacked after a 4-0 hiding at Wigan in February. As for Reading, seven consecutive wins after their game with us shot them to the top of the table and not even a run of just one win from their last ten matches could stop them going up as runners up behind Brighton. In the end though it was a tight run thing with us in fourth spot, thanks to a fine finish under new boss Lennie Lawrence, just one point behind them as that late Salako equaliser on Boxing Day turned out to be far more important than anyone could have thought at the time.
26 December 2001
Cardiff City 2 Reading 2
City Alexander; Gabbidon, Prior, Young, Gordon; Bonner, Boland, Kavanagh (Maxwell); Bowen (Weston), Earnshaw (2), Gordon; Subs (not used) Legg, Fortune-West, Brayson
Reading Hahnemann; Murty, Williams, Mackie, Shorey; Igoe, Parkinson, Harper, Salako (1); Forster (1), Cureton (Hughes)
HT 1-0
Att. 16,708