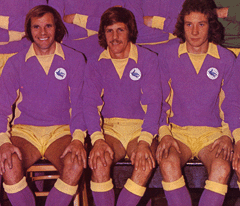 Given what happened at the back end of last season, the summer months were a pretty gloomy period for City fans and I will willingly admit that I went into this season not expecting too much. Now, three months into the campaign, things are shaping up promisingly, but, as yet, there is little evidence to suggest that important questions that were being posed about the team during the close season have been answered in the way they needed to be.
For me, there were five things that had to improve if we were to become a promotion team this season;-
1. We needed to be as good as we have been previously under Dave Jones in games where we scored the first goal.
2. We had to finish the season far better than we had done previously under Dave Jones.
3. Our record had to improve in matches where we conceded the first goal.
4. We needed to pick up more wins against sides that we regard as promotion rivals.
5. We had to be far better at holding on to leads in the closing stages – especially when playing sides around the top of the league.
Now, we are doing fine on point one so far and we aren't going to know how point two works out for a few months yet, but, as far as the other three go, there is little evidence yet to indicate that things have progressed from last season.
With virtually a third of the season gone, we have gained just one point from the five matches where we have conceded first. As far as our record against the top teams goes, a victory over Bristol City looks good, but a return of one point from the three home matches against other sides currently in the top ten is nowhere near good enough while, perhaps significantly, we have played just one team from the top ten away so far (the draw at Blackpool is looking a better result by the week though).
With regards to point five, last week once again showed that we haven't lost our knack of conceding late equalisers. So far we have only managed to win two games by single goal margins and in one of those we came pretty close to ending with just a draw after taking a two goal lead into added time.
What is different from last season is that this team has it in them to really put the opposition to the sword and so many of our victories have been by margins which meant that there was no pressure on them going into the final minutes. Hopefully, we can continue banging in the goals like we have been so that we keep on getting our share of "flat track bully" wins, but, when that doesn't happen, we have to improve on what we have seen so far – given that we are playing a team with such a good defensive record, today wouldn't be a  bad time for City to start showing that they are the real deal.