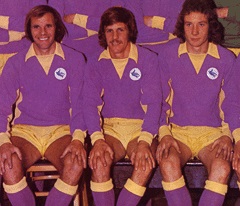 It's just not in my nature to feel sorry for Bristol City football teams, but, if it were ever going to happen, it would have done so around about the time Cardiff City took a decisive grip on the Under 18s game between the teams at Treforest this lunchtime by doubling their lead in what turned out to be a 2-0 win.
I say this because for large stretches of the game the visitors were in control and I'm sure they were cursing their luck at the end regarding the three times they hit the woodwork and their misfortune in running into a City keeper in fine form.
City, who had seen their winning run end with a harsh 3-1 defeat at league leaders Crystal Palace last week as the home side scored twice after the eighty eighth minute, got back on the winning trail against opponents who they have generally got the better of at this level down the years, but this was one of the better Bristol City youth sides I've seen and on another day they could easily have claimed the points.
This was one of my first looks at Warren Burwood, who tends to understudy George Ratcliffe at this level, and I must say the keeper impressed me today. He set a standard that he was able to maintain with a fine save inside the first ten minutes and it didn't take long before he was called into action again to save impressively, but he needed the help of the woodwork when he was beaten by the menacing, long striding Bristol right winger Ricardo Rees (wonder if he's Wales qualified?) who seemed to have the beating of City defenders every time he got the ball.
It wasn't one way traffic by any means mind, visiting keeper Sainsbury had to make a couple of good stops to keep out efforts by Isaak Davies and Keiron Evans, but City were to have a distinctly dodgy quarter of an hour or so either side of half time when they could barely string two passes together and for a lot of this time, it looked like the best they could hope for was to stay in the game as Bristol, poured forward continuously.
Burwood made his best save so far when he foiled Semenyo, but, perhaps over confident after doing so well, he came out to around the penalty spot for a free kick that he was never going to reach and could only watch helplessly as visiting centre half Turner's header looped on to the top of the crossbar and over.
Grateful to get to the break at 0-0, City were still distinctly second best when play restarted as a shot from a good position by a Bristol forward flew into the side netting and then they had their biggest escape so far as Rees' shot hit the inside of the post and the ball was about a yard from the goal line just waiting for someone to apply the finishing touch for what seemed ages before City scrambled it clear with some last ditch defending.
If the game had a turning point, then that was probably it, because the home side began to work themselves back into things after that and there was a feeling of a siege being lifted as they finally put a few passes together and Isaak Davies got in a shot from twenty yards which flew not too far wide.
With right back Connor Davies enjoying some success with his forward runs, that was the side of the pitch that was offering most promise of a home goal and it duly arrived in the fifty seventh minute.
Sion Spence had been more error prone than normal up until then and had not had his usual impact on the game, but when some neat passing on that right hand side involving Sam Bowen and the two Davies' gave the attacking midfielder some time on the ball with space to run into, he was able to show his quality by slipping past a defender and then calmly firing home inside the near post.
It was a fine goal scored by a player who is making a big impact at this level this season as, once again, I found myself wondering why he has played so little Under 23 team football so far compared to last year.
Bristol tried to rally, but they were dealt another big blow just over ten minutes later when City's other regular scorer this season, Isaak Davies, showed his innate eye for a goal as he seized on a Bristol mistake, ran thirty yards with the ball and then fired confidently across Sainsbury into the corner of the net from just inside the penalty area.
City had shown a level of finishing in both of their goals which Bristol had been unable to match and, although they continued to press and force their opponents into some resolute defending at times, there wasn't the same belief in their attacking play now – there was one more great save from Burwood from a fiercely struck Spark free kick, but the closing stages were, largely, free of alarms for the home side.
So, City overcame a good side and a set of officials that seemed very quick to penalise them for fouls, while awarding them very few free kicks of their own, to record a win that was  somewhat lucky and yet also pretty impressive in the way they ruthlessly took their chances when they came along.
This was the second of two games on consecutive days played by teams below senior level because yesterday the Development team entertained Southampton at Leckwith in their second Premier League Cup fixture of the season after having drawn 3-3 at Blackburn in their first.
Just as in their 2-0 loss at QPR on Monday, City fielded a team that featured plenty of trialists and' like today, spent a lot of time defending against opponents who were dominant for long stretches of the game.
There were chances for a City side that also included Frederic Gounongbe, who played an hour before being replaced by their lone substitute James Waite, but, unlike today, their finishing was unconvincing and, realistically it was a question of whether City's good defending would be able to sneak them a draw.
It looked like they would get their point as the match went into it's last ten minutes, but it was then that Southampton won it with a quality goal which also owed a little to luck. I say that because, when visiting left winger Tyreke Johnson received the ball just inside the the City half, his marker, Cameron Coxe collapsed and lay motionless for no obvious reason. My initial reaction was that Coxe had been fouled, but no whistle came and Johnson was able to sprint forward under no real pressure until he got to within about twenty five yards out when he rifled in a superb shot which gave Ratcliffe in the home goal no chance as it went in off the underside of the crossbar – Coxe was able to continue after receiving treatment, but there was no indication as to how and why he acquired his injury.
One thing which has been notable this season at Under 23 and Under 18 levels compared to other years is that more players have been sent off in these games than normal and Johnson would blot his copybook with a minute or two left when he went in late on Ratcliffe as he gathered the ball and received a straight red card.
City had two more chances as a couple of their trialists went close, but it was impossible to begrudge Southampton their narrow win because they had been the better team for most of the match.