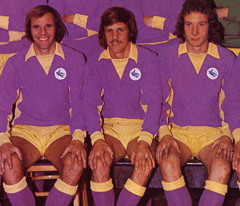 City fans of a certain age have all sorts of theories as to why we went from being promotion challengers in 70/71 to relegation scrappers for most of the following fifteen years, but the one that we never adequately replaced Brian Harris is not one of the more popular ones. One of my old school friends, who still follows City home and away, used to call Brian Harris "The Fox" and seldom was a nickname more appropriate – he was a very clever and cunning footballer! Harris, who was signed from Everton in 1966 at the age of thirty one, played over three hundred times for the Merseyside club and must have been some player in his prime because, right up until he left us five years later, he made marking Second Division forwards look easy.
When people talked about the great Bobby Moore (Brian Harris was probably one of several players who might have got an England cap if they hadn't been unfortunate enough to have their careers coincide with Moore's), they said that his perceived lack of pace was never exploited because his mind was so quick – much the same applied to Brian Harris at Cardiff. I don't remember him as being that quick, but his anticipation, positioning and, mostly, clean tackling (like most defenders in Jimmy Scoular's Cardiff sides, Harris could "mix it" when required) nearly always kept him one or two moves ahead of his opponents – also, Don Murray never quite looked the same player without Harris alongside him.
Therefore, even though he was now thirty four, news that Harris would miss the visit of top of the table Queens Park Rangers on 27 September 1969 was a huge blow for City particularly in view of the fact that the Londoners had scored twenty two goals in winning eight and drawing one of their first ten league matches. Thoughts of Queens Park Rangers goalscorers back in those days would inevitably centre on Rodney Marsh the maverick striker who would go on to play for England and earn a big money move to Manchester City, but with ex England forward Barry Bridges, one of the Clarke goalscoring brotherhood, Frank and midfield players like Mick Leach who certainly knew where the net was, in their ranks, QPR would have given City's defence it's hardest test of the season up to then even if Harris had been fit.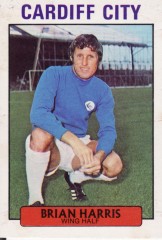 Ordinarily you would have thought Steve Derrett, a usually capable and composed defender who had made his Wales debut some  months earlier, would have stepped into the breach for Harris (he had been a regular during the previous season when Harris had a fairly long spell out with an injury), but instead Jimmy Scoular turned to Terry Lewis a nineteen year old from Newport who had made a couple of first team appearances at the back end of the 68/69 campaign. Furthermore, in what represented a great show of faith in the youngster, Jimmy Scoular gave the man marking job on Rodney Marsh (who was always marked man for man when QPR came to Ninian Park) to Lewis and not Dave Carver, the man usually designated to do the job.
With City having made a good start to the season (they were in sixth place going into the game), the combination of lovely, sunny weather and attractive opposition sent the Ninian Park crowd over the 30,000 mark for the first time in a league match since January 1962. The bumper gate of 30,083 remains the second biggest I have been in for a home league game and they certainly got their money's worth as City turned on the style to win a six goal thriller.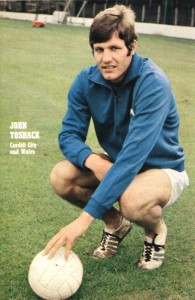 City tore into their visitors from the start and were able to take advantage of the their errant offside trap and some dodgy keeping to put the game virtually beyond QPR after forty five minutes as John Toshack again confirmed that City had one of the hottest young properties in the game at that time on their books. Toshack benefited while the visitor's backline stood around looking for a linesman's flag which was not raised for one of his two goals and, with the consistent Peter King also finding the net, Terry Venables' penalty in reply still left the shell shocked QPR side with a two goal deficit.
A more even second period saw Bridges get a goal back for QPR, but more poor defending enabled Toshack to score from close range to complete his first Football League hat trick as winger Frank Sharp, who was getting a rare start at the expense of Ronnie Bird, dislocated a shoulder to ensure that it was not all good news for City. However, a week later, City were to suffer a far more serious injury blow as, despite two more goals from Toshack, they were beaten at Blackpool in the game in which Barrie Jones' career was ended by the broken leg he received in the dying minutes of the game – City were never to really replace the gifted Jones that season as their campaign tailed off in the New Year to a final position of seventh.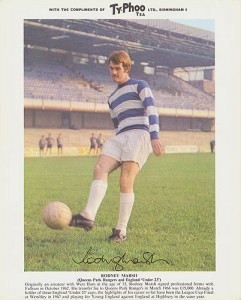 As for Terry Lewis, well, he gave a faultless performance in keeping Marsh very quiet as the visitor's main match winner endured another frustrating visit to Ninian Park and I daresay many City fans left the ground that day thinking that they had seen the launching of a career which might rival that of Toshack or Leighton Phillips who was also emerging around this time. The reality was very different though, Lewis kept his place for the midweek European Cup Winner's Cup visit of Norwegian's Mjondalen (who played in brown and white!), but Brian Harris was recalled in his place for the game at Blackpool and he never featured again in the first team. Lewis was released by the club at the end of the 70/71 club having only made the four first team appearances and it goes without saying that the highlight of his short City career must have been the afternoon he barely allowed Rodney Marsh a kick in front of one of the biggest home crowds of the last half a century.
27 September 1969
Cardiff City 4 (Toshack 3, King)  Queens Park Rnagers 2 (Venables (pen), Bridges)
City; Davies; Carver, Murray, Lewis, Bell; King, Jones, Sutton, Sharp (Coldrick); Toshack, Clark
QPR; Spratley; Watson, Hunt, Hazell, Clement; Leach, Venables, Morgan; Clarke, Bridges, Marsh
HT 3-1
Att. 30,083