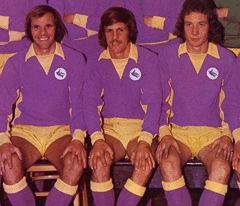 I daresay there were stacks (too many) in and around Cardiff last night who heard the wind howling and then looked out of their windows to see the rain sheeting down who thought that the 20,000 people from their area who were at the Cardiff City Stadium must be mad. Doubtless they then settled down to watch United (the media seem to have dropped the word "Manchester" from the Old Trafford club's name lately!) take on Bayern Munich in that tournament where teams which finish fourth in their domestic league can end being called Champions of Europe and barely gave the side playing just down the road a second thought. Well let me tell them that I wouldn't swap places with them for anything – watching your LOCAL team put on a performance like last night's while getting soaked to the skin beats hands down anything that Rooney and co can serve up while I'm sat in front of the telly thank you very much.
I have said once or twice on here that, when you consider the size of the club involved, you can make a good case for saying that Cardiff City have been the biggest under achievers in the Football League over the past forty odd years and one great win isn't going to make me change my mind on that. City fans of a certain age have had decades of crap to put up with as towns and cities with a fraction of our catchment area have all enjoyed the sort of success in terms of league position which has been denied to us, but one thing about supporting a team like City is that you learn to really enjoy the good days when they come around and it is hard to think of too many league matches in recent years which have engendered the feelgood factor which last night's did.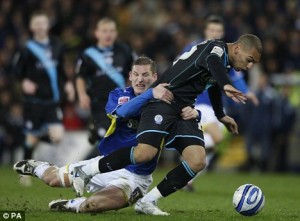 I watched much of the last twenty minutes of last night's match convinced that Leicester were going to score at least once. Nigel Pearson's decision to bring on the old warhorse Steve Howard at half time was a predictable one given the lack of aerial power in the City team and Howard often got the better of the one player in our side who had the height and heading ability to potentially deal with him before Gabor Gyepes' sending off left us with a back four consisting of an eighteen year old at right back, two full backs filing in as makeshift centre halves and a wide midfield player hardly noted for his defensive skills at left back. In front of them there was a right winger who couldn't run and a lone striker who saw so little of the ball that he had probably forget what he was supposed to do with when it eventually arrived and yet, despite all of Leicester possession, pressure and aerial advantage, we won!
I am sure that last night's game will be talked about for years to come and, when it is, I am equally sure that the conversation will centre almost entirely on the way we held out with such a depleted side for those last twenty minutes, but that will be a shame because I can envisage that the fine first half display that gave us the lead which we defended so heroically will be forgotten. We were certainly two goals better than Leicester in the first forty five minutes and we could and should have scored more – although he started the game well and made an impact with his pace and running, Kelvin Etuhu's performance for the last half hour he was on the pitch showed that he isn't a natural target man.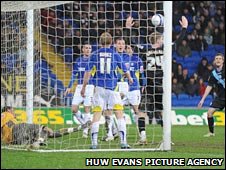 Leicester will now doubt claim that they should only have gone in at the break one goal down and both managers agreed that Martyn Waghorn's corner had probably crossed the goal line before the ball was clawed out by a desperate David Marshall. That was my opinion, albeit  from over one hundred yards away, I certainly expected a goal to be given and was surprised and relieved when it wasn't. However, all both managers and I could have had was a feeling that it was a goal because of the far from perfect view we had of the incident – much the same applies to the gentlemen of the press many of whom have trouble telling one player from another (for example, I have read that it was King or Hobbs that cleared Ross McCormack's first half header off the line) and yet the Daily Mail tells us that "Jones's side cash in on linesman's mistake" and that "Martyn Waghorn's inswinging corner was misjudged by keeper David Marshall and crossed the line, but the linesman didn't give it.". The Western Mail goes further and says "While the hosts didn't need any help from the officials, they were the benefactors of a scandalous decision by linesman Andrew Laver in injury time. Waghorn's curling corner beat everyone and clearly crossed the line but, with Marshall clawing the ball out, the referee's assistant inexplicably refused to give the goal".
Now, I have recorded Sky Sports News' pictures of the game and watched the incident over and over again and I would like to know how the two hacks concerned were so convinced it was a goal from their view fifty or more yards away. The pictures do not show that the ball "clearly" crossed the line (the Sky presenters, correctly, called them "inconclusive") and so it's hard to see what makes it such a "scandalous" decision. I'll say again that my feeling is that it may well have been a goal, but I haven't seen anything that confirms this impression and, based on the evidence currently available, the journos are talking rubbish.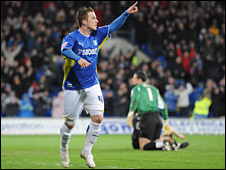 Anyway, back to the football and, although it's not really right to select individuals from such a fine team performance, I am going to mention three who I have been critical of at various times. Only this weekend I expressed disappointment at Ross McCormack's performances this season, but last night he looked like the player who made such an impact in 08/09 – it was great to see him score the sort of "striker's goal" which he doesn't get enough of, but it was his cleverness and appreciation of those around him which impressed me most with his ball out to Chris Burke which led to the headed chance missed by Kelvin Etuhu just before the break being a particular highlight. Secondly, Steve McPhail again showed that he has become a very influential player for us this season after a couple of years of poor performances by his standards – we have taken thirty six out of a possible forty eight points in the games he has played in this season and, although his history in the fixture might make it debatable whether we get it, we will need more of his calm authority on Saturday.
As for my City man of the match Paul Quinn my problem with him has not been so much about his performances – although he has had his poor games, I think there is potential there to build on and I feel he has more ability on the ball than he is given credit for, but, all along, I have questioned why we bought him when we have so many full backs already. Well Quinn went some way towards answering that question last night – after being given a difficult time by Dany N'Guessan in the FA Cup tie in January, he had the winger in his pocket this time until he moved inside to accommodate Adam Matthews (what a run that was by the way!) and looked a natural at centreback as he managed to win more than his fair share of headers. Invariably, it was Quinn who was the City defender who got that vital block on a shot or cross as you began to see why Dave Jones believes he is someone who can make an impact at this level.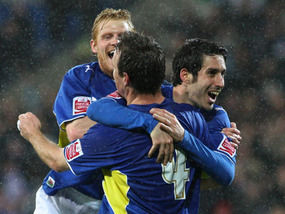 Before finishing, there are two other things I'd like to mention. Firstly, a few words about our opponents. I realise that this might sound patronising given the way the matches went, but it's not meant to be – for the second time in a few months Leicester left the Cardiff City Stadium feeling hard done by after losing a cracking game of football, but, based on what I have seen of them both in the flesh and on TV this season, they deserve to be in the Play Offs.
Secondly, it wouldn't have been such a special night if it hadn't have been for the contribution of those 20,000 who decided that watching United wasn't for them. I often think that the effect a crowd can have on a game is exaggerated, but I just can't help believing that the outcome might have been different without the outstanding support the team got in those last twenty minutes – surely the old chestnut about Cardiff City Stadium lacking atmosphere can be put to bed for ever now?