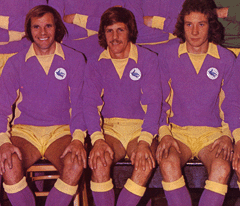 Although it's policy of playing only Basques has been relaxed a little in latter years,  Athletic Bilbao have been a very distinctive Spanish team for decades. It's not just their selection policy which is responsible for making them so different from their rivals in La Liga – traditionally, they've favoured a more physical style of play than most in Spain and this has led to a feeling that they are, probably, the most anglicised of the major teams from that country.
The English influence stretches to the colours worn by the club – their red and white striped shirts and black shorts being selected  when a student from Bilbao staying in Southampton was charged with buying new shirts for his hometown club and realised that the local team played in the Bilbao city colours, so he bought Southampton shirts rather than the blue and white ones the team were playing in at that time.
It would be good to see Bilbao play in their traditional colours on Saturday and there might be a chance we will if Cardiff City seized an opportunity which many other clubs would take under the same circumstances. What I mean by this is that this picture from the official site shows Andrew Taylor and Nicky Maynard modelling the club's change strips for the coming season. The club have been at pains to point out that these are not second and third kits, but, as described in the article, alternative kits – the theory being that, just like last season when Cardiff could turn out in black or blue shirts if there was a colour clash, there would be no hard and fast rules as to what colour would be worn.
As pointed out in the article, City wore the yellow kit at Griffin Park last week against a Brentford side whose colours are the same as Bilbao's, so wouldn't Saturday's match give the club's supporters an ideal opportunity to see the players in the second of  our alternative kits on Saturday? Now I realise that the onus is normally on the away team to change their kit when there is a clash, but there are no binding rules to that effect. For example, the last day of the season quite often sees home sides playing in their alternative kits for the next campaign, while I remember that Peterborough wore a new all white kit for the notorious 4-4 match at London Road back in 09/10 which was played just after Christmas.
Therefore, there is no reason why the home side shouldn't change their kit for a pre season friendly if it wanted to. I would argue that the sight of us playing in blue again at Cardiff City Stadium would give the club some positive publicity as well while going some way towards killing any theories amongst the anti red set about them being reluctant to have the team wear blue. Speaking for myself, I quite like both of the alternate kits and, although I'll not buy any replica shirts from the club while we have red as our first choice shirt colour, I can imagine that there would be many in the crowd on Saturday (which I would guess will be bigger than for the Chievo match) who would consider buying the blue kit if they saw the team wearing it against Bilbao.