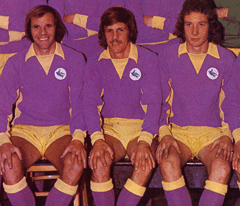 I can't remember where I read it, but somewhere in the four or five match reports I have looked at about last night's match, there is a response from a Newcastle fan who says he finally has hope that, after watching his team blitz us 5-1, Newcastle can get back to the Premiership by showing a bit of flair and class. That's fair enough, because, let's face it, so far Newcastle have been like Birmingham were last year – effective but dull, and if I were ever lucky enough to find my club in a similar position, I would be saying the same sort of thing about City this morning.
However, a word of warning to that Geordie fan, no doubt you are headed back to the top flight, but I would not build up your hopes that you are going to do so on the back of an orgy of thrills and goals just because you beat Cardiff City 5-1 last night. People will look at our league position and draw conclusions which are wrong because they pay no heed to the reality of our current situation which is that we have an injury decimated squad (which is way too small anyway) – the truth is that I doubt very much whether Newcastle have faced a weaker central midfield all season than they did last night and I can't see them facing a weaker one in the next three months either.
If that sounds very critical of Darcy Blake and Steve McPhail, then it isn't really meant to be. Blake has got things to offer and I have always believed that he has deserved more of a chance than Dave Jones has been prepared to give him (to be fair to our manager, his recent comments regarding the player's off field conduct may offer the reason for this). However, for me Blake's lack of previous experience means that, at this stage in his career, he isn't ready to make a significant impact on an occasion like last night.
Of more importance though is the case of Steve McPhail. Now, my opinion is that, after a couple of poorish seasons, McPhail has been our best central midfielder this time around and, even after yesterday's hiding, the stats back that view up – we have won eight and drawn two of the eleven matches he has featured in and have taken twenty out of a possible twenty seven points in the league matches he has played. Having McPhail back so quickly is definitely good news and I am sure he will become more of an influence as he gets games under his belt. That said though, when you consider what he has been through physically and emotionally in the last six months, surely we need to be patient with him – ideally he would be eased back into contention (as I am pretty sure he would be at nearly every other club in the Championship), but we don't have that luxury.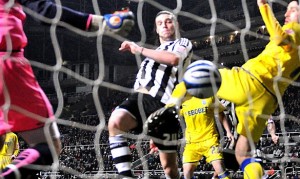 Now people can say that we are so weak in central midfield because we are having bad luck in that area of the pitch with injuries, but that is to ignore the fact that our tiny squad has meant that Joe Ledley has had to play on for months despite needing an operation and our manager has admitted that Gavin Rae's current injury has come about  because he had been turning out for the team despite carrying knocks which meant that he shouldn't really have been playing (much the same applies to Mark Hudson as well). Central midfield has been a relatively weak area for us for some time now and so when you consider that last night we went to the league leaders with a novice (who Dave Jones says is a full back anyway) and someone who was thrown straight back into the fray on his return from injury and very serious illness, I can't see how any City fan can claim to be totally surprised as to how things turned out.
There was another crumb of comfort though in central midfield – Aaron Wildig's first goal for the senior side showed that he can carry the ability to get forward into the box from the middle of the park, which he showed at youth team level, into the first team and we could do with someone who can provide that because our other players from that area don't do it often enough. Credit to Wildig, he has done better in the first team so far than I thought he would and, although he is never going to be a quick fix to our problems in his position, I think he can be a useful option for us over the coming months.
No, I'm not going to be too critical of the fact that we couldn't live with Newcastle in an area of the pitch where we would struggle against them even if we had every one fit, but, I don't think our full backs and especially our central defenders can escape so lightly. Adam Matthews was withdrawn at half time and recent months have shown that, although he looks the real deal when in possession, he is still learning his trade when it comes to the defensive side of things while Kevin McNaughton (who, as with Jay Bothroyd, I often find myself wondering just how fit he is) had the misfortune to run into Wayne Routledge when he was in the mood to play (Routledge really has a chance to move up a level in his career at Newcastle – the Geordies will love him if he plays to his potential, but I still think he will struggle to make an impact in the Premiership).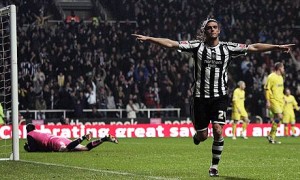 I am sure Matthews will improve defensively with experience and McNaughton has proved himself to be a good Championship level full back over the last four seasons, so I don't find their problems last night as concerning as the way our central defenders struggled. Years of watching Danny Gabbidon turning out for us has me always wishing that we had more pace in our team in the central defensive positions, but it was the way Gerrard and Gyepes struggled in an area in which they should be pretty good that was worrying – Newcastle enjoyed an awful lot of success from high crosses into our penalty area last night and poor defending from them is not something that you often associate Dave Jones' Cardiff City sides with.
I took Dave Jones' after match comment about seeing "no light at the end of the tunnel" concerning his chances of getting some sort of transfer budget in the coming weeks as a general opinion on our current financial problems rather than anything more sinister that hasn't got into the public domain yet. Therefore, it looks as if we have to soldier on with what we have got for some time yet. That being the case then, it seems to me that, always assuming we don't get docked ten points or more, the Play Offs are still on for us because the match winners we have in attacking positions will always get us a few wins along the way. However,  leaving Newcastle aside for now, the manner in which Leicester and Doncaster enjoyed almost total dominance for spells in the last two home games suggests that there will be a fair few losses to come to add to a figure which is already very high for a team in our position.
That though is the reality of the position we find ourselves in. The manager and players did so well against all the odds in January, but, unless the Malaysians come forward later this month with the investment that is being vaguely hinted at on messageboards, they are going to have do the same again in February, March and April. Our manager, many of the team and most supporters have all said we need more players in our squad, but it's just not going to happen under the current regime – after all, Mr Ridsdale and his cronies do have to be paid.