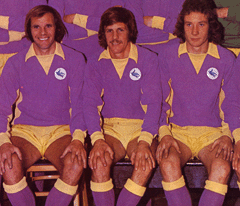 First of all, let's get the game at Sheffield Wednesday out of the way quickly. We started poorly again yesterday and for the second time in a row conceded a goal in the first five minutes, a recovery after that had us level at half time but then an awful second half which saw two unanswered home goals and a red card to Joe Ledley left us beaten by a 3-1 margin which could have been a lot worse – for a club with a Chairman who is telling supporters to "expect" a top six finish and that has a wage bill which, apparently, compares very favourably with many others in the Championship, five defeats in six games is simply not good enough.
With Dave Jones never having been the most popular of managers with a large number of City fans anyway, it is hardly surprising that the messageboards are full of calls for a change of manager. However, the experience of November 2007 tells us that the supporters can jump up and down about how Dave Jones has to go as much as they like but it will cut no ice with Peter Ridsdale the man with the power to make that decision.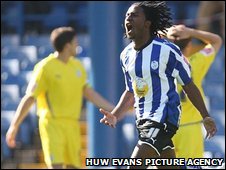 Back in 2007, City had gone through a forty six game period with results that may well have seen them relegated if they had represented a August to May league campaign, the team had made a poor start to the 2007/08 season and were struggling just above the relegation places. Things came to a head following a 3-0 defeat at Charlton on 10 November as the demands from supporters for Dave Jones to go reached a crescendo and stories appeared in the national press claiming that a decision to sack him had already been taken. Instead though, Peter Ridsdale attended a meeting with supporters where he did not confirm the much anticipated sacking and rumours began to emerge that Dave Jones had been given two games to save his job – Ipswich were beaten and the team got a draw at Leicester and our manager never looked back for a period of around eighteen months during which our Chairman stated on several occasions that it had never been his intention to sack Dave Jones.
So, unlike Sam Hammam, there is nothing at present to indicate that Peter Ridsdale will react to supporter pressure when it comes to firing managers. However, it is very tempting to say "that was then and this is now" as far as the 2007 comparison goes – there are certainly significant differences between now and then.
Firstly, there was the woeful capitulation of those last four matches of 2008/09, but, besides that, the club should be in a much better position than it was to challenge at the top of the table. For example, we now have a much bigger fanbase than two years ago, we have the state of the art training facilities which Dave Jones used to say were necessary if the club wanted to progress, but, more significantly, we also have the new ground which City supporters have been told for years would be the panacea to all of our woes. Back in 2007, we had a very large wage bill but nothing to spend on actual transfer fees (we went more than a year without paying a transfer fee for a player) – this time around we, seemingly, have a similar size wage bill, but our manager has been given significant sums to spend in the transfer market (at the start of the month there were stories in the local media bragging about how City had been the biggest Championship spenders during the summer transfer window).
Our manager and chairman keep on telling us about how far the club has come in the past few years and yet what improvements do we see on the pitch? It seems ridiculous to think that the team that played so well in destroying Bristol City are now struggling so much, but isn't this sort of thing typical of the Dave Jones years at Cardiff where periods of feast where we look like world beaters are always followed by the famine that has you wondering where the next point is coming from?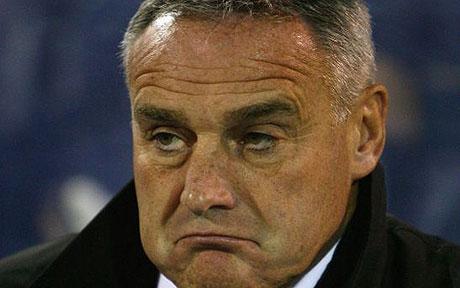 In Dave Jones' defence, we haven't been getting the rub of the green when it comes to refereeing decisions lately, but isn't that always the case when teams are losing? In the same way, a decision to change tactics from a position of strength looks like an act of strong manager, but, when you have been as stubborn in your tactical approach as Dave Jones has and decide to change things around tactically when results are poor, it begins to look like panic when those changes don't have the desired results.
One of the things I find most damning against our manager at the moment, is how he and the players came out with stuff about lessons being learned and absorbed from the failure of those last four matches – they were at it again after the QPR match as well, but where is the evidence that Dave Jones and those players who were here last season have learned anything from those experiences? It seems to me that 2009/10 is turning out to be business as usual under Dave Jones – we still have periods of great play followed by spells of awful stuff and our results are still almost entirely dependent on which team scores first in our games.
Increasingly, it looks like the summer signings we made were not great ones – Marshall has done well so far, but I notice that he has been receiving the odd critical comment over the last couple of games he has played, Quinn's signing looks more like a pointless exercise with the passing of every day, Hudson,while not being as bad as many of his critics make out, doesn't seem any better than the centre half we let go for nothing in the summer, Gerrard shows some promise but is certainly no replacement for Roger Johnson at this stage of his development, Taiwo is, perhaps, one for the future  and Chopra remains his old, inconsistent self.
All of this lends me to believe that Dave Jones faces the biggest threat to his job since those dark days of November 2007, but, paradoxically, it could be that the money he, arguably, wasted in the transfer market in the summer might work in his favour. With us unable to ship out McCormack or Ledley in August to balance the books, we may not have finances to pay him the compensation he would be due if he was dismissed.
However, maybe the most significant aspect in all of this is the comment made by Peter Ridsdale to supporters at that meeting in Merthyr a few weeks back that supporters should "expect" a top six finish this season. After all, our chairman is someone with a sizeable ego, which seems to be a requirement in his line of work, who is determined to restore his reputation within the game after the Leeds debacle and, at the moment at least, his manager and team are making his "expect" comments look ridiculous. Although we are not in the best shape financially (for a change!) and I believe he has a genuine respect for Dave Jones, it might be that Peter Ridsdale may be more ready to make a change than he was a couple of years ago if results don't improve in the next week.