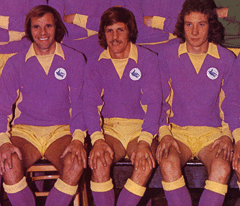 Back in the summer of 2014 as we were trying to come to terms with relegation from the Premier League, Wales Online ran a story which I'm sure they soon regretted when they surmised that Cardiff City had the strongest squad ever assembled by a Championship club.
This was off the back of signing the likes of Guido Burgstaller, Adam LeFondre, Federico Macheda and Javi Guerra – if you were taken in by that story at the time, it didn't take too many viewings of our "team of all the talents" to realise that we were nothing of the sort.
Yesterday, City headed north to face a Newcastle team that topped the league and are reckoned by some to be worthy of that best Championship squad of all time label. Indeed, at his pre match press conference on Friday, Neil Warnock had said that first team coach Ronnie Jepson had given this accolade to the Geordies after watching a side that was some way from what manager Rafa Benitez would describe as his strongest, destroy Preston 6-0 in a recent League Cup tie.
In the event, Newcastle were able to stretch their winning run to eight matches in all competitions, but City could take some comfort from a loss which, at 2-1, was narrower than would have been expected when they trailed by a couple of goals at the interval – that said, City may have "won" the second half, but the general consensus was that their margin of defeat certainly flattered them.
Anyway, I'll return to the first team's game later, because, for now, I want to talk about the youth team matches I watched yesterday afternoon when City's Under 16s and under 18s took on their counterparts from Watford at Treforest.
In fact, all things considered, it was probably City's best day of the season so far at youth level because both games were won by 3-0. Now, it needs to be said that, in terms of entertainment and good football, I have seen better from both teams since August, but allowances needed to be made for the conditions both matches were played in.
On the face of it, a crisp and sunny autumn's day would seem ideal for bringing out the best from all of those taking part, but that is to ignore the cold and strong wind which blew down the pitch from end to end throughout.
While never being strong enough to be called a gale, the wind was a factor to the extent that players could often do little more than help the ball on when, in calmer conditions, they would have wanted to get it under control and do something constructive with it. No, this was a day to play the percentages and I must say that from what I saw of both matches, City were able to master the conditions much better than their opponents.
Both City teams found themselves playing into the wind in the first half and I watched the opening forty five minutes of the Under 18s game in which I would have thought they would have been fairly happy to have got to the break at 0-0.
I say fairly happy, because City were the side forcing the issue most of the time. Chances were at a premium, but the best two fell to the home team. The first came when James Waite, unusually playing on the right rather than through the middle, neatly set Sion Spence free in the  inside right channel, but the Watford goalkeeper was quickly off his line to keep out the midfielder's shot at the expense of one of a series of corners City earned.
All of them were taken by Jarrad Welch to a standard which tested the visitor's defence, but it was when he tried something different that City came closest to breaking the deadlock as he worked a short corner with Waite and put over an excellent cross which was headed very narrowly wide by Ibby SoSani – it looked like the sort of opportunity which really had to be put away, but, in fairness, the gusting wind meant that probably there was no such thing as an easy headed chance in this game.
Watford had nothing to offer as an attacking force in reply, but were in better shape than their Under 16s were as they faced the wind in the second half because the younger age group found themselves  2-0 down to a City team that I believe has still only lost the one league game this season.
I saw the penalty (scored by City's number two I think) which enabled the Under 16s to get a tangible reward for their dominant opening ten minutes, but missed the second one scored around the half hour mark.
From what I could see from fifty yards away, Watford were offering more of a goal threat than their seniors were and, when I wandered over to the other pitch to watch the third quarter of their match, they did have a trio of shots that flew not too far over. However, once again, it was City who coped with the conditions better when it came to looking likely scorers. In fact, when the number two clipped a free kick in low to the near post, City's number six was one of three home players who reacted quicker than any of the defenders to get the decisive touch and make it 3-0.
It looked like things would get even worse for Watford not long afterwards when the ref blew for a second City penalty following another free kick, but a linesman had spotted an earlier offside and so the decision was changed.
Almost straight away though, the woodwork came to the visitor's rescue after the ball had been presented to a City player twenty yards from goal.
All of this time, the Under 18s had been taking a grip on their game thanks to Mark Harris. Fresh from scoring four times in last week's 9-1 Welsh Youth Cup romp against Tredegar, the Swansea born striker had scored twice. Unfortunately, I missed his first one about five minutes into the second half, which was, apparently, a curling effort from outside the penalty area, but saw his second around fifteen minutes later when he fastened on to a long ball from Spence, brushed off a defender and steered the ball into the corner of the net.
Now back watching the Under 18s again, I had a good view of our third goal not long afterwards when the outstanding Welch made a fairly difficult chance look easy as he took the ball in his stride and slotted into the same corner as Harris had done.
Welch's goal was a fitting reward for his man of the match display, but credit too to the defence for a rare clean sheet – Watford did have a shot which clipped the outside of a post at 3-0, but that is the only time I can recall them seriously troubling the City rearguard all game.
So, good wins with clean sheets in both matches, but any faint hopes of the first team being able to turn that double into a treble lasted only three minutes at St. James Park. Realistically, the chances of City ending their long run of matches without a clean sheet on this occasion must have been negligible, but, with Newcastle making a habit of scoring very early on in recent home wins, City's game plan must surely have centred on frustrating their opponents long enough to turn the huge home support from the advantage they are proving to be this season into the disadvantage they often were last year as their team tumbled out of the Premier League.
That didn't happen because City's 4-1-4-1 formation, which had been used in all Neil Warnock's matches so far, largely failed to cope with Newcastle's speed, movement and understanding in the sort of areas Aron Gunnarsson has been patrolling so effectively lately. To be fair to the Icelandic captain, it seems he did all that he could to cope with what turned out to be a huge workload and, with the benefit of hindsight, I would suggest that this was an occasion when a 4-2-3-1 formation would have been more appropriate as it would have given Gunnar some help in defensive midfield areas.
Realistically though, Newcastle were probably too good for us whatever formation we would have played. Even so, questions will be asked about another of our manager's decisions as he became the latest man in charge to wrestle with the dilemma of what to do about a player who, dead ball delivery apart, can make a negligible contribution one week and then come off the bench, after the other midfield players had shown that they are not capable of reaching anywhere near the levels he can at some aspects of the game, the next to remind him what his team had been missing.
Yes, two of Peter Whittingham's three goals since Neil Warnock took over may have come from a penalty and a free kick, but he has scored two more than any other City player in our last five matches and, with Warnock again voicing his opinion that there are not enough goals in this City team after yesterday's match, the other midfielders in the squad are making it very hard for someone with some pretty obvious weaknesses to his game these days to be left out of the side.
Neil Warnock also had a few things to say about the officiating after the match and he was not alone in being critical of referee Tony Harrington – Benitez was not impressed either.
Having not seen Mr Harrington in action (I'd never heard of him before this week), I cannot make any comment about how good or bad he was except to say that I'm generally not very impressed when a City match is reffed by a "new face" these days – yes, it's tough for inexperienced performers (be they players or officials) to make their way up their career ladders, but, when it comes to referees, it's a long time since one whose name was unfamiliar to me has impressed me.
Our manager's beef with Mr Harrington was over his refusal to award City a late penalty when Sean Morrison tried to get his head to a Whittingham free kick. Certainly, Kevin Ratcliffe up in the Radio Wales commentary box was convinced that there had been a foul on the City player as he shouted "that's a penalty", thereby ensuring that I wasn't the only City fan who thought for a few glorious seconds that we had been handed the means to get back on level terms, but instead, Mr Harrington decided that the offence which had been committed had come from the City man.
Benitez, for his part, was upset about the lack of protection given to his team. Essentially, his point was that one team was intent on playing football and the other was not.
Having seen our first four matches under Neil Warnock's management, I have a small degree of sympathy with the Newcastle manager because our football has become very basic and agricultural. However, this is the way Neil Warnock feels we can best get out of the mess we are in and, having seen our feeble attempts to play a brand of football that was easier on the eye earlier in the season, it's hard to argue that our manager is wrong in thinking the way he does.
Unlike, many of the other foreign "super managers" plying their trade in this country, Benitez has recent experiences of fighting a relegation battle and it was one which he lost.
Given the way the game is loaded in favour of the bigger clubs these days, any team that can average 50,000 plus at the gate should never get relegated from the top flight – to this outsider, Newcastle went down last season because they lacked something that Neil Warnock's Cardiff appears to have in abundance at the moment, spirit.
Granted, the large majority of Newcastle's spineless capitulations came before Benitez's appointment, but his team meekly accepted their fate in some of their matches last season, so could it be that the source of his irritation was that his team had faced a side which was willing to make a fight of things despite overwhelming odds against them yesterday in a manner that he did not see from his team when they were in a scrap?
As for City, yesterday was the first in a very testing quartet of games. I had described the Newcastle fixture as a bonus match for us because everyone was assuming we would be beaten and so, in a way, the pressure was off. Having duly lost out on that bonus now, the same cannot apply when we face Huddersfield, Villa and Brighton over the coming weeks.
We need to try to get a minimum of three points from these matches, but will have to show more quality to go with that spirit if we are to manage that. It would be great for the team to prove our manager's assessment of their goal scoring potential wrong, but I fear that this will be beyond them – we are a low scoring side which cannot keep clean sheets and, for that potentially disastrous combination to cease before January at least, it seems to me that we have to rediscover the knack of not conceding during games.