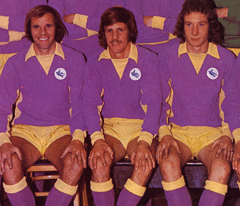 Despite all of the optimistic noises about greater strength in depth that we have heard over the past month or so, no team can lose, arguably, their five most important players and expect to carry on picking up the wins as if nothing has happened. If proof of this were really needed, then it came at the Walkers Stadium last night where Leicester City ended City's unbeaten start to their league campaign with a deserved 2-1 win.
Trying to put things into perspective, last season we dropped eight points in matches with the three relegated teams and with Naylor in for Kennedy, Koumas (who, seemingly, still needs more games to get "match sharp") replacing Ledley and Keogh (another one who hasn't played much so far) in for Bothroyd or Chopra, I would argue that, given the lack of game time for some players, our side last night was weaker than the 09/10 team. Certainly, there was a lack of attacking options on the bench and, by not using our only other available striker despite us being a goal down, Dave Jones sent out a signal which says to me that the only way Nat Jarvis would have made his first appearance for us in a competitive match would have been if we were well ahead and coasting to victory. Similarly, everyone knows that Soloman Taiwo is never going to get a game unless we are really down to the bare bones in midfield, so, effectively, we had five subs last night as Dave Jones found himself back in the familiar situation of only being able to replace like with like during matches.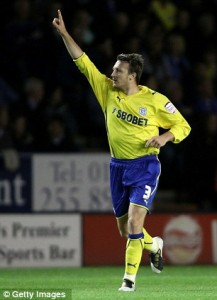 Leicester were always favourites to pick up the points in my book once the team was announced, but for a while it seemed that the sort of luck which sides at the top of the league invariably get would enable us to upset the odds as Lee Naylor's freak goal put us 1-0 up. One of the constants of Dave Jones' time in charge has been that City very rarely lost when they scored the first goal, but with our last four defeats all coming in games where we have gone 1-0 up,  that feeling of "at least we can't lose now" is a thing of the past. Unfortunately, the second half proved to be almost entirely one sided – questions should be asked about Leicester's first goal especially when someone as dangerous as Andy King is was given yards of room inside our penalty area, but the margin of defeat probably flattered us in the end as we subsided with barely a whimper.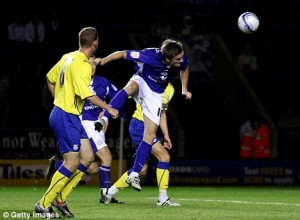 No need for panic though and, hopefully, getting two or three back from injury will make the difference at Ipswich on Saturday. However with Dave Jones often telling the world how well City look after their players in terms of training, conditioning and treatment of injuries while claiming that the majority of knocks our players suffer from are "impact injuries", it has to be said that an argument can be put forward to say that this has been anything but the case in the past few weeks. Now, of course, it needs to be acknowledged that Michael Chopra is out due to one of those impact injuries and that is almost certainly the case with Seyi Olofinjana as well, but what about the other three missing players last night?
International breaks can be frustrating for supporters who follow club more than country, but a consolation for them is that the fortnight without a first team game at least provides an opportunity for players working their way back to full fitness to get themselves ready for first team contention – it would appear though that, this time at least, the complete opposite happened! Danny Drinkwater played the full ninety minutes at Portsmouth in our last match before the  International break and, just like Jay Bothroyd who played the whole game at Fratton Park bar a minute or two of stoppage time, has not been seen since. As for Craig Bellamy, he came off as a precaution with ten minutes to go at Portsmouth, but was able to play the whole game for Wales in Montenegro six days later.
I must add here that all of the above is is written with no inside knowledge as to the nature of the injuries our players have and how they are being treated, so I accept that what I am saying might be well wide of the mark. When you also consider though that those players who our manager was saying were struggling last night because of a lack of match fitness also played in a reserve team friendly with Llanelli a fortnight ago, then you can't blame people for at least wondering how long it will be before Steve McPhail and, especially, Jason Koumas (who has now been with the club for the equivalent of a full pre season) will be match sharp. As I mentioned before, Dave Jones often compares our club favourably with others when it comes to how the training regime and treatment of long standing injuries is structured – I daresay he is right, but, from the outside looking in at least, that is a hard claim to sustain at the moment.