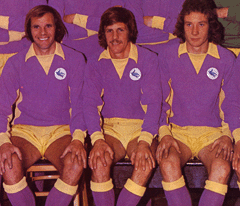 Because most of the teams we play nowadays haven't tended to spend too much time in the Football League's basement section (which I will never stop calling Division Four), these recollections of previous games against upcoming opponents don't tend to include many matches from the mid eighties or nineties when that division became our natural home.
However, this is not the case with Burnley who were fairly regular visitors to Ninian Park during that time. To be down amongst the League's dead men represented a real fall from grace for a club that had been playing top flight football as recently as 1976 and had been League Champions in 1960, but when they came to Ninian Park for a Fourth Division match on 19 December 1987, it must have been with something of a sense of relief because seven months earlier only a last day victory over Leyton Orient had spared them the ignominy of relegation to what was then called the GM Vauxhall Conference.
The 1986/87 season had been the first one in which teams were automatically relegated into the Conference and the ecstasy of the 17,000 plus at Turf Moor to see that crucial win meant agony for Lincoln City supporters as their team dropped out of the league following a defeat at Swansea. Lincoln's plight made it impossible to hold on to their better players and City manager Frank Burrows had taken advantage of their changed circumstances during the summer of 1987 as he paid a bargain £17,000 for striker Jimmy Gilligan who had top flight experience from his time at his first club Watford and had been the subject of a six figure move to Grimsby only two years earlier.
Gilligan was one of a series of new signings made by Frank Burrows in the lead up to the 87/88 campaign as he tried to put together a team capable of improving on the mid table finish of the previous season which had been the club's first in the Fourth Division. At the halfway point of the season, it looked as if Burrows had made a good job of his rebuilding work as a defence including veteran Cardiff born right back, Phil Bater, new captain Terry Boyle and converted striker Nicky Plateneaur at left back were to end the season with the best goals against record on the division. In front of them, a midfield including new signings Paul Wimbleton, Mark Kelly and current Reading manager Brian McDermott offered a nice mix, while the class in the side was provided by the silky ball playing skills of Alan Curtis but, for me, the biggest reason why the team were up there challenging for promotion was the goals Jimmy Gilligan provided.
Gilligan would end the season with twenty six goals in all competitions and was already into double figures when Burnley, safe in mid table after their worries of the previous campaign, arrived for a match which attracted a crowd of just 3,401 on the last Saturday before Christmas – how low City had sunk mind could be gauged by the fact that this miserable turn out was higher than the crowd for six of the eleven home league games so far.
With Burnley having conceded five at Peterborough in the latest of three consecutive away losses and City having been beaten just the once at Ninian Park so far that season, the game had the look of a home banker to it, but, until Kevin Bartlett started weighing in with more goals in the second half of the campaign, there was something of an element of "if you keep Gilligan quiet, you keep Cardiff quiet" to the team at that time.
For most of the game Burnley succeeding in doing just that as a match which did little to make me forget the hangover I was suffering from following the works Christmas party the previous night quietly meandered along. A goalless first half came and went with little to recommend it, but two minutes after the break, centre half Steve Davis (later to become something of a Burnley legend) glanced the visitors in front with a header. City's initial response to falling behind was pretty feeble as their level of performance got worse rather than better and a first league defeat in seven games began to look a reality. Frank Burrows sent on a couple of subs in Bartlett and Kelly, but to no avail and as the match approached it's final ten minutes a second Burnley goal was, if anything, looking more likely than a City equaliser.
It was then that  Jimmy Gilligan took a grip on proceedings to turn the game on it's head within the space of two minutes. I don't recall the goals Gilligan scored in the 80th and 82nd minutes as being anything spectacular, but they were both examples of a striker being in the tight place at the right time as the ball got within about eight yards of the opposition goal and offered further examples of why he had already repaid for his modest transfer fee many times over.
Burnley had nothing to offer in reply and City ended up 2-1 winners of a game in which they had definitely got out of jail. The win kept them in fourth place and they climbed a further place when Tranmere were beaten 3-0 on Boxing Day. A mini slump which saw City pick up just two points from four matches arrested the momentum, but the signing of experienced Scottish International keeper George Wood proved to be the last piece in the jigsaw. Eventual champions Wolves were thrashed 4-1 at Molineux in an impressive statement of promotion credentials and a 1-0 win over Bolton, the team destined to finish third, in a high quality Friday night match at Ninian Park late in the season only confirmed what was becoming increasingly obvious – City were ending their two year spell in the basement, never to return (well, maybe three times more!).
Jimmy Gilligan kept on scoring in the Third Division as well and became a much sought after player as City settled into their new setting relatively comfortably. To general surprise, City rebuffed a big money bid for the player from Bradford towards the end of the season as they cashed in on Kevin Bartlett instead, but early in the 1988/89 campaign, City accepted an offer from Frank Burrows' new club Portsmouth and Gilligan left for a fee of £200,000 (which was, reportedly, less than Bradford had been willing to pay for him). Gilligan's time at Portsmouth wasn't a success though and he returned to Wales when he signed for Swansea for £125,000 before a back injury forced him to retire from league football in 1993.  A goal against us in a notorious FA Cup match in November 1991 at the Vetch hardly endeared Gilligan to City fans (especially when he milked the goal for all it was worth in his celebration), but I've got to be honest and say that there aren't too many City strikers from the 80's that I would have picked in front of him.
19 December 1987
Cardiff City 2 Burnley 1
City Judge; Bater, Stevenson (Kelly), Boyle, Platnauer; Mardenborough (Bartlett). Wimbleton, Ford, McDermott; Gilligan (2), Wheeler
Burnley Pearce; Leebrook, Davis (1), Gardner, Deakin;  Farrell, Britton, Comstive, Hoskin; Oghani, Reeves
HT 0-0
Att. 3,401