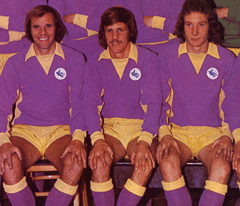 Russell Slade's managerial career at Cardiff City formally began with a 2-1 win over Nottingham Forest back in October and his first season at the club ended with a victory by the same score against the same opposition at the City Ground which enabled City to finish a higher than expected eleventh in the final Championship table.
The similarities between that match nearly seven months ago and yesterday's encounter stretched beyond the scoreline though as, just as in the first match, City found themselves a couple of goals ahead around halfway through the first period, then comfortably controlled things before a very late Forest strike ensured a frantic last few minutes before victory was confirmed.
A significant difference between then now though was that City had to play out the last fifteen minutes or so with ten men as David Marshall retaliated to what he saw as a butt by Jamaal Lascelles and was shown a straight red card – it was an out of character response from the captain and, unless there is a very unlikely overturning of the decision by the authorities, he will be out for the first three matches of next season.
So, having gone until March without a dismissal, City have had four of them in the last two months of the campaign. I daresay some may even welcome this as a sign of a side that will no longer be pushed around like it could, perhaps, have accused of being in the first two thirds of the season, but, speaking as someone who tends to belong to the Brian Clough of player behaviour, give me keeping eleven on the pitch every time.
As far as the football went, fair play to City, they played some nice stuff in a dominant first half performance that saw them keeping the ball well with Joe Ralls, Stuart O'Keefe, Matt Kennedy and Joe Mason all showing up well.
Ralls smashed in a close range volley to put City one up, before Eoin Doyle continued his welcome late season scoring run with a header which took his tally to a respectable five in the third of a season or so that he has been with us.
So, for the first time since we somehow managed to overcome Reading and Watford in successive matches, City have won two games on the trot and, if the way you finish a season counts for much going into the next one (I'm far from convinced it does mind), there should be a little more than just the normal pre season optimism around come August.
However, one of the reasons I'm sceptical about reading too much into end of season results is that they can often be achieved against opponents whose attitude is a long way short of what you'd find in, say, December. So, credit to City for staying competitive in a situation where some others do not, but wins over what was easily the worst side in the league and another outfit in terrible form is only what virtually every other side in the Championship have been managing in recent weeks when they've played Blackpool and Forest.
If anyone needed a reminder of what a difficult league this is, you need only look at yesterday's opponents experiences over the four seasons I think it is now since their current mega rich owners took over.
Forest have been heavy spenders since then, they have a big support, superb facilities and a succession of high profile managers and yet they've not really come that close to even a play off spot during that time. City fans can, justifiably in my view, complain about this season having been a miserable and frustrating one, but imagine how Forest supporters will be feeling now – especially after the long, unbeaten run they had at the start of the season.
Away from what was a pretty meaningless battle between two teams fighting for the "honour" of finishing above each other in mid table mediocrity, the season came to an eventful end. Although, Rotherham's win over Reading on Tuesday meant that I was wrong last week when I said the relegation issue would go down to the last match, Millwall knew their fate before their defeat at Wolves, there was still enough happening to ensure eight of the twelve games had something riding on it.
At the top, Bournemouth easily saw off Bolton on Monday to all but clinch the second automatic promotion place and, pleasingly, the south coast club were crowned Champions thanks to a late Sheffield Wednesday equaliser at Watford.
Most of the drama came in the race for the two remaining Play Off spots – Middlesbrough and Norwich were already there, but long term leaders Derby were the big losers when their ragged form of the last couple of months was maintained in a disastrous 3-0 home loss to Reading. That 4-2 win for Wolves I alluded to earlier was not big enough to take them above Ipswich (3-2 losers at Blackburn) on goal difference and it was Brentford who nipped into the top six with a 3-0 triumph over Wigan.
So, it's a very tasty Ipswich v Norwich derby in one of the semis and Brentford v Middlesbrough in the other – all I've got to say is come on you Bees!
* pictures courtesy of http://www.walesonline.co.uk/