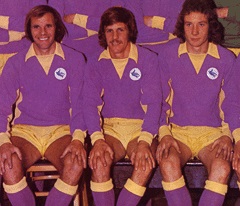 Just a few paragraphs about yesterday lunchtime's very dull encounter between Cardiff City and Charlton Athletic's Under 18 teams at Leckwith.
City's last home match before the mid season break at youth team level proved to be a turgid affair decided in favour of the away side late on by a very sloppy goal from a Cardiff perspective. I won't waste much time describing the first half which proved to be almost totally devoid of goalmouth action. There was a good tip over from keeper Warren Burwood from Charlton striker Luke Carey, while the closest City came was early on when Keiron Proctor failed to connect cleanly with a headed opportunity after the home side's best move of the half.
Things improved slightly after the break, but there was still very little to interest the sparse crowd. Charlton had just about shaded the first half in my opinion and that pattern continued in the second period, but, apart from a bad miss from about eight yards out by a visiting forward, it wasn't reflected in any meaningful goalmouth action until City, criminally, left Charlton centre half Harry Pollard completely unmarked from a corner with a quarter of an hour left and he easily headed home from beyond the far post.
City, finally, sprang to some sort of attacking life (they didn't half miss Isaak Davies who was absent for some reason) in response to falling behind and Sion Spence was worked into a promising position only to  blaze well over with the suspicion that one of the all too frequent bobbles from a pitch which appears to be in worse order than normal this season may have hindered him.
Burwood (who did well in what I believe is the first game I've seen him play) made another decent stop from a close range header to keep the deficit to one, but it was City who were finishing the stronger as sub Adam Sharif missed two good chances within the space of about thirty seconds. Actually, it's harsh to say he missed the first of them because he did nothing wrong as Charlton keeper Harvey was finally called into action in the eighty sixth minute as he palmed a shot into the City player's path six yards from goal – it looked a certain equaliser until a great block by a defender sent Sharif's effort out for a corner, from which he should have done better with a headed chance from a similar position as Pollard had scored from at the other end.
Harvey dived full length to try to save a well struck Sam Bowen effort from twenty five yards and, just for a second, I expected the net to bulge after he had failed to get a touch on it, but the midfield player's effort flew agonisingly wide and the final whistle was blown as soon as the resultant goal kick was taken – I suppose if a side deserved to win, it was Charlton, but City's late pressure meant that they could feel unlucky not to have ended up with a draw.
So, there's just the one game left now before Christmas for the youth team when they go to MK Dons a week on Saturday for an FA Youth Cup game – it's been a pretty poor first half of the season in terms of results for a group of players who were the nucleus of an Under 16 side that was doing very well at that level last seasonr until they were drafted, almost en bloc, into the Under 18s in the New Year.
In my review of the Under 23 sides draw with Bristol City last Monday, I touched on what I see as a sense of drift this season at the levels below the first team this season as the link that there should be between Under 18 and Under 23 sides has seemed virtually non existent at times. The only Academy players used by the Development side so far have tended very much to be ones who struggle to get a regular game for the Under 18s – if there is a plan in operation here, it's very hard to figure out what it is!