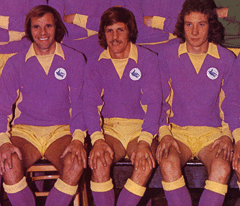 Take a bow Ryan Colclough, because, according to the BBC's stats, you were the only player involved in yesterday's 0-0 draw between Wigan and Cardiff to have an on target goal attempt in the whole ninety minutes!
The Wigan winger was on as a sub and, with less than ten minutes left, got in a shot that was, apparently, easily dealt with by Ben Amos who was between the sticks for City in the absence of the injured Allan McGregor and the indisposed Brian Murphy – Sky did not think the incident worthy of inclusion in their, very brief, highlights package of what appears to have been the mother of all stalemates.
For the last few weeks, City have been in a position whereby the real story in their matches has, more often than not, been how our opponents promotion challenge/ relegation fight was affected. Yesterday was no exception, while City could "celebrate" moving into the top half of the table (they'll be back down to thirteenth if Villa don't lose today's Birmingham derby), Wigan were left to face up to the fact they are down if Harry Redknapp's Birmingham City avoid defeat in that game.
In his post match press conference, Neil Warnock said he thought Wigan looked like a side that had already accepted their relegation – certainly, that single attempt on goal suggests one of two things, either a team resigned to their fate, or one totally devoid of the belief needed to get out of the mess they are in.
Two years ago, Wigan were relegated from the Championship primarily because of their dreadful home record – they only won three games on their own ground, while losing twelve times, and they managed just eighteen goals in their twenty three matches at the DW, while only managing to score in ten of them.
History is in the process of repeating itself. While five wins and ten defeats in their twenty two home matches so far indicates that things haven't been quite as bad this time, Wigan have only managed that same eighteen goals up to now and a failure to find the net in their final home game, with Leeds, would see them having scored in just nine of them over the course of the season.
With one win, four defeats and only two goals scored (both by the same opposition player) from their first five home matches of the season, City were in danger of having a Wigan like campaign at Cardiff City Stadium until Neil Warnock showed up – we've been strong at home though with fourteen points from our last seven games, but yesterday offered more proof that we are ending our campaign on the road as dismally as we started it at home.
I can make disparaging remarks about Wigan's feeble one effort on goal as much as I like, but the fact of the matter is that it's one more than we managed! Yes, the needs of the two sides were completely different going into the match and I've always maintained that our intensity levels would drop as soon as the perception took hold that we were safe, so there is a danger of reading too much into things, but on the face of it, our last six away matches only point to the size of the task our manager faces if his team are going to make a decent fist of giving him that eighth promotion he so desires next season.
Only three points (all from draws) in our last half a dozen away matches is a poor return, but, maybe of more concern is the fact that we've only scored three times in them – though, when you consider that we've only managed eleven on target efforts in our last five hundred and forty minutes of play on opposition grounds, I daresay it could be argued that we've done well to score as many as we have!
To be fair, although I firmly believe that a good, or bad, finish to one season can create a momentum that is carried into a new one, I'm not sure that can be applied to things like goal scoring or on target attempts. A summer that brings a few new players is great for building up optimism among both players and supporters and stats like the ones I've dredged up here will only be remembered in a few months time if we are continuing to average less than two on target efforts per away game come September and October.
Anyway, let's put all of that to one side now and acknowledge that Warnock has been able to do what he said he wanted to in these closing games – get the chance to have a look at one or two youngsters.
There were five changes made to the side that beat Forest on Easter Monday and one of them saw Mark Harris given his first start for the club, while Ibrahim Meite was also given ten minutes of game time when he came on for Craig Noone, who came closest to improving on our recent away scoring record when his shot from eight yards just before half time hit the top of the bar and flew over.
Having faced a team that is, almost certainly, leaving this league in the wrong direction, City now finish the season with a couple of games against sides that are hoping to be in the Premier League in 2017/18. Newcastle may be wobbling with only two wins in their last eight, but none of the chasing pack are suggesting that they can take advantage of this and I suspect they'll already be up when they visit us on Friday – a win in their home game with Preston tomorrow would see them promoted.
A draw in that match would mean only our opponents in our last game, Huddersfield. could overhaul Newcastle, but the Yorkshire side, who have done brilliantly with their unlikely challenge at the top of the league this season, appear to be paying the price now for the physically demanding style of play they've adopted over the past eight months.
In last week's televised game against Derby, the commentators were remarking that, very unusually for them, Huddersfield seemed to be sitting back and defending the early lead they had gained (they only managed two goal attempts all game), but with just two wins in seven and a 4-1 home stuffing by Fulham yesterday, it may be that the explanation for their caution last Monday was that they are simply knackered!
Moving on, I'd like to say thanks to the messageboard poster who pointed out that, although our Under 18 team have finished their games for the season, this was not the case at other age levels – our Under 16s were at home to Swansea yesterday morning at Leckwith.
Now, with Swansea's category one Academy status and stories in the last year or two of them opening up centres in "Cardiff territory" aimed at poaching the best young local talent from us, a feeling that they are leaving us behind when it comes to youth recruitment and development has been growing.
We no longer play the jacks in our Under 18 league, but they had the better of things in the last few matches we played against them at that level and their dominance of the Welsh Youth Cup in recent years (think it's their ninth straight win they're going for this afternoon when they face Cambrian and Clydach* at Cardiff City Stadium this afternoon), along with their, albeit flattering apparently, 3-0 win over us in that competition in December, tends to back that notion up.
Yesterday though, City's Under 16s were able to do their bit to show that it's not an inevitability that we will be playing second fiddle to the jacks at youth level in the coming years – the final score may well have only been 1-0, but, by the end, the visitors were a well beaten team.
You could make an argument for saying that, with their dominance in terms of possession and territory, Swansea deserved to be ahead at half time, but, in truth, neither side were able to fully master a bobbly pitch as both teams struggled to pass the ball effectively.
The visitors might have been slightly better at doing this than us in the opening half, but all George Ratcliffe in the City goal had to do was make a few decent catches from crosses which then gave him a chance to show his good distribution skills with hands and feet – I don't know how far he'll go in the game, but he really is very good with the ball at his feet.
Significantly, although they were struggling to impose themselves, it was City who came a lot closer to opening the scoring in the first half as Swansea's keeper was forced into action on three occasions. The first being to tip a shot from the edge of the penalty area over after we had got in down Swansea's right, then he turned a shot, which may have been going wide, aside for a corner and later blocked a shot in a one on one – there was also a strong City shout for a penalty after that last save when a defender clattered into the City player who was following up – it looked to me that the offence may have occurred just outside the penalty area, but it was definitely a foul as far as I was concerned, unfortunately, the young ref gave nothing.
My feeling at half time was that the game could go either way, but, frankly, there was only one team in it in the second period. Swansea had offered little threat when they had most of the ball, now, as City were able to press Swansea and win possession in the way that their opponents had done earlier, there were few indications that Swansea had a goal in them – as it became clearer that this was a match which may be won by a single goal, the question was did Cardiff have that goal within them?
With Sion Spence and Sam Bowen becoming increasingly influential in the middle of the park and Ntazana Mayembe (who I gather is only thirteen or fourteen years old) continuing to cause the Swansea central defenders problems with his pace, mobility and awareness, City were now forcing the issue and there were more opportunities for the visiting keeper to impress. However, the home side had also brought on Isaak Davies who has played and scored for the Under 18s this season and who I'd seen enough of, to be confident that he would put away the sort of chance that some of his team mates had missed earlier if he were given one.
Davies was to justify my faith in him as the game reached it's final quarter, as he calmly beat the keeper after he had been played into space inside the penalty area, but I think he would acknowledge that the goal owed a great deal to the superb work of right winger Keiron Evans.
Evans did very well with a neat first time flick which took him clear of his marker, but if that was impressive, what followed was better still, as he delivered a pass inside the covering centre back with the outside of his foot to send Davies in on goal – it was an eye catching bit of play from someone who had shown up well all game.
Swansea's frustration was reflected in a series of fouls - Spence, who had been praised for his display in the Welsh Youth Cup game I mentioned earlier, seemed to be a particular target, but it was Evans who was substituted after one of several challenges which I suspect would have received more than a rebuke if they had been carried out at senior level.
By the end, City had conquered their opponents and the awkward pitch and were playing well. When you're only a goal up and the game is in it's closing stages, there's always that fear that an outplayed opposition could make you pay for not having got that killer second goal, but, in truth, we held on comfortably and were still looking more likely scorers when the final whistle came to cheers from the bigger than usual crowd.
*have a look at this piece about Cambrian and Clydach if you have time – they really have had an outstanding season and I hope they cap it with a win this afternoon.
+picture courtesy of http://www.southwalesargus.co.uk/sport/11244744.Fledgling_Bluebird_Kieron_is_living_the_dream/